2023 Audi TT Roadster vs Porsche 718 Boxster: What To Choose?
The current TT generation, while aging, maintains its allure and driving enjoyment, offered in coupe or convertible with a 228-hp turbo-four. Yet, compared to rivals like the Porsche 718 Cayman and Toyota Supra, it falls short in raw performance. The TTS, while hotter, still lags in acceleration and handling. Standard features include AWD and a dual-clutch automatic transmission, but disappointingly, neither model offers a manual option, affecting driver engagement. Meanwhile, the Porsche 718 Boxster and Cayman, initially conceived as an appetizer in the lineup, have evolved into formidable mid-engined performers worthy of sharing showroom space with the iconic 911. The Boxster, even with its base turbo four-cylinder, impresses with sharp handling and a well-balanced chassis. While not the most practical choice due to limited cargo space and interior room, its charm lies in the driving experience, making it a staff favorite despite these compromises.
| | | |
| --- | --- | --- |
| | Audi TT Roadster | Porsche 718 Boxster |
| Dimensions | 165 in x 72.1 in x 53.4 in | 172.4 in x 70.9 in x 49.7 in |
| Engine | 2.0L turbocharged inline-4 | 2.0L turbocharged flat-4 |
| Horsepower | 228 hp | 300 hp |
| Torque | 258 lb-ft | 280 lb-ft |
| 0-60 MPH | 5.2 sec | 4.7 sec |
| 0-100 MPH | NA | NA |
| Top-Speed | 151 mph | 171 mph |
Specs
Audi TT Roadster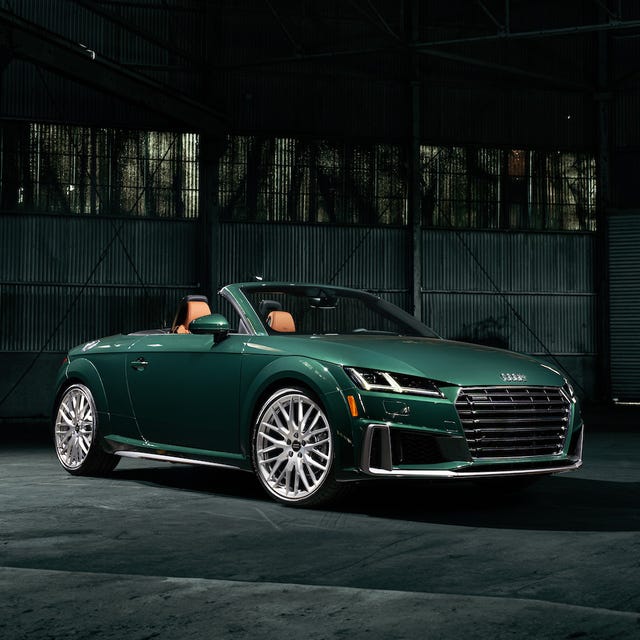 Engine & Performance
Powering the TT is a turbocharged 2.0L four-cylinder engine that cranks out 228 hp and 258 lb-ft of torque. The car boasts a seven-speed dual-clutch automatic transmission with Quattro AWD. This setup ensures nimble handling, making your driving experience with the TT highly responsive.
Price & Mileage
The Audi TT offers a choice between a coupe and a convertible for those who fancy the wind in their hair. Starting at $53,295, both styles boast a fuel efficiency of 23 mpg in the city and 30 mpg on the highway, as per the EPA. If you're eyeing an open-top experience, the Roadster is your go-to option.
Acceleration & Features
Get ready for a speedy drive with the Audi TT, and if you want more power, the TTS is there for you. It comes with navigation, a fancy audio system, and Apple CarPlay and Android Auto, all as standard stuff. What makes the TT different is how it does entertainment, no central screen here. Instead, it shows everything in front of you on a digital display. Easy-peasy control with buttons on the steering wheel, keeping things simple. No complications, just smooth sailing with easy controls for your driving journey.
Porsche 718 Boxster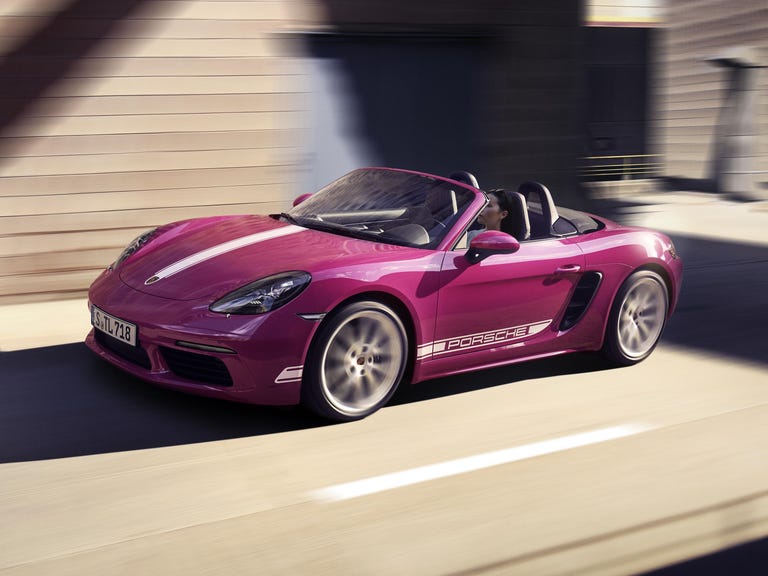 Engine & Performance
Get ready for a thrilling ride with the Boxster, packing a robust 300 hp from its turbocharged 2.0L flat-four engine. Choose between the precise six-speed manual transmission or opt for the intuitive seven-speed PDK dual-clutch automatic. In tests, the base model not only delivered fun but also showcased impressive performance. What truly steals the show is the Boxster's exceptional handling and steering. Whether tackling corners or making small adjustments, its balanced and stable feel, coupled with highly responsive steering, commands our deepest admiration. It's a driving experience that's not just powerful but finely tuned for precision.
Price & Mileage
The PDK automatic transmission is great, but this car really craves a manual gearbox. Starting at $72,050, the 718 Boxster offers a base model with a turbo 2.0L flat-four and a six-speed manual, achieving 20 mpg in the city and 26 mpg on the highway, as per the EPA. If you go for the seven-speed dual-clutch automatic, you get 1 mpg more in both city and highway driving.
Acceleration & Features
The Boxster's chassis communicates with you like the tires are chatting directly with your sense of balance, yet the ride remains comfy for long journeys. Plus, it comes with a basic CD player for those who stick to CDs. If you want, you can add navigation and a Wi-Fi hotspot. Porsche now includes Apple CarPlay integration by default, though, unfortunately, Android Auto is still not available.