2023 BMW 760i xDrive vs BMW i7 xDrive60: Which is Better?
The BMW 760i xDrive maintains its successful tradition by combining robust power, comfort-oriented driving, and a spacious feature-rich cabin, while its twin-turbo V-8 option delivers a smooth ride and quiet interior. The 760i offers some agility through rear-wheel steering on twisty roads, yet excels as a chauffeur-driven vehicle, featuring tech like a retractable 31.3-inch rear entertainment screen with streaming services. On the other hand, the BMW i7 xDrive60 presents a compelling case for electric luxury cars, boasting a powerful and serene EV powertrain, plush ride, and premium spacious interior. Loaded with digital displays and the option for a rear theater system, the i7 stands out as a tech-savvy choice. With 536 horsepower and up to 318 miles of range, the i7 rivals Porsche Taycan and Tesla Model S while retaining lavish comfort.
| | | |
| --- | --- | --- |
| | 2023 BMW 760i xDrive | BMW i7 xDrive60 |
| Dimensions | 212.2 in x 76.8 in x 60.8 in | 212.2 in x 76.8 in x 60.8 in |
| Engine / Motor | 4.4L twin-turbo V8 | current-excited synchronous AC |
| Horsepower | 493 hp | 536 hp |
| Torque | 331 lb-ft | 549 lb-ft |
| 0-60 MPH | 3.5 sec | 4.4 sec |
| 0-100 MPH | 8.6 sec | 9.8 sec |
| Top-Speed | 156 mph | 150 mph |
Specs
BMW 760i xDrive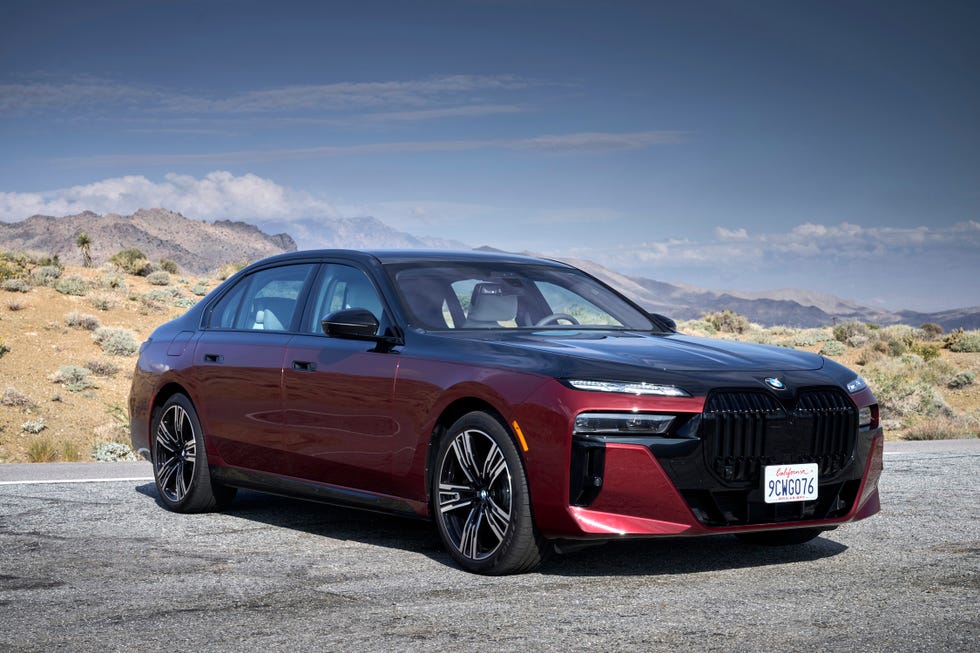 Engine & Performance
Sporting the crown, the 760i xDrive boasts a robust 536-hp twin-turbo 4.4-liter V-8, accompanied by standard all-wheel drive and a 48-volt hybrid system. The V-8's luxurious yet subdued symphony sets the tone as the 760i accelerates. The eight-speed automatic of the gasoline variant operates inconspicuously. Enhanced with an air suspension as standard, the 760i also integrates rear-wheel steering and adaptive dampers into its chassis for added agility.
Price & Mileage
Indulging in a range of luxurious, time-saving, and driver-assisting features, the 760i presents a sumptuous selection that could rival even a Rolls-Royce. The total package starts at an approximate price of $117,395. On the efficiency front, the V-8-powered, all-wheel-drive 760i xDrive achieves an estimated 18 mpg in the city and 26 mpg on the highway.
Acceleration & Features
While BMW states a 4.2-second 0-60 mph time, the 760i xDrive astoundingly clocked just 3.5 seconds in a track test. Noteworthy features encompass indulgent massaging seats, both front, and rear, along with a reclining "lounge" seat for the right-rear passenger, boasting a fold-out footrest. The convenience of automatic doors that effortlessly glide open and shut at the press of a button, coupled with a vast 31.3-inch collapsible rear screen for streaming entertainment, adds to its allure. Furthermore, an enhanced Bowers & Wilkins sound system, boasting 36 speakers, elevates the auditory experience to new heights.
BMW i7 xDrive60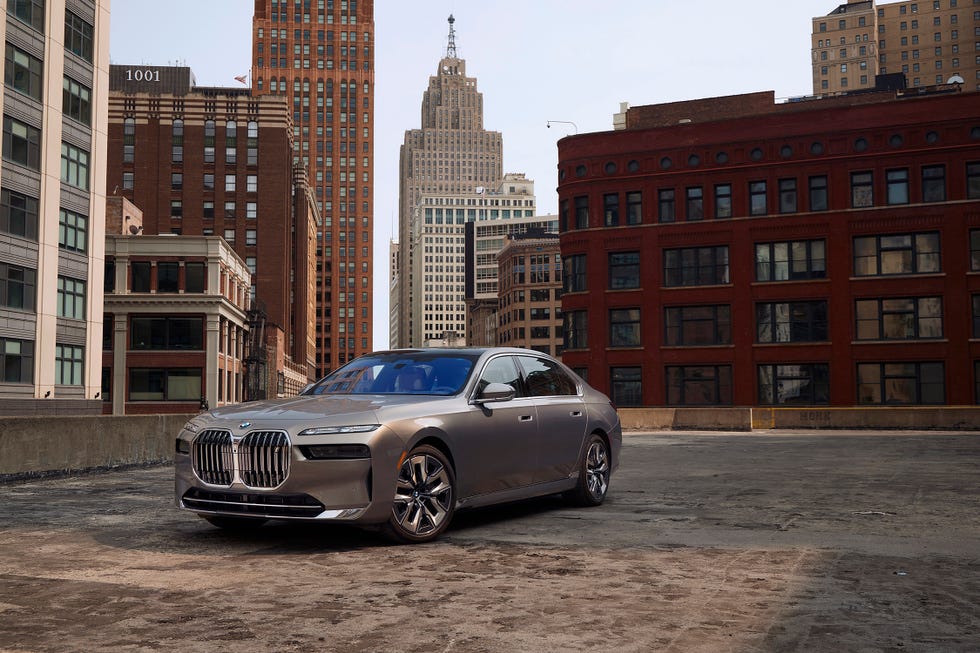 Motor & Performance
Utilizing an all-wheel drive configuration, the i7 employs a comparable electric powertrain arrangement to its EV SUV counterpart, the iX. This setup incorporates dual electric motors, powering each axle individually and culminating in a collective 536 horsepower. While the i7 displays unexpectedly nimble handling for its sedan size, it may not capture the attention of those in pursuit of sporty sedan performance. Instead, individuals in search of a lavish and cozy journey will undoubtedly appreciate its notably velvety suspension and tranquil cabin ambiance.
Price & Mileage
Embracing an array of opulent, time-saving, and driver-assist technologies, the i7 offers an opulent array that could contend with a Rolls-Royce. This comprehensive offering begins at an approximate cost of $120,295. According to EPA calculations, the i7 xDrive60 is projected to achieve a maximum of 87 MPGe in the city and an impressive 92 MPGe on the highway.
Acceleration & Features
During testing, the i7 xDrive60 achieved a 0-60 mph time of 4.1 seconds. Impressive features include lavish massaging seats for both front and rear passengers, along with a reclining "lounge" seat for the rear-right passenger, complete with a fold-out footrest. Enhancing convenience, the automatic doors smoothly glide open and shut with a simple button press. Adding to its appeal, the sizeable 31.3-inch collapsible rear screen offers streaming entertainment options. Moreover, the auditory experience reaches new peaks with the upgraded Bowers & Wilkins sound system, featuring an impressive array of 36 speakers.