2023 BMW Alpina B5 GT vs Audi RS6 Avant: What To Choose?
The renowned German tuner, Alpina, will become fully integrated into the BMW family by 2025, but not before bidding farewell with the exclusive 2023 BMW Alpina B5 GT—a limited edition model available in Europe and Asia, excluding the U.S. Despite being an independent automaker from Germany, Alpina shares a close partnership with BMW that goes beyond the typical tuner relationship. On the other hand, the Audi RS6 Avant felt the need for more power than its initial 591 horsepower could deliver. To address this, Audi introduced the new Performance variant, boasting an incredible 621 horsepower. Additionally, the new version is lighter, promising impressive acceleration. However, despite its pursuit of greater power, the RS6 Avant maintains its reputation for excellent practicality, offering ample space for five passengers in a luxurious interior equipped with cutting-edge technology.
| | | |
| --- | --- | --- |
| | BMW Alpina B5 GT | Audi RS6 Avant |
| Dimensions | 196.0 in x 73.5 in x 57.7 in | 196.7 in x 76.8 in x 58.5-59.6 in |
| Engine | twin-turbo 4.4L V8 | twin-turbo 4.0L V8 |
| Horsepower | 625 hp | 621 hp |
| Torque | 627 lb-ft | 627 lb-ft |
| 0-60 MPH | 2.9-3.1 sec | 2.9 sec |
| 0-100 MPH | NA | 7.6 sec |
| Top-Speed | 204-205 mph | 155-174 mph |
Specs
BMW Alpina B5 GT
Engine, Power & Performance
The 2023 BMW Alpina B5 GT represents an impressive evolution of the B5, which has been available since 2018. It shares its foundation with the M550i and employs the formidable N63-generation twin-turbo 4.4-liter V-8, also found in the M5's S63. However, the GT surpasses the regular B5 and standard M5 in power. Boasting a remarkable 625 horsepower achieved through a revised intake system and a new ECU. It falls just two horsepower short of the formidable BMW M5 CS. What truly sets the GT apart is its outstanding torque, boasting a substantial 627 pound-feet, a staggering 74 pound-feet more than the M5. The GT also boasts a center exhaust section, lending it a more robust and muscular sound. While the M5 exhibits a revvy and aggressive character, the Alpina B5 GT prioritizes low-down muscle. With peak torque readily available at 3500 rpm and minimal discernible lag.
Price & Features
The GT boasts additional "dive plane" wings integrated into its front bumper, enhancing stability at high speeds. It comes in both sedan and Touring station wagon versions. But with a limited production run—only 180 Tourings and a mere 70 sedans will be available. Surprisingly, the entire allocation is already sold-out, even with a starting price in Germany of $137,500 at the current exchange rates. In contrast to the standard B5, the GT variant boasts significant upgrades to enhance its performance. It features a newly added reinforcement piece on the front bulkhead, ensuring improved steering precision. The stiffer bump-stop rubbers and new brake pads further contribute to its enhanced driving experience.
Audi RS6 Avant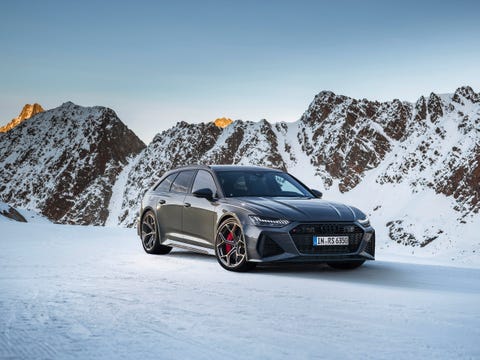 Engine, Power & Performance
The new RS6 Performance increases 30 horsepower and 37 pound-feet of torque at the expense of some sound insulation. The larger turbocharger impeller and updated engine mapping are responsible for the increase in power for the twin-turbo 4.0-liter V-8, which now generates 621 horsepower and 627 pound-feet. The maximal boost has increased from 20.3 to 23.2 psi. There is no additional lag with the enhanced boost. A 5031-pound test vehicle was able to accelerate to 60 mph in 3.1 seconds and reach 120 mph in 11.5 ticks thanks to the combo. The extra power ought to be enough to reduce the 0-60 mph time to under 3.0 seconds.
Price & Features
Although the Performance model has more horsepower, the basic RS6 Avant is still fantastic and has plenty of upscale options. You'll need to fork over more money if you want a different paint color unless you want a grey automobile. Additionally, we'd go with the Black Optic option, which offers the wagon a sleeker, more menacing appearance with black external accents and summer performance tires. The RS6 Avant starts at $124,000. The sportier Dynamic Ride Control (DRC) suspension was surreptitiously added to the option list for 2022 while the RS6 was initially only available in the United States with air springs. It uses hydraulics to resist pitch and rolling, but the hydraulics don't enhance compression resistance when a single tire moves, like in a pothole.