2023 BMW Alpina B5 GT vs Mercedes-AMG E63 S Wagon: What To Choose?
The renowned German tuner Alpina will be fully integrated into the BMW family by 2025. As a farewell gesture, they are introducing the exclusive 2023 BMW Alpina B5 GT—a limited edition model available in Europe and Asia but not in the U.S. Alpina and BMW share a close partnership beyond tuning, involving prestigious projects and early access to new models. On the other hand, The Mercedes-AMG E63 S Wagon is a high-performance five-door car that combines thrills, comfort, luxury, and practicality. Its exceptional cornering grip and powerful engine make it a thrilling ride, while still being capable of handling daily tasks. Unfortunately, 2023 will mark the final year of production for this remarkable vehicle.
| | | |
| --- | --- | --- |
| | BMW Alpina B5 GT | Mercedes-AMG E63 S Wagon |
| Dimensions | 196.0 in x 73.5 in x 57.7 in | 197.1 in x 75.1 in x 58.0 in |
| Engine | twin-turbo 4.4L V8 | twin-turbo 4.0L V8 |
| Horsepower | 625 hp | 603 hp |
| Torque | 627 lb-ft | 627 lb-ft |
| 0-60 MPH | 2.9-3.1 sec | 3.0 sec |
| 0-100 MPH | NA | 7.4 sec |
| Top-Speed | 204-205 mph | 180 mph |
Specs
BMW Alpina B5 GT
Engine, Power & Performance
The 2023 BMW Alpina B5 GT represents an impressive evolution of the B5, which has been available since 2018. It shares its foundation with the M550i and employs the formidable N63-generation twin-turbo 4.4-liter V-8, also found in the M5's S63. However, the GT surpasses the regular B5 and standard M5 in power. Boasting a remarkable 625 horsepower achieved through a revised intake system and a new ECU. It falls just two horsepower short of the formidable BMW M5 CS. What truly sets the GT apart is its outstanding torque, boasting a substantial 627 pound-feet, a staggering 74 pound-feet more than the M5. The GT also boasts a center exhaust section, lending it a more robust and muscular sound. While the M5 exhibits a revvy and aggressive character, the Alpina B5 GT prioritizes low-down muscle. With peak torque readily available at 3500 rpm and minimal discernible lag.
Price & Features
The GT boasts additional "dive plane" wings integrated into its front bumper, enhancing stability at high speeds. It comes in both sedan and Touring station wagon versions. But with a limited production run—only 180 Tourings and a mere 70 sedans will be available. Surprisingly, the entire allocation is already sold-out, even with a starting price in Germany of $137,500 at the current exchange rates. In contrast to the standard B5, the GT variant boasts significant upgrades to enhance its performance. It features a newly added reinforcement piece on the front bulkhead, ensuring improved steering precision. The stiffer bump-stop rubbers and new brake pads further contribute to its enhanced driving experience.
Mercedes-AMG E63 S Wagon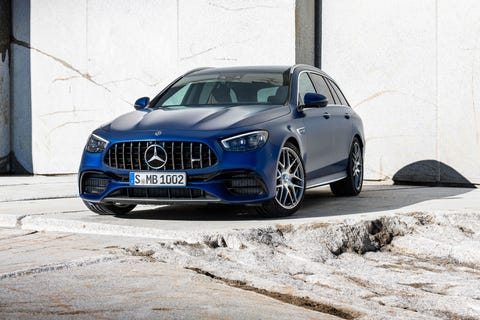 Engine, Power & Performance
The E63 S wagon boasts an imposing 603-hp twin-turbo V-8 engine, paired with a nine-speed automatic transmission and standard 4Matic+ all-wheel drive. This formidable setup allowed the 4683-pound mega wagon to accelerate to 60 mph in an astonishing 3.0 seconds and conquer the quarter-mile in just 11.1 seconds at 122 mph. Beyond the raw power, the E63 S wagon comes with various AMG upgrades, including a suspension-tuning makeover, larger brakes, and an exciting rear-drive-only "Drift" mode for playful maneuvers. While the suspension is surprisingly supple in Comfort mode, we can't resist leaving the wagon in Sport mode for an electrifying driving experience.
Price & Features
The E63 S wagon comes with a higher price tag compared to the E63 S sedan. However, the additional practicality, exclusivity, and boldness it offers justify the extra cost. For our ideal AMG wagon, we'd opt for a selection of premium features that might increase the overall price, but they would enhance its luxurious appeal and heighten our satisfaction. These desired options comprise the Exterior Lighting package, the Warmth and Comfort package, and the Acoustic Comfort package, ensuring a serene cabin ambiance. Among our favorite individual choices are the head-up display, massaging front seats, three-zone climate control, and soft-close doors. The Wagon's base price starts at $122,250.