2024 Acura ZDX vs Hyundai Ioniq 5: Which is Better?
Acura is entering the electric realm with the 2024 ZDX SUV, reviving its historic name. Unlike the gas-powered 2010 ZDX, the new version features a conventional SUV design, boasting a floating roof, sleek sides, and an illuminated faux grille. Created through collaboration between Acura's parent company Honda and General Motors, the ZDX employs GM's Ultium battery technology. On the other hand, the Hyundai Ioniq 5 proudly maintains its boxy rectangular shape. Starting with a 168 hp rear-drive model and 220 miles of range, it offers more powerful options, including a 303-mile single-motor variant and a 320 hp all-wheel-drive model with 266 miles of range, coupled with impressive 350-kW DC fast-charging capability.
| | | |
| --- | --- | --- |
| | Acura ZDX | Hyundai Ioniq 5 |
| Dimensions | 197.7 in x 77.0 in x 64.4 in | 182.5 in x 74.4 in x 63.0 in |
| Motor | permanent-magnet AC | permanent-magnet AC |
| Horsepower | 500 hp | 320 hp |
| Torque | NA | 446 lb-ft |
| 0-60 MPH | NA | 4.5 sec |
| 0-100 MPH | NA | 12.6 sec |
| Top-Speed | NA | 117 mph |
Specs
Acura ZDX
Motor & Performance
Let's shift our attention to the ZDX lineup. We start with the A-Spec model, featuring a robust 340 horsepower rear-wheel-drive motor. If desired, this model provides an option for a second motor. Which, while not boosting the overall horsepower, adds the capability of all-wheel drive. However, what truly seizes our focus is the exhilarating Type S iteration. This version arrives standard with dual motors and all-wheel drive. The electric motors in the Type S variant have been meticulously calibrated to offer a remarkable combined output of 500 horsepower.
Price & Mileage
We highly recommend considering the range-topping Type S model. Leveraging our insights into the Cadillac Lyriq, which shares a platform with the ZDX, we expect the Type S variant to offer the dynamic acceleration that electric vehicle enthusiasts often desire. With a starting price of $60,000 for the ZDX, it positions itself attractively. While we await the EPA's official MPGe estimates for the ZDX, we foresee them aligning closely with Lyriq's impressive numbers. The Lyriq achieves remarkable ratings of up to 95 MPGe in city conditions and 82 MPGe during highway cruising. This similarity suggests the ZDX will likely deliver competitive efficiency.
Acceleration & Features
GM's Ultium battery technology takes center stage in the ZDX, adopting the same 102.0-kWh battery pack as the Lyriq, resulting in an astounding driving range of up to 325 miles for the A-Spec variant. Meanwhile, the Type S model maintains a respectable range of 288 miles per charge. Equipped with DC fast charging as standard, the ZDX boasts rapid charging capabilities of up to 190 kW, ensuring quick power top-ups. The heart of the ZDX's dashboard showcases an impressive 11.3-inch infotainment display that radiates a strong sense of pride. Complementing this feature, snugly positioned within the binnacle just ahead of the steering wheel, is a second 11.0-inch gauge-cluster display. Notably, the seamless integration of standard wireless Apple CarPlay and Android Auto further enhances the ZDX's tech-savvy appeal.
Hyundai Ioniq 5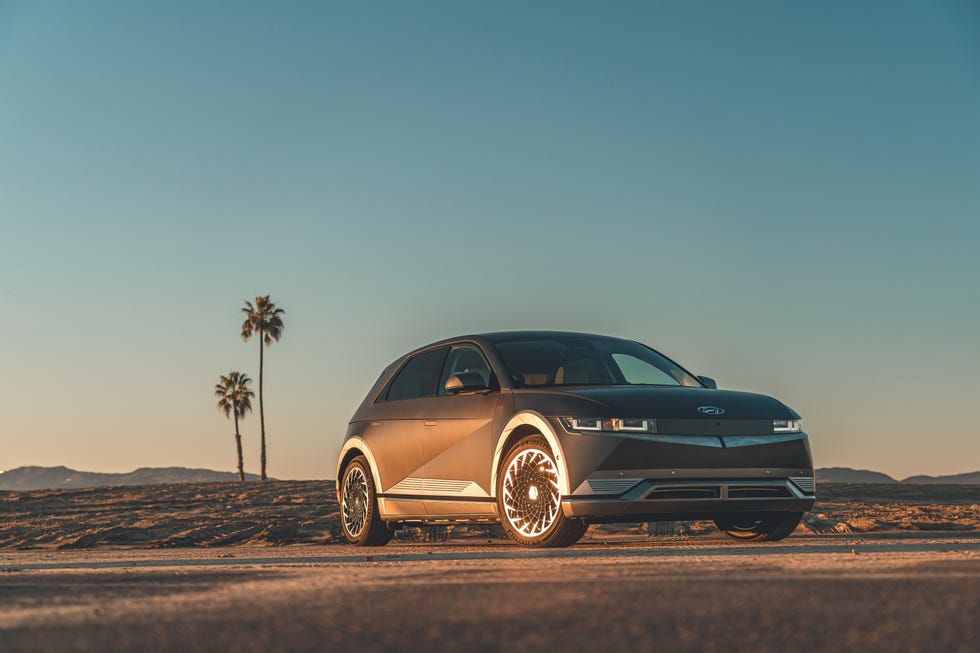 Motor & Performance
The Ioniq 5 boasts an exclusive electric powertrain lineup, presenting various power levels to choose from. Starting with the base setup, a single rear-mounted electric motor is matched with a standard-range battery, resulting in an output of 168 horsepower. Opting for the extended-range battery transforms the rear-wheel-drive configuration into a robust 225 horsepower and 258 pound-feet of torque performer. The pinnacle of power is embodied by the all-wheel-drive variant, a commanding 320 horsepower, and an impressive 446 pound-feet of torque, leading to accelerated performance. As for range, the Ioniq 5 equipped with the 58.0-kWh battery pack is anticipated to cover 220 miles. For those seeking extended distances, the larger 77.4-kWh battery achieves a range of 266 miles with dual motors, and a remarkable 303 miles with a single motor.
Price & Mileage
Opting for maximum capacity leads to a reassuring journey with the Ioniq 5. Our recommendation leans toward the rear-drive SEL variant, boasting a substantial EPA-estimated range of 303 miles and a spirited 225 horsepower, all at an accessible cost of approximately $50,000. It's worth noting that the Ioniq 5 starts at a base price of $43,000. For those eyeing the extended battery and rear-wheel drive, the Ioniq 5 proudly showcases a combined EPA rating of 114 MPGe. Should you opt for all-wheel drive, the estimate slightly adjusts to 101 MPGe. Furthermore, with rear-wheel drive and the standard-range battery, the battery-electric SUV is projected to achieve a commendable 113 MPGe combined. In essence, the Ioniq 5 offers a range of options tailored to your preferences and needs.
Acceleration & Features
Hyundai claims the RWD Ioniq 5 achieves a 0-60 mph acceleration in 7.4 seconds, while the AWD variant achieves the same in just 4.5 seconds on a test track. The Ioniq sub-brand by Hyundai prioritizes connected living, evident in the Ioniq 5's array of innovative infotainment and connectivity features. Sporting a 12.0-inch touchscreen and a 12.0-inch digital gauge cluster on the dashboard, the former takes center stage as the entertainment hub. This system boasts voice-recognition software, as well as seamless integration with Apple CarPlay and Android Auto, ensuring a comprehensive and user-friendly experience.