2024 Acura ZDX vs Kia EV6: What To Choose?
Acura is reintroducing the ZDX name for its electric venture, departing from the original gas-powered version. The new 2024 Acura ZDX SUV adopts a conventional two-box SUV layout with captivating features including a floating roof, sleek sides, and an illuminated border on the faux grille. Created in collaboration with Honda and General Motors, it utilizes GM's Ultium battery tech. On the other hand, the 2023 Kia EV6 stands out in the EV market with its dynamic road manners, distinctive design, and optional all-wheel drive models boasting a larger battery for up to 310 miles of range.
| | | |
| --- | --- | --- |
| | Acura ZDX | Kia EV6 |
| Dimensions | 197.7 in x 77.0 in x 64.4 in | 184.8 in x 74.4 in x 60.8 in |
| Motor | permanent-magnet AC | permanent-magnet AC |
| Horsepower | 500 hp | 576 hp |
| Torque | NA | 545 lb-ft |
| 0-60 MPH | NA | 3.2 sec |
| 0-100 MPH | NA | 8.0 sec |
| Top-Speed | NA | 161 mph |
Specs
Acura ZDX
Motor & Performance
Let's shift our attention to the ZDX lineup. We start with the A-Spec model, featuring a robust 340 horsepower rear-wheel-drive motor. If desired, this model provides an option for a second motor. Which, while not boosting the overall horsepower, adds the capability of all-wheel drive. However, what truly seizes our focus is the exhilarating Type S iteration. This version arrives standard with dual motors and all-wheel drive. The electric motors in the Type S variant have been meticulously calibrated to offer a remarkable combined output of 500 horsepower.
Price & Mileage
We highly recommend considering the range-topping Type S model. Leveraging our insights into the Cadillac Lyriq, which shares a platform with the ZDX, we expect the Type S variant to offer the dynamic acceleration that electric vehicle enthusiasts often desire. With a starting price of $60,000 for the ZDX, it positions itself attractively. While we await the EPA's official MPGe estimates for the ZDX, we foresee them aligning closely with Lyriq's impressive numbers. The Lyriq achieves remarkable ratings of up to 95 MPGe in city conditions and 82 MPGe during highway cruising. This similarity suggests the ZDX will likely deliver competitive efficiency.
Acceleration & Features
GM's Ultium battery technology takes center stage in the ZDX, adopting the same 102.0-kWh battery pack as the Lyriq, resulting in an astounding driving range of up to 325 miles for the A-Spec variant. Meanwhile, the Type S model maintains a respectable range of 288 miles per charge. Equipped with DC fast charging as standard, the ZDX boasts rapid charging capabilities of up to 190 kW, ensuring quick power top-ups. The heart of the ZDX's dashboard showcases an impressive 11.3-inch infotainment display that radiates a strong sense of pride. Complementing this feature, snugly positioned within the binnacle just ahead of the steering wheel, is a second 11.0-inch gauge-cluster display. Notably, the seamless integration of standard wireless Apple CarPlay and Android Auto further enhances the ZDX's tech-savvy appeal.
Kia EV6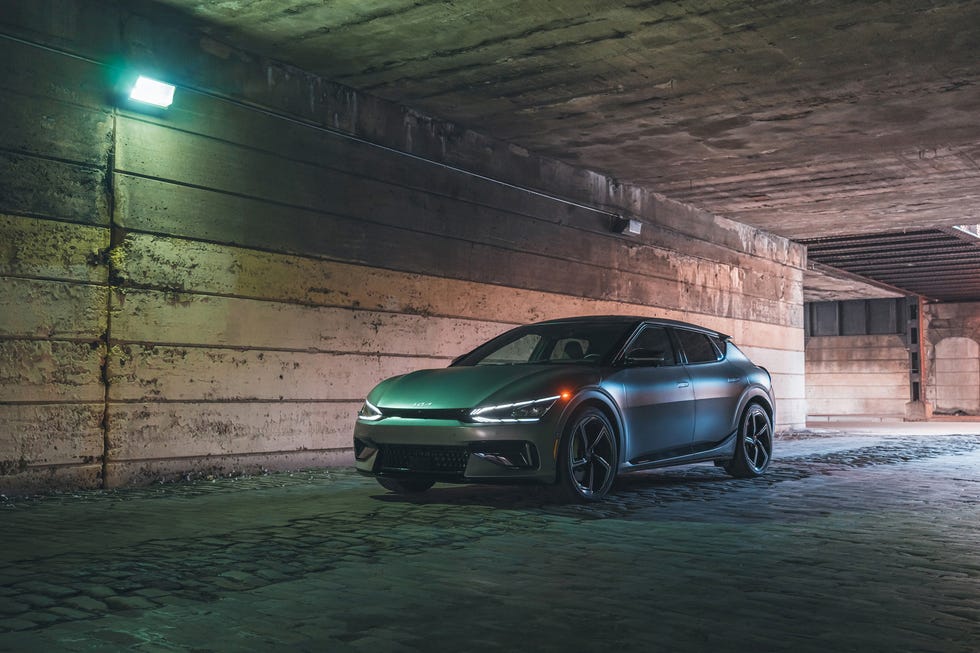 Motor & Performance
The EV6 offers a choice between a single electric motor at the rear axle, providing rear-wheel drive, and electric motors at both front and rear, enabling all-wheel drive. Models equipped with all-wheel drive feature a larger battery pack and deliver either 320 or 576 total horsepower. Conversely, the base rear-wheel-drive variant comes with a smaller battery and a power output of 167 horses. Opting for the larger battery elevates the rear-wheel-drive EV6's total output to 225 horsepower. At the pinnacle of the lineup, the performance model stands with notable enhancements, including an electronic limited-slip differential, a firmer chassis tuning, adaptive suspension, and enhanced brakes.
Price & Mileage
While the high-performance GT model is undeniably captivating, it's important to note that the majority of EV buyers prioritize maximum driving range over sheer performance. For those individuals, we strongly suggest considering the dual-motor, all-wheel-drive Wind trim level. The pricing for the Kia EV6 begins at $43,925. Each single-motor EV6 boasts an impressive combined EPA rating of up to 117 MPGe. In the case of the dual-motor variant, the rating stands at 109 MPGe combined with the standard 19-inch wheels and slightly lowers to 96 MPGe combined when equipped with the optional 20-inch wheels. Opting for the high-performance GT model does lead to a reduction in the combined estimate, bringing it down to 79 MPGe.
Acceleration & Features
On the test track, the zippy 320-hp GT-Line variant impressively achieved a rapid zero-to-60-mph time of 4.5 seconds. Opting for the rear-wheel drive model enhances range, albeit with a slightly slower 6.7-second 0-60 mph time in trials. If your focus is on raw acceleration, the robust 576-hp GT variant is the answer, as it blazed to 60 mph in just 3.2 seconds during testing. The infotainment system is accessed via a 12.0-inch touchscreen that seamlessly extends from the EV6's 12.0-inch digital gauge cluster. However, the design and performance of the menu structure and navigation leave much to be desired.