2024 Bentley Bentayga vs Rolls Royce Cullinan: What To Choose?
Legacy luxury automakers like Bentley now include SUVs in their lineup. With the Bentayga offers the same lavish experience as the Continental GT and Flying Spur. The interior boasts aromatic leather, exquisite metal trim, rich wood inlays, and modern infotainment. Engine options include a V-8, W-12, or plug-in hybrid V-6. Performance is impressive across all powertrains. The extended wheelbase Bentayga suits chauffeured rides, especially with reclining rear seats. On the other hand, the Rolls-Royce Cullinan epitomizes tradition, housing a smooth twin-turbo V-12 under its Spirit of Ecstasy-adorned hood. Its all-wheel drive ensures comfort, and the cabin's quietness resembles an isolation chamber even at high speeds. The rear seat is akin to a plush leather couch, offering a soothing ride in one of the world's most extravagantly luxurious SUVs.
| | | |
| --- | --- | --- |
| | Bentley Bentayga | Rolls-Royce Cullinan |
| Dimensions | 201.8 in x 78.7 in x 68.6 in | 210.3 in x 78.7 in x 72.2 in |
| Engine | 6.0L twin-turbo W12 | 6.7L twin-turbo V12 |
| Horsepower | 626 hp | 563 hp |
| Torque | 664 lb-ft | 627 lb-ft |
| 0-60 MPH | 3.6 sec | 4.5 sec |
| 0-100 MPH | 7.7 sec | 10.5 sec |
| Top-Speed | 190 mph | 151 mph |
Specs
Bentley Bentayga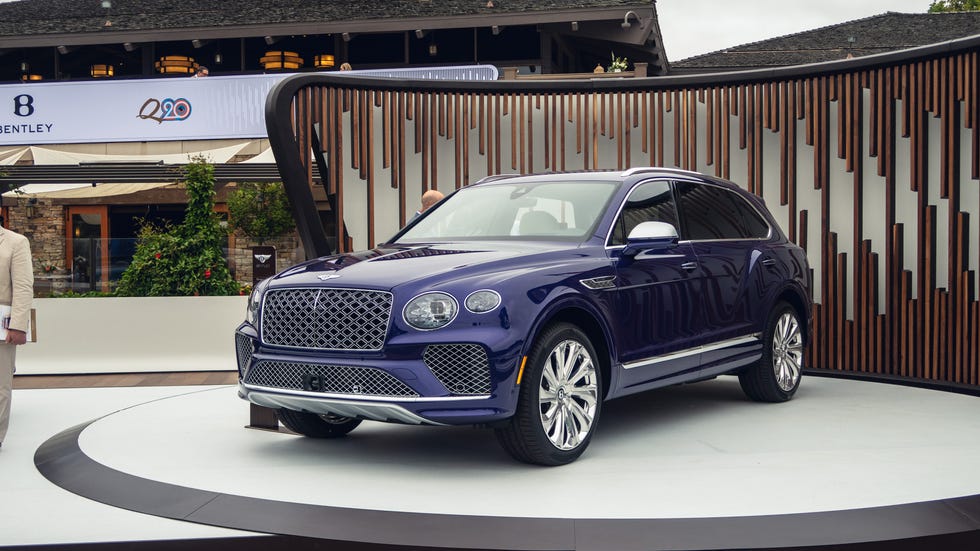 Engine & Performance
Bentley presents a range of powertrain options for the Bentayga, catering to various preferences. At the lower end, you'll find a hybrid setup featuring a turbocharged 3.0-liter V-6 and an electric motor, delivering 443 hp. For a tad more power, the Azure and S hybrid models offer a 455-hp version of this electrified configuration. Alternatively, there's the 542-hp twin-turbo V-8 engine. Stepping up, the Bentayga Speed boasts a commanding 626-hp W-12. In comparison to the V-8, the W-12 offers a smoother power delivery, enhancing its performance, especially during passing maneuvers. Remarkably, Bentley asserts that the Bentayga Speed. Reaching an impressive claimed top speed of 190 mph stands as the swiftest SUV globally. With this diverse array of powertrains, Bentley caters to a wide spectrum of driving preferences and demands.
Price & Mileage
Our preference lies with the V-8 variant for the best experience. While the W-12 engine in the Speed model offers seamless and impressively potent performance. Its significant price hike compared to the V-8 cannot be ignored. Opting for the eight-cylinder version and enhancing it with features like the adaptive suspension, rear-seat entertainment system, and the 20-speaker Naim stereo seems wise. With a starting price of $200,000, the Bentayga sets its entry point. The V-8 iteration achieves respectable mileage figures of 14 mpg in the city, 23 mpg on the highway, and a combined 17 mpg for a large SUV. Which stands favorably against the W-12's ratings of 12 mpg in the city, 17 mpg on the highway, and a combined 14 mpg.
Acceleration & Features
The V-8 engine emits a robust burble as it accelerates to 60 mph, achieving this feat in just 3.5 seconds, a marked improvement from 2017 when the Speed model, boasting 600 horsepower, managed a 3.6-second 60-mph performance. Every Bentayga variant includes a 10.9-inch infotainment screen equipped with navigation, Apple CarPlay, and Android Auto integration. For enhanced entertainment, an optional system comprises dual 10.2-inch displays affixed to the front-seat headrests. This setup allows rear-seat occupants to seamlessly surf the web, engage with Bentayga's infotainment features, or enjoy movies.
Rolls-Royce Cullinan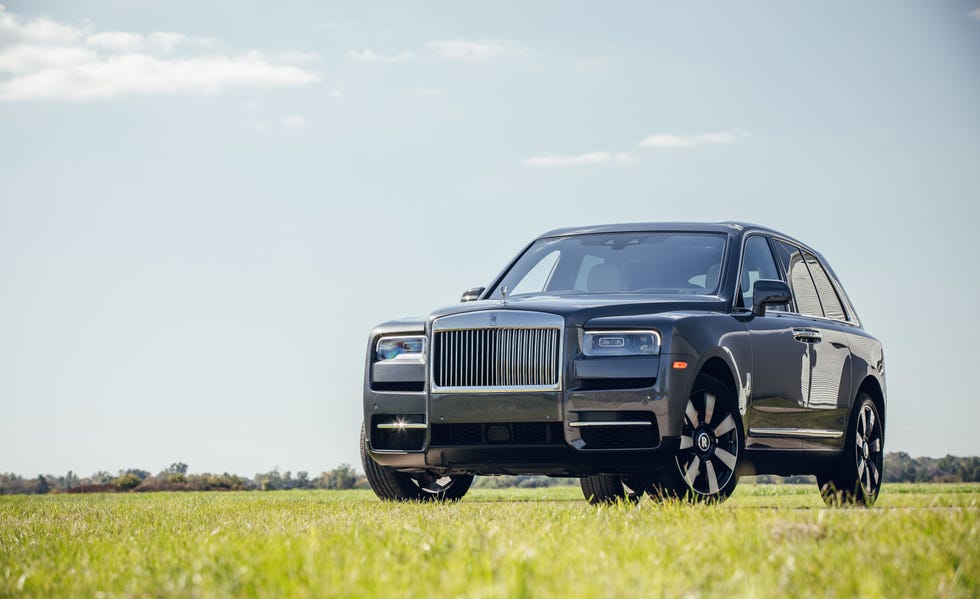 Engine & Performance
The Cullinan's robust twin-turbo 6.7-liter V-12 generates a seamless 563 horsepower, all while maintaining a hushed demeanor, so as not to disturb the esteemed occupants within the cabin. While all-wheel drive comes as a standard feature, most buyers will likely stick to paved roads, avoiding any potential harm to the vehicle's pristine paintwork. Supported by an air suspension system, the Cullinan utilizes data from a road-scanning camera to autonomously adapt its height, mitigating any uneven road surfaces. This meticulous engineering ensures that the ride comfort surpasses conventional luxury standards. As the Cullinan gracefully glides along the road, it imparts no unwelcome vibrations or disturbances to the passengers on board.
Price & Mileage
In an imaginative world where budget constraints don't exist, our preference would lean towards the Cullinan, with its Crystal paint option, 22-inch seven-spoke wheels, gold-plated Spirit of Ecstasy emblem, and electronic tow hitch. Beginning at a base price of $355,000, the Cullinan beckons those with a taste for opulence. Its V-12 powertrain achieves a fuel efficiency of 12 mpg in urban settings and 20 mpg on highways, surprisingly not ranking among the least efficient in its segment.
Acceleration & Features
The model under scrutiny showcased its remarkable acceleration by clocking a 4.5-second time to reach 60 mph, an achievement considering its hefty three-ton weight. Each Cullinan variant comes equipped with a spacious touchscreen infotainment system, supplemented by a duplicate controller on the central console. Notably, every model is equipped with Apple CarPlay. For added convenience, the optional rear-seat entertainment package introduces a 12.0-inch screen affixed to the rear of the front seats. Complementing this, the Cullinan offers a Wi-Fi hotspot and a custom-designed audio system boasting 18 high-quality speakers.