2024 BMW iX1 vs Kia EV6: Which is Better?
In the realm of electric vehicles (EVs), BMW's initial strides toward electrification, as seen with the i3 and i8 models, have given way to a more cautious approach. Apart from the all-electric iX, recent offerings like the iX3, i4, and i7 are essentially electric versions of existing models, exemplified by the upcoming 2024 BMW iX1, which electrifies the third-gen X1. On the other side of the spectrum, the Kia EV6 stands out for seamlessly integrating the EV experience. Beyond its striking design, the EV6 offers a pleasant ride, robust performance, and a roomy cabin. Boasting an impressive EPA-estimated range of up to 310 miles, the EV6 GT version kicks it up a notch with 576 horsepower. Quick recharging, with a peak DC-fast charging rate of about 225 kW, positions the EV6 as a practical choice for long-distance electric travel.
| | | |
| --- | --- | --- |
| | BMW iX1 | Kia EV6 |
| Dimensions | 177.2 in x 72.6 in x 63.6 in | 184.8 in x 74.4 in x 60.8 in |
| Motor | synchronous AC | permanent-magnet AC |
| Horsepower | 313 hp | 576 hp |
| Torque | 364 lb-ft | 545 lb-ft |
| 0-60 MPH | 5.5 sec | 3.2 sec |
| 0-100 MPH | 13.7 sec | 8.0 sec |
| Top-Speed | 112 mph | 161 mph |
Specs
BMW iX1
Motor & Performance
Introducing the iX1, it comes in a dual-motor all-wheel-drive configuration under the xDrive30 designation. The motors on both axles are nearly identical, with a slightly lower gear ratio on the rear single-speed reduction. This configuration results in a robust combined peak output of 308 horsepower and 364 pound-feet of torque. Notably, the EV's performance is both lively and drama-free. For a quick burst of power, you can engage Boost mode, activated by pulling a paddle situated behind the steering wheel. It provides an exhilarating 10-second boost. Moreover, there's a convenient one-pedal mode, easily accessible by pulling the stubby gear selector into "B." This setup promises a dynamic driving experience with user-friendly controls.
Price & Mileage
In the Indian market, you'll find this vehicle priced at slightly above $79,000 before taxes. This places it squarely in competition with the entry-level Kia EV6. Providing a compelling and cost-effective alternative to the Mercedes EQA350 4Matic. Its power source is a 64.7-kWh battery pack tucked beneath the vehicle's floor. Offering a range of 266 miles according to Europe's generous WLTP testing protocol. However, it's important to note that under the EPA's more stringent evaluation, the range might be closer to 240 miles. Notably, the battery is equipped for DC fast charging, capable of reaching speeds up to 130 kW. Allowing it to charge from 10 percent to 80 percent in just 29 minutes, as claimed. Additionally, the water-cooled pack is smartly designed to adjust its temperature to an ideal 77 degrees Fahrenheit when approaching a fast charger. A feature seamlessly integrated into the navigation system.
Acceleration & Features
Transitioning to the iX1's performance, one notices a slight top-heavy sensitivity in its accelerator pedal responses. Particularly pronounced in Sport mode, where the assertive mapping can hinder achieving a seamless takeoff. BMW boldly claims a brisk zero-to-62-mph time of 5.7 seconds. Moving into the interior, the iX1 boasts a standard 10.3-inch digital instrument display. Accompanied by a 10.7-inch curved touchscreen, both are seamlessly integrated with the new BMW 8 operating system. The visual aesthetics are certainly pleasing, and the system operates with impressive speed. However, it's worth noting that this transition also signals the departure of physical heating controls and the useful row of customizable function keys that BMW previously provided.
Kia EV6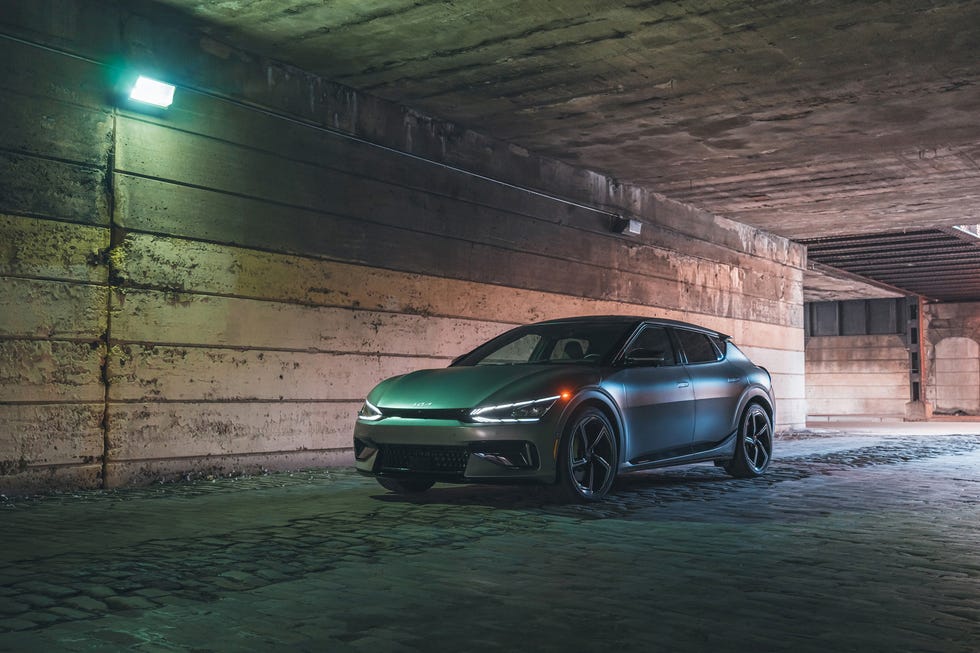 Motor & Performance
Transitioning into EV6's power dynamics, you've got choices – either the solo electric motor at the back for rear-wheel drive or the tag team of electric motors at both ends for an all-wheel-drive thrill. In the all-wheel-drive arena, a heftier battery pack propels you into the 320 or a whopping 576 horsepower league. Now, shift gears to the base rear-wheel-drive edition flaunting a modest 167 horses, thanks to a smaller battery. But, kick it up a notch by choosing the larger battery, and voila, the rear-wheel-drive variant now flexes a total output of 225 horsepower. Climbing the performance ladder, the top-tier model amps up the game with slick upgrades—think electronic limited-slip differential, a tuned-up chassis, adaptive suspension, and brakes that mean serious business.
Price & Mileage
While the high-octane allure of the GT model is undeniable, it's crucial to recognize that the majority of EV buyers prioritize extensive driving range over raw performance. For those leaning towards practicality, we highly recommend exploring the dual-motor, all-wheel-drive Wind trim level. The Kia EV6 kicks off at an accessible $43,925. Each single-motor EV6 impresses with a remarkable combined EPA rating of up to 117 MPGe. In the dual-motor variant, this rating sits at 109 MPGe when paired with standard 19-inch wheels, dipping slightly to 96 MPGe with the optional 20-inch wheels. Opting for the high-performance GT model does come at a cost, with a reduced combined estimate of 79 MPGe. It's a trade-off worth considering for enthusiasts craving top-tier performance.
Acceleration & Features
Zooming around the test track, the nimble 320-hp GT-Line variant wowed us with its impressive zero-to-60-mph sprint in a mere 4.5 seconds. Opting for the rear-wheel-drive model, while boosting range, did result in a slightly slower 6.7-second 0-60 mph time during trials. Now, if you're all about that raw acceleration, look no further than the muscular 576-hp GT variant, which scorched to 60 mph in a mere 3.2 seconds during testing. Navigating the infotainment system is a breeze with the 12.0-inch touchscreen seamlessly extending from the EV6's digital gauge cluster of the same size. Yet, the menu structure and navigation performance leave much to be desired in terms of both design and functionality.