2024 BMW iX1 vs Mercedes-Benz EQB: Which is Better?
In the realm of electric vehicles (EVs), BMW has shifted from being a pioneer to a more cautious player. Introducing a new line of "i"-branded EVs that are essentially electric versions of their existing models, like the iX3, i4, and i7. The 2024 BMW iX1 follows suit by electrifying the third-gen X1. On the other hand, the Mercedes-Benz EQB takes a subtle approach to EV design. Closely resembling its gas-powered counterpart, the GLB-class SUV. This similarity extends to their enjoyable driving experience, practicality, and style. Inside, the EQB offers a well-appointed and spacious cabin with all the expected tech features for staying connected. While it excels in many areas, the EQB's only drawback might be something else entirely.
| | | |
| --- | --- | --- |
| | BMW iX1 | Mercedes-Benz EQB |
| Dimensions | 177.2 in x 72.6 in x 63.6 in | 184.4 in x 72.2 in x 65.6 in |
| Motor | synchronous AC | permanent-magnet AC |
| Horsepower | 313 hp | 288 hp |
| Torque | 364 lb-ft | 384 lb-ft |
| 0-60 MPH | 5.5 sec | 5.4 sec |
| 0-100 MPH | 13.7 sec | NA |
| Top-Speed | 112 mph | 100 mph |
Specs
BMW iX1
Motor & Performance
Introducing the iX1, it comes in a dual-motor all-wheel-drive configuration under the xDrive30 designation. The motors on both axles are nearly identical, with a slightly lower gear ratio on the rear single-speed reduction. This configuration results in a robust combined peak output of 308 horsepower and 364 pound-feet of torque. Notably, the EV's performance is both lively and drama-free. For a quick burst of power, you can engage Boost mode, activated by pulling a paddle situated behind the steering wheel. It provides an exhilarating 10-second boost. Moreover, there's a convenient one-pedal mode, easily accessible by pulling the stubby gear selector into "B." This setup promises a dynamic driving experience with user-friendly controls.
Price & Mileage
In the Indian market, you'll find this vehicle priced at slightly above $79,000 before taxes. This places it squarely in competition with the entry-level Kia EV6. Providing a compelling and cost-effective alternative to the Mercedes EQA350 4Matic. Its power source is a 64.7-kWh battery pack tucked beneath the vehicle's floor. Offering a range of 266 miles according to Europe's generous WLTP testing protocol. However, it's important to note that under the EPA's more stringent evaluation, the range might be closer to 240 miles. Notably, the battery is equipped for DC fast charging, capable of reaching speeds up to 130 kW. Allowing it to charge from 10 percent to 80 percent in just 29 minutes, as claimed. Additionally, the water-cooled pack is smartly designed to adjust its temperature to an ideal 77 degrees Fahrenheit when approaching a fast charger. A feature seamlessly integrated into the navigation system.
Acceleration & Features
Transitioning to the iX1's performance, one notices a slight top-heavy sensitivity in its accelerator pedal responses. Particularly pronounced in Sport mode, where the assertive mapping can hinder achieving a seamless takeoff. BMW boldly claims a brisk zero-to-62-mph time of 5.7 seconds. Moving into the interior, the iX1 boasts a standard 10.3-inch digital instrument display. Accompanied by a 10.7-inch curved touchscreen, both are seamlessly integrated with the new BMW 8 operating system. The visual aesthetics are certainly pleasing, and the system operates with impressive speed. However, it's worth noting that this transition also signals the departure of physical heating controls and the useful row of customizable function keys that BMW previously provided.
Mercedes-Benz EQB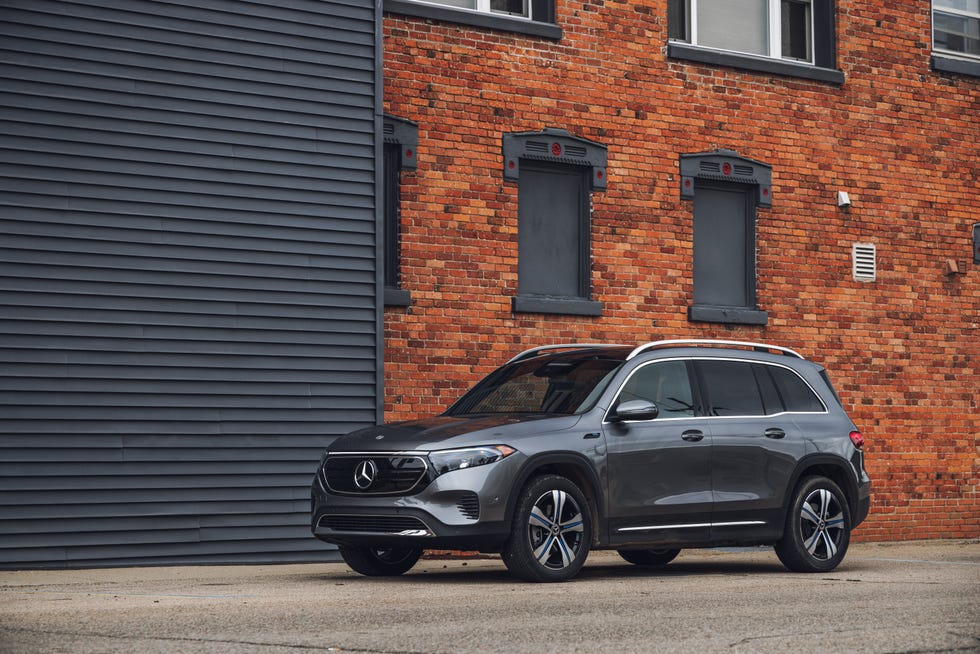 Motor & Performance
The introductory variant of the EQB is the EQB250+, showcasing a 188-hp electric motor and front-wheel drive. Opting for the EQB300 brings forth all-wheel drive and a marginally more potent 225-hp electric powertrain. For those seeking the swiftest EQB, the optimal choice lies with the dual-motor EQB350, boasting a robust 288 horsepower. While the EQB shares chassis elements with the gasoline-driven GLB, its weight is notably higher, resulting in a more stable and composed ride quality. During a test of the EQB350, it exhibited superior acceleration compared to the GLB250 and approached the performance of the 302-hp AMG GLB35.
Price & Mileage
The EQB comes in three variations, yet they share remarkable similarities. Among these options, the EQB300 with 225 horsepower stands out as a well-rounded choice, boasting an estimated range of up to 242 miles on a single charge. Starting at a base price of $53,900, the Mercedes-Benz EQB provides diverse options. The EQB350, on the other hand, has received an EPA rating of up to 98 MPGe in city conditions and 93 MPGe on highways.
Acceleration & Features
During a test track session, the EQB350 demonstrated its prowess by reaching 60 mph in 5.4 seconds—just half a second shy of the GLB35's performance, yet marginally quicker than the Audi Q4 e-tron. Inside the EQB, you'll come across Mercedes-Benz's MBUX infotainment system in full view, boasting a touchscreen, voice command capabilities, and conveniently placed steering-wheel controls for managing audio, navigation, and various functions. While the interface offers convenience, it occasionally presents frustration, especially with its overly enthusiastic voice assistant that tends to appear at the mere mention of "Mercedes." On the navigation front, there's a feature thoughtfully designed to aid drivers in locating EV charging stations with greater ease.