2024 BMW X2 vs Audi Q3 Sportback: Which is Better?
The 2024 BMW X2 and Audi Q3 embody distinct approaches to compact SUVs. The X2, a sleeker counterpart to the X1, boasts a sportier design and offers both a 241-hp xDrive 28i and a more robust M35i with 312 horsepower, performance brakes, and unique M-themed accents. Set to hit the market in March 2024, it merges practicality with a fierce aesthetic. Meanwhile, the Audi Q3, Audi's budget-friendly SUV, mirrors the Q5's design on a smaller scale. Standard all-wheel drive and adaptive cruise assist complement the Q3's turbocharged 2.0-liter four-cylinder engine, delivering 184 hp in the Q3 40 and 228 hp in the Q3 45. While not the most powerful, the Q3 excels with Audi's trademark balance of handling, ride comfort, and familial style.
| | | |
| --- | --- | --- |
| | BMW X2 | Audi Q3 |
| Dimensions | 179.5 in x 72.6 in x 62.6 in | 176.6 in x 72.8 in x 64.1 in |
| Engine | 2.0L twin-turbo inline-4 | 2.0L turbocharged inline-4 |
| Horsepower | 312 hp | 228 hp |
| Torque | 295 lb-ft | 258 lb-ft |
| 0-60 MPH | 5.2 sec | 7.4 sec |
| 0-100 MPH | NA | 19.3 sec |
| Top-Speed | 130-155 mph | 130 mph |
Specs
BMW X2
Engine & Performance
Experience a power boost in the all-new X2, featuring an enhanced turbocharged 2.0-liter inline-four engine paired with a seven-speed dual-clutch automatic transmission. The xDrive28i now commands an impressive 241 horsepower and 295 pound-feet of torque, a step up from its predecessor. Stepping into the realm of heightened performance, the M35i xDrive flexes its muscles with a robust 312 horsepower, supported by upgraded internals. Both models boast a top speed of 130 mph on all-season tires but opt for performance summer rubber, and the M35i xDrive surges ahead with a 155 mph limit, compared to the xDrive28i's 149 mph. This power-packed duo is not just an upgrade; it's a performance revelation.
Price & Mileage
Though the base model of the X2 lacks the horsepower thrill of the M35i xDrive, its smaller wheels and a milder engine tune promise a more manageable daily drive. Priced at $42,995, the X2 offers an optional M Sport equipment package for the xDrive 28i, featuring M wheels, paddle shifters, an adaptive M suspension, and enhanced brakes. However, the true brilliance of the new-gen X2 is expected to unfold most prominently in the budget-friendly base version. Currently, EPA ratings for mileage remain undisclosed. Nevertheless, the anticipation for improved livability at a competitive starting price makes the X2 an enticing option in its class.
Acceleration & Features
Accelerating from 0 to 60 mph in a claimed 5.2 seconds, BMW asserts the M-powered X2's prowess, although our anticipation leans toward an even more impressive performance, given the 302-hp 2019 X2 M35i managed the same feat in just 4.5 seconds during prior testing. The X2 lineup universally features BMW's expansive curved instrument-panel display, comprising a 10.25-inch gauge cluster for speed and driving data, accompanied by a 10.7-inch counterpart dedicated to infotainment controls. This system, with perhaps more configurability options than strictly necessary, provides all X2 models with wireless Apple CarPlay and Android Auto functionality. Notably, a wireless smartphone charger is a standard inclusion for the M35i xDrive and an optional feature accessible with the Convenience equipment package for the xDrive 28i.
Audi Q3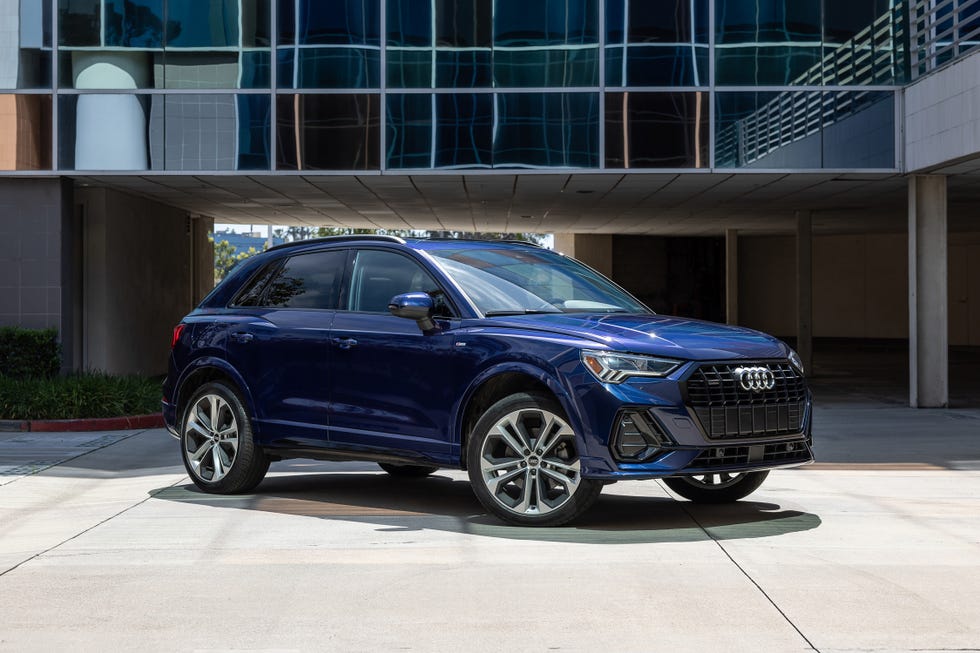 Engine & Performance
Rev up your drive with the Audi Q3, featuring a turbocharged 2.0-liter four-cylinder powerhouse. Two options await: the Q3 40, boasting 181 horsepower and 221 foot-pounds of torque, and the Q3 45, cranking up the excitement with 228 horsepower and 258 pound-feet. Mated with an eight-speed automatic transmission, power effortlessly flows to all four wheels through the Quattro all-wheel drive system. While the suspension leans towards comfort over performance, it's a deliberate choice for the Q3's dynamic personality. Expect a well-harmonized union between chassis and engine, delivering not just a comfortable ride but also moments of spirited driving pleasure. Buckle up for a journey where power meets poise in the Audi Q3 experience.
Price & Mileage
Here's a breeze. Opting for the more potent Premium Plus 45 incurs only a slight fuel economy dip, just 1 mpg, but gains valuable perks such as an overhead view camera and a hands-free tailgate. Priced starting at $38,195, the Audi Q3 40 boasts EPA fuel-economy estimates of 22 mpg city and 29 mpg highway. Meanwhile, its zestier counterpart, the Q3 45, tuned for higher performance, maintains commendable efficiency at 21 mpg city and 28 mpg highway. Our top recommendation is the Premium Plus 45, balancing enhanced features with minimal impact on fuel efficiency. This choice seamlessly combines power and practicality, making it the optimum selection in the Audi Q3 lineup.
Acceleration & Features
While neither iteration of the Q3 stands out for its acceleration, achieving a best zero-to-sixty time of 7.3 seconds in previous Q3 45 testing, the transmission impresses with smooth shifts and offers a Sport mode alongside manual operation. Audi outfits most Q3 variants with an 8.8-inch touchscreen MMI infotainment system featuring Apple CarPlay and Android Auto. Opting for the larger 10.1-inch touchscreen with the same content is also an option. The interface, adorned with large icons and haptic feedback, is generally attractive and user-friendly, though its low dashboard placement may pose a distraction. Premium additions encompass SiriusXM satellite radio, wireless charging, and a robust 15-speaker, 680-watt Sonos stereo system for an elevated in-car experience.