BMW X2 vs Mercedes-Benz GLA-Class: Which is Better?
The 2024 BMW X2 and the GLA-class SUV offer distinct choices in the realm of compact luxury. The X2, sharing a platform with the X1, stands out with its sportier design, showcasing an aggressive look and robust performance. Available in 241-hp xDrive 28i and 312-hp M35i xDrive variants, it blends style with power. On the other hand, the GLA-class SUV, a chic counterpart to the GLB-class, sacrifices a bit of practicality for a sleeker appearance. With a 221-horsepower turbo-four engine, it emphasizes style over space. The GLA's modern interior exudes luxury, making it an ideal choice for those who prioritize aesthetics. Whether you seek the brawn of the X2 or the elegance of the GLA, both options cater to distinctive preferences in the luxury compact SUV landscape.
| | | |
| --- | --- | --- |
| | BMW X2 | Mercedes-Benz GLA-Class |
| Dimensions | 179.5 in x 72.6 in x 62.6 in | 173.6 in x 72.2 in x 63.5 in |
| Engine | 2.0L twin-turbo inline-4 | 2.0L turbocharged 4-pot |
| Horsepower | 312 hp | 221 hp |
| Torque | 295 lb-ft | 258 lb-ft |
| 0-60 MPH | 5.2 sec | 6.3 sec |
| 0-100 MPH | NA | 16.4–16.6 sec |
| Top-Speed | 130-155 mph | 130 mph |
Specs
BMW X2
Engine & Performance
Experience a power boost in the all-new X2, featuring an enhanced turbocharged 2.0-liter inline-four engine paired with a seven-speed dual-clutch automatic transmission. The xDrive28i now commands an impressive 241 horsepower and 295 pound-feet of torque, a step up from its predecessor. Stepping into the realm of heightened performance, the M35i xDrive flexes its muscles with a robust 312 horsepower, supported by upgraded internals. Both models boast a top speed of 130 mph on all-season tires but opt for performance summer rubber, and the M35i xDrive surges ahead with a 155 mph limit, compared to the xDrive28i's 149 mph. This power-packed duo is not just an upgrade; it's a performance revelation.
Price & Mileage
Though the base model of the X2 lacks the horsepower thrill of the M35i xDrive, its smaller wheels and a milder engine tune promise a more manageable daily drive. Priced at $42,995, the X2 offers an optional M Sport equipment package for the xDrive 28i, featuring M wheels, paddle shifters, an adaptive M suspension, and enhanced brakes. However, the true brilliance of the new-gen X2 is expected to unfold most prominently in the budget-friendly base version. Currently, EPA ratings for mileage remain undisclosed. Nevertheless, the anticipation for improved livability at a competitive starting price makes the X2 an enticing option in its class.
Acceleration & Features
Accelerating from 0 to 60 mph in a claimed 5.2 seconds, BMW asserts the M-powered X2's prowess, although our anticipation leans toward an even more impressive performance, given the 302-hp 2019 X2 M35i managed the same feat in just 4.5 seconds during prior testing. The X2 lineup universally features BMW's expansive curved instrument-panel display, comprising a 10.25-inch gauge cluster for speed and driving data, accompanied by a 10.7-inch counterpart dedicated to infotainment controls. This system, with perhaps more configurability options than strictly necessary, provides all X2 models with wireless Apple CarPlay and Android Auto functionality. Notably, a wireless smartphone charger is a standard inclusion for the M35i xDrive and an optional feature accessible with the Convenience equipment package for the xDrive 28i.
Mercedes-Benz GLA-Class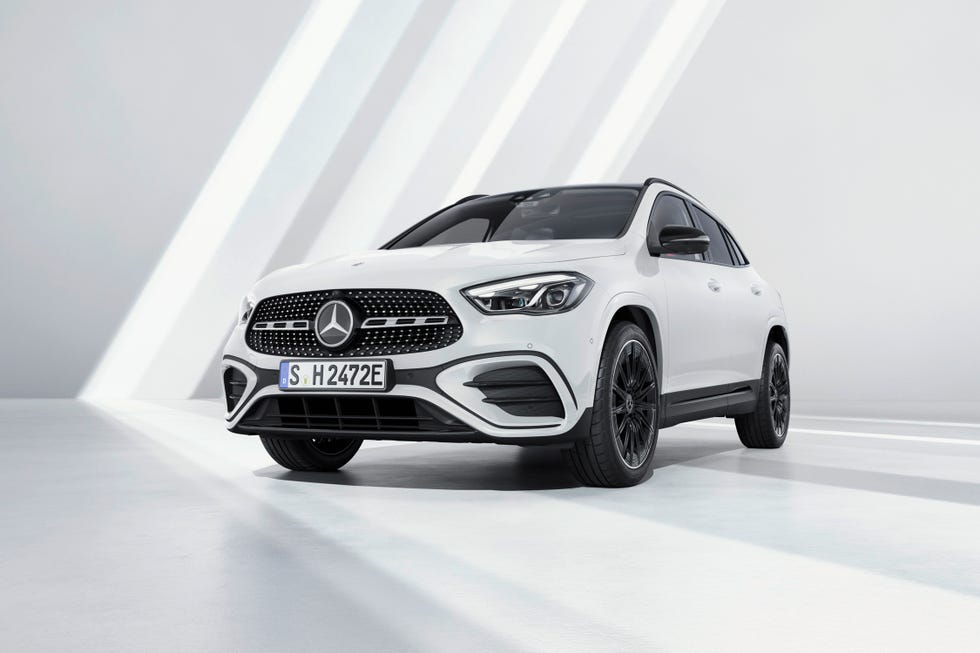 Engine & Performance
Revving up the GLA-class is a robust turbocharged 2.0-liter four-cylinder engine churning out 221 horsepower, bolstered by hybrid technology for an eco-friendly touch. This power is seamlessly managed by an eight-speed automatic transmission, distributing force either to the front or all four wheels. Anticipate consistent performance figures, mirroring its predecessor. While the GLA250 isn't crafted as a high-performance SUV, its handling exudes composure, navigating with finesse. The suspension, tuned for adaptability, gracefully absorbs bumps, ensuring a refined ride over uneven terrains. This SUV strikes a balance, embodying sophistication without compromising on comfort—a testament to its design philosophy. Upgrade your drive with the GLA class, where power meets poise for a driving experience that transcends expectations.
Price & Mileage
When you choose the GLA250, it's unlikely you'll be venturing off-road, but upgrading to the 4Matic model brings more than just all-wheel drive. Mercedes includes the Off-Road Engineering package as standard, featuring a dedicated off-road driving mode that adjusts throttle response and power delivery. The GLA-Class kicks off at $40,000, and though the EPA hasn't released estimates for the 2024 GLA-class, improvements are anticipated with the hybrid-assist system. For comparison, the 2023 GLA250 achieved 24 mpg city, 34 mpg highway, and 28 mpg combined. The all-wheel drive GLA250 4Matic posted estimates of 23 mpg city, 32 mpg highway, and 26 mpg combined. As we await the official figures for the 2024 model, the introduction of the hybrid-assist system suggests enhanced fuel efficiency.
Acceleration & Features
On a test track, the GLA250 4Matic from the previous model year clocked a 6.3-second 60-mph time—not exactly a speed demon, especially when compared to the swiftness of many EV SUVs. Impressively, this lags behind the last-gen model, which nailed a 5.7-second result in the same trial. Every GLA boasts a pair of 10.3-inch displays, dedicated to the driver's gauges and the infotainment system, embracing a refined setup proliferating across the Mercedes lineup, albeit with mixed reviews. Effortlessly, you can manipulate the system through the touchscreen, voice commands, or the touchpad controller on the center console. Standard features include Apple CarPlay and Android Auto, while optional upgrades encompass navigation, SiriusXM satellite radio, a head-up display, and a premium Burmester audio system.