2024 BMW XM vs Lamborghini Urus: Which is Better?
The 2024 BMW XM SUV, a luxurious high-performance vehicle, features a twin-turbocharged V8 and a plug-in hybrid system that delivers a formidable 738 hp. It accelerates from 0 to 60 mph in just 3.7 seconds and offers an electric-only mode for short trips. The opulent cabin comes equipped with top-notch tech features, including a curved dashboard display and advanced driver-assistance systems. In contrast, the Lamborghini Urus, Lamborghini's second SUV, shares a platform with models such as the Audi Q7 and Porsche Cayenne. Its 657-hp twin-turbo V8, manufactured in Germany, powers a sophisticated drivetrain, making it one of the most technologically advanced SUVs, although it's not a purely Italian creation like its predecessor, the "Rambo Lambo" LM002.
| | | |
| --- | --- | --- |
| | 2024 BMW XM | Lamborghini Urus |
| Dimensions | 201.2 in x 78.9 in x 69.1 in | 202.2 in x 79.8 in x 63.7 in |
| Engine | 4.4L twin-turbo V8 + AC motor | 4.0L twin-turbocharged V8 |
| Horsepower | 644 hp | 657 hp |
| Torque | 590 lb-ft | 627 lb-ft |
| 0-60 MPH | 3.4 sec | 3.0 sec |
| 0-100 MPH | 8.2 sec | 7.2 sec |
| Top-Speed | 168 mph | 190 mph |
Specs
BMW XM
Engine & Performance
In the BMW XM, they've joined forces. A potent twin-turbo 4.4L V8, an electric motor, and a sizable battery, delivering a whopping 644 hp. Forget the technical jargon. Think of it as blending a robust engine with electric support for an extra boost. The XM glides on a coil-spring suspension with smart dampers and anti-roll bars that adapt to the road. While not as silky as air suspension, switch to Comfort mode, and the ride is quite cushy. The XM's 25.7-kWh battery provides around 30 miles of electric range per charge; our test yielded a close 29 miles. BMW notes the XM's charger can fill up the battery at 7.4 kW. Hitting a full charge in just over three hours. So, you get powerful performance and a comfortable ride, all while enjoying an electric boost.
Price & Mileage
Starting at a premium of $159,995. The XM packs in luxury goodies like plush leather seats, massive 23-inch wheels, a sleek curved infotainment display, and a bunch of driver-assistance tech. Despite being a plug-in hybrid, the XM falls short on fuel efficiency. Scoring just 12 mpg in the city and 17 mpg on the highway, according to the EPA.
Acceleration & Features
In a test drive, we experienced an instant power boost from the engine, estimating a 3.8 sec sprint to 60 mph. However, in a different climate, the XM pleasantly surprised us, achieving a 3.4 sec acceleration to 60 mph. The dashboard boasts a sizable curved display covering two-thirds of its space. This multifunctional display acts as both a digital gauge cluster and an onboard infotainment center, running BMW's latest iDrive 8.5 software. Standard features include wireless Apple CarPlay and Android Auto. Along with extras like SiriusXM satellite radio, a Wi-Fi hotspot, and a premium stereo system.
Lamborghini Urus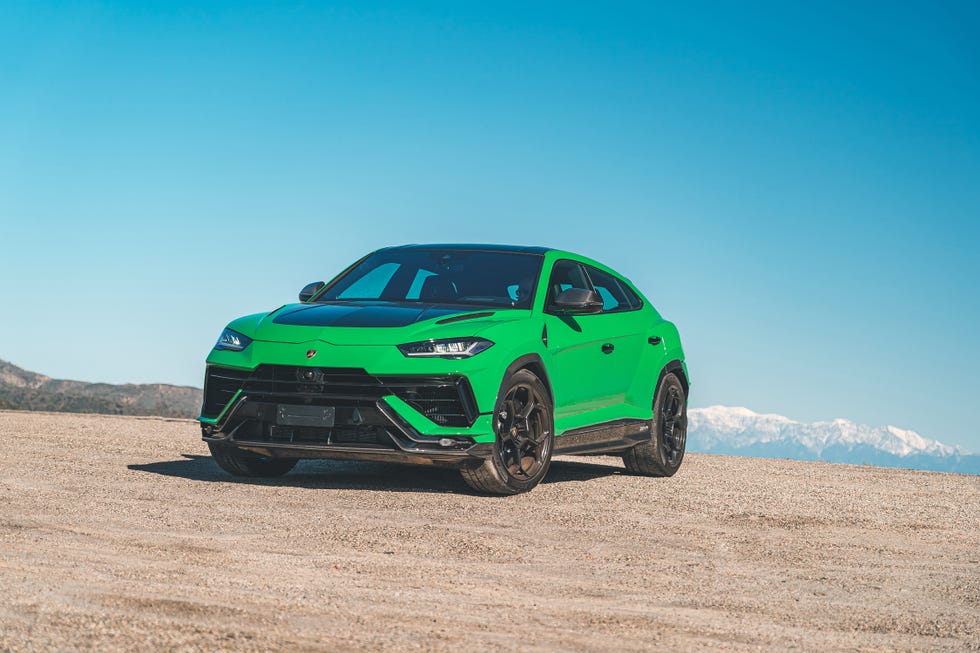 Engine & Performance
The Urus boasts a robust 657 hp twin-turbocharged 4.0L V8 engine. When idle, the engine emits a deep burble, transforming into a powerful howl under full throttle. Its permanent AWD, combined with an eight-speed automatic transmission, ensures impressive acceleration. Thanks to air springs at each corner, ride heights are adjustable based on drive modes. For those seeking a sportier Urus, the new Performante model is the ideal choice. Lower by 0.8 inches and claimed to be 104 pounds lighter than the standard version, it offers 23-inch wheels with super-sticky Pirelli P Zero Trofeo R tires. Notably, the Performante features a steel-spring suspension and a distinct center differential for enhanced rear torque distribution.
Price & Mileage
Certainly, choosing the standard Urus S would save us around $32K, but it comes at the expense of peak performance. That's why we're inclined toward the Performante, which boasts a lowered suspension, robust steel springs, and various weight-reducing features. The Performante offers a more dynamic driving experience. The Urus, with a starting price of $237,848, may not fret about burning a gallon of gas, but it's certainly a gas-guzzler, especially for the heaviest Lamborghini model. According to the EPA, the 657-hp Urus is estimated to achieve 14 mpg in the city and 19 mpg on the highway. Opting for the Performante ensures a premium driving experience, emphasizing both power and efficiency.
Acceleration & Features
In tests, the Urus accelerated to 60 mph in just 3.1 seconds, conquering the quarter-mile in 11.3 seconds at 121 mph. Lamborghini predicts a maximum speed of 190 mph. With standard carbon-ceramic brakes, the Urus ensures impressive stopping power. Going from 70 mph to a full stop in just 149 feet. Not just a powerhouse, every Urus is loaded with the latest connectivity and infotainment features. The digital gauge cluster and dual touchscreens on the center stack control climate, audio, and more. While the screens boast sharp graphics and sizable icons, some users may find them less intuitive than traditional knobs and buttons.