2024 Chevrolet Corvette E-Ray vs Audi e-tron GT: What To Choose?
The 2024 Chevrolet Corvette E-Ray, in competition with elite sports cars like Ferrari and Lamborghini, embodies the American spirit with its mid-engine layout and hybrid powertrain. Combining a front electric motor with a rear 6.2-liter V-8, it boasts 655 horsepower, bringing it close to the Z06. The all-wheel-drive E-Ray includes a stealth mode for silent electric driving and, despite its two-seat design, offers practical cargo space. In contrast, the Audi e-tron GT, Audi's premier electric sedan, delivers exhilarating performance, sharing a platform with the Porsche Taycan. With standard all-wheel drive, its entry-level version produces 522 horsepower, while the RS e-tron GT reaches 637. Although it provides 240 miles of range, less than competitors like Lucid Air and Tesla Model S, Audi compensates with 270-kW DC fast charging.
| | | |
| --- | --- | --- |
| | Chevrolet Corvette E-Ray | Audi e-tron GT |
| Dimensions | 184.6 in x 79.7 in x 48.6 in | 196.4 in x 77.3 in x 54.9 in |
| Engine/Motor | 6.2L pushrod V8 + AC motor | permanent magnet sync AC motors |
| Horsepower | 655 hp | 637 hp |
| Torque | 470 lb-ft | 612 lb-ft |
| 0-60 MPH | 2.5 sec | 2.9 sec |
| 0-100 MPH | 6.0 sec | 6.9 sec |
| Top-Speed | 183 mph | 156 mph |
Specs
Chevrolet Corvette E-Ray
Engine, Motor & Performance
Introducing Corvette's groundbreaking hybrid powertrain, featuring a 6.2-liter V-8 from the Corvette Stingray generating 495 horsepower. Propelling the rear wheels through an eight-speed dual-clutch automatic transmission. Complementing this, a 160-hp electric motor on the front axle creates a formidable all-wheel-drive configuration, boasting a combined 655 horsepower. The Corvette E-Ray flaunts a modest 1.1 kWh battery, enabling silent electric cruising at speeds up to 45 mph in what Chevy aptly terms "stealth mode." Chevrolet emphasizes the year-round benefits of all-wheel drive. Accentuated by the inclusion of high-performance all-season tires as standard on the E-Ray. This hybrid marvel seamlessly marries American muscle with electric ingenuity, promising an exhilarating drive in any season.
Price & Mileage
Just like its conventional counterpart, the Corvette E-Ray comes in both coupe and convertible options, featuring a retractable hardtop for the latter. Opting for the coupe is a smart move since its targa roof easily lifts off, providing an open-top driving experience. The E-Ray offers three trim levels—1LZ, 2LZ, and 3LZ—equivalent to the standard Corvette Stingray's 1LT, 2LT, and 3LT versions. Starting at $106,595, the E-Ray mirrors the standard Stingray in terms of equipment. While the EPA hasn't unveiled fuel economy estimates yet. Chevrolet anticipates the hybrid's combined rating to align with the standard Stingray's 19-mpg figure. This ensures a seamless transition for Corvette enthusiasts into the electrified realm.
Acceleration & Features
Zooming down the test track. The Corvette E-Ray blazes to 60 mph in a mere 2.5 seconds when both its electric motor and V-8 are in full swing. This outpaces the rear-drive 670-hp Corvette Z06 coupe, clocking in at 2.6 seconds in the same trial. Making every ride a tech-savvy joy, the E-Ray incorporates Chevrolet's Infotainment 3 Plus system. Boasting an 8.0-inch touchscreen, it's equipped with Bluetooth audio streaming, a 4G LTE mobile hotspot, and seamless wireless compatibility with both Apple CarPlay and Android Auto. User-friendly and responsive, this system ensures a swift and enjoyable command experience for the driver.
Audi e-tron GT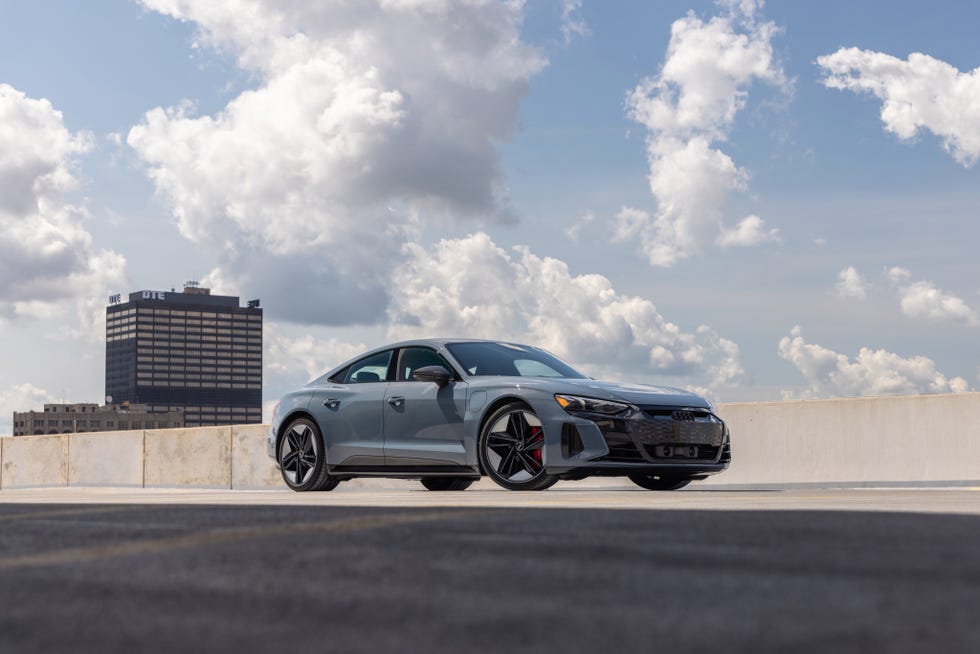 Motor & Performance
With a dynamic duo of electric motors powering Audi's Quattro all-wheel-drive system. The standard e-tron GT cranks out a robust 522 horsepower, while its RS counterpart peaks at an impressive 637 horses. This formidable power translates into an exhilarating ride. Thanks to an innovative two-speed rear transmission that optimizes launches with its first gear and ensures efficiency with a second top gear. Fueled by an 83.7-kWh lithium-ion battery, the e-tron GT lineup offers sustainability without compromising performance. While the regular model boasts an EPA-estimated 238 miles of range, the RS model isn't far behind at 232 miles. Charging is a breeze too, with the ability to go from 5 to 80 percent battery capacity in just 23 minutes using the standard 270-kW DC fast charger.
Price & Mileage
Boasting a formidable 637 horsepower and a more athletic demeanor compared to its regular counterparts. The RS variant emerges as the epitome of desire within the Audi e-tron GT lineup. Priced from $107,995, the e-tron GT exudes efficiency, garnering a combined rating of 82 MPGe. Meanwhile, the RS version falls just shy of this mark by one. With its robust power and distinct sportiness, the RS variant stands out, offering a compelling choice for enthusiasts. This Audi model starts at $107,995. Not only exemplifies efficiency with a combined rating of 82 MPGe but also introduces a more dynamic RS version. Slightly trailing in efficiency but making up for it with heightened performance.
Acceleration & Features
Zooming from 0 to 60 mph in a mere 2.9 seconds during testing, the RS e-tron GT outpaces its less powerful counterpart, the e-tron GT, which achieves the feat in 3.6 seconds. Despite the e-tron GT's infotainment system differing from touch-heavy setups in other Audi models like the A7 sedan and e-tron SUV, it maintains a visually captivating interface, brimming with popular content. Boasting a 10.1-inch central touchscreen, the system seamlessly integrates with steering-wheel-mounted controls and voice-recognition software. Enhanced features include a subscription-based Wi-Fi hotspot, wireless charging, and an impressive 16-speaker Bang & Olufsen sound system. The e-tron GT stands as a technological marvel, delivering not only speed but also an immersive and user-friendly driving experience.