2024 Ford Mustang EcoBoost vs BMW 2-Series Coupe: Which is Better?
The new Mustangs offer different options for those seeking a taste of their cherished story. The EcoBoost model, powered by a four-cylinder engine, stands out among Ford's lineup of crossovers and trucks. The S550 generation bids farewell, making way for the S650, which features an evolved appearance with an elegant interior. The 2024 Ford Mustang EcoBoost boasts a sleek and pristine look, except for its bold grille resembling an enthusiastic fish's grin. Meanwhile, the BMW 2-series is an entry-level luxury car known for its powerful performance. Available in coupe form only, the 230i and M240i models come with varying power levels and drivetrain options. The 230i features a turbocharged 255-hp inline-four engine, while the M240i offers a more entertaining turbocharged 382-hp inline-six engine. The recent redesign of BMW's smallest car delivers a deceptively quick ride with solid braking and agile handling.
| | | |
| --- | --- | --- |
| | Ford Mustang EcoBoost | BMW 2-Series Coupe |
| Dimensions | 189.4 in x 75.4 in x 54.8–55.0 in | 185.4 in x 72.6 in x 54.7 in |
| Engine | 2.3L turbocharged inline-4 | 3.0L turbocharged inline-6 |
| Horsepower | 315 hp | 382 hp |
| Torque | 350 lb-ft | 369 lb-ft |
| 0-60 MPH | 5.0–6.0 sec | 3.6 sec |
| 0-100 MPH | NA | 9.1 sec |
| Top-Speed | 121–155 mph | 155 mph |
Specs
Ford Mustang EcoBoost
Engine & Performance
The entry-level variant of the car, whether it's a coupe or a convertible, comes with Dearborn's EcoBoost turbo-four engine—a robust 2.3 liters. This engine impressively churns out 315 horsepower at 5500 rpm and a formidable 350 lb-ft of torque at 3000 rpm. While the outgoing EcoBoost Mustang used to offer 310 horsepower with an optional hot-rod pack pushing it to 330, regrettably, that option is no longer available, which is rather disheartening. Moreover, for manual transmission aficionados, it's unfortunate that the six-speed manual transmission for the EcoBoost has been discontinued, leaving only a 10-speed automatic as the sole choice. It's safe to say that this news might not excite the manual enthusiasts as they would have hoped.
Price & Mileage
The S550 EcoBoosts present an enticing optional Performance pack, available at just $3475. This remarkable package offers a plethora of upgrades that will undoubtedly elevate your driving experience. Embrace the thrill of wider wheels and tires, an engine-bay brace, a Torsen limited-slip differential with a 3.55:1 final-drive ratio, MagneRide adaptive dampers, fixed-caliper Brembo brakes, and even a captivating "drift stick" hand-brake lever on the center tunnel. Starting at a reasonable $32,515, the EcoBoost base model is a true marvel. The new engine has been meticulously designed to provide enhanced efficiency, boasting remarkable reductions in friction and mass. As a result, the coupe's EPA fuel-economy ratings soar, reaching an outstanding 26 mpg combined, 22 mpg in the city, and an impressive 33 mpg on the highway. Embrace the sheer delight of driving while reveling in the remarkable fuel efficiency this car has to offer!
Acceleration & Features
While some enthusiasts advocate for a roaring V-8 engine in the Mustang, there are undeniable merits to the inline-four as well. It excels in delivering decent and readily available torque, especially in the midrange. Nevertheless, the 10-speed automatic has a notable flaw in its tendency to upshift too quickly, resulting in an unpleasant moaning and droning sound as the tach needle drops. Although there's a Low mode, manual shifting convenience requires extra cost for the shift paddles. Overall, some Mustang enthusiasts might find themselves longing for more excitement and control in their driving experience. As for the dashboard, the abundance of screens in modern glass cockpits can be seen as overly ambitious, and this Mustang is no exception. The 12.4-inch display above the steering column and the 13.2-inch touchscreen on the center console stand out conspicuously, packed with pixels.
BMW 2-Series Coupe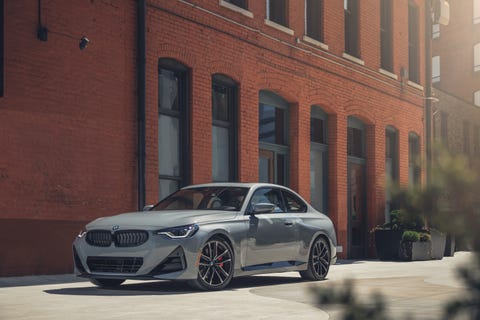 Engine & Performance
The 230i boasts a potent 255-hp turbocharged 2.0-liter four-cylinder engine, while the M240i takes it up a notch with a robust 382-hp turbo 3.0-liter inline-six. Both models come with the option of rear- and all-wheel drive and an eight-speed automatic transmission is the sole choice available. For those seeking optimal performance from the 230i, the M Sport and Dynamic Handling packages are a must. These packages include 19-inch wheels on performance tires, a sportier suspension, upgraded brakes, a variable-ratio steering system, and an electronically controlled rear differential. The M240i, on the other hand, comes standard with most of these exciting features and more. So, if you're eager to elevate your driving experience, the M240i may just be the perfect match.
Price & Mileage
We highly recommend the rear-drive 230i as the ideal choice. While its 255-hp turbo four may not match the speed of the 382-hp straight-six in the M240i, we found it to be an absolute joy to drive, especially when equipped with the Dynamic Handling and M Sport packages. These packages, which require each other, offer an enticing blend of performance upgrades and unique visual enhancements. The rear-drive 230i boasts an impressive fuel efficiency of 26 mpg in the city and 35 mpg on the highway, making it a practical option. On the other hand, the all-wheel-drive M240i with its six-cylinder engine achieves 23 mpg in the city and 32 mpg on the highway.
Acceleration & Features
In the exciting evaluation of the 230i, it accomplished an impressive 0-60 mph acceleration in just 5.1 seconds, along with a swift quarter-mile time of 13.7 seconds at a thrilling 101 mph. The 2-series boasts a modern infotainment system, featuring a standard 8.8-inch touchscreen or an optional 10.3-inch unit. With user-friendly steering-wheel controls, voice commands, and a convenient rotary controller on the center console, accompanied by practical shortcut buttons, interacting with the interface becomes a seamless and enjoyable experience.