2024 Ford Mustang EcoBoost vs Subaru BRZ: What To Choose?
The new Mustangs, including the EcoBoost model, provide a taste of cherished stories. They stand out as true cars amidst Ford's crossovers and trucks. The S650 generation succeeds the S550, featuring a more elegant interior with dash screens. The 2024 Ford Mustang EcoBoost boasts a sleek look but has a bold grille. On the other hand, the Subaru BRZ is a dream sports car—lightweight, nimble, and affordable. It excels in driving engagement with features like the standard six-speed manual transmission and rear-wheel drive. The BRZ is practical too, with interior storage cubbies, rear jump seats, and a decently large trunk. While not luxurious, the driver-centric interior includes modern technology for enjoyable daily driving.
| | | |
| --- | --- | --- |
| | Ford Mustang EcoBoost | Subaru BRZ |
| Dimensions | 189.4 in x 75.4 in x 54.8–55.0 in | 167.9 in x 69.9 in x 51.6 in |
| Engine | 2.3L turbocharged inline-4 | 2.4L naturally aspirated flat-4 |
| Horsepower | 315 hp | 228 hp |
| Torque | 350 lb-ft | 184 lb-ft |
| 0-60 MPH | 5.0–6.0 sec | 5.4 sec |
| 0-100 MPH | NA | 13.6 sec |
| Top-Speed | 121–155 mph | 140 mph |
Specs
Ford Mustang EcoBoost
Engine & Performance
The base model of the car, be it a coupe or a convertible, boasts Dearborn's impressive EcoBoost turbo-four engine with a robust 2.3-liter capacity. This powerful engine delivers an impressive 315 horsepower at 5500 rpm and a formidable 350 lb-ft of torque at 3000 rpm. In the past, the outgoing EcoBoost Mustang offered 310 horsepower with an optional hot-rod pack that pushed it to 330. But unfortunately, that option is no longer available, which is quite disappointing. Moreover, for those who cherish manual transmissions, it's unfortunate to note that the six-speed manual transmission for the EcoBoost has been discontinued. Leaving only a 10-speed automatic as the sole choice. This update might not be as thrilling for the manual enthusiasts as they had hoped.
Price & Mileage
The S550 EcoBoosts offer an enticing optional Performance pack that comes at a mere $3,475. This incredible package brings a host of upgrades that are sure to take your driving experience to new heights. Get ready to enjoy wider wheels and tires, an engine-bay brace, a Torsen limited-slip differential with a 3.55:1 final-drive ratio, MagneRide adaptive dampers, fixed-caliper Brembo brakes, and even a captivating "drift stick" hand-brake lever on the center tunnel. With a starting price of just $32,515, the EcoBoost base model is truly a marvel. The new engine has been crafted with meticulous attention to detail. Delivering enhanced efficiency through remarkable reductions in friction and mass. As a result, the coupe's EPA fuel-economy ratings soar. Boasting an outstanding 26 mpg combined, 22 mpg in the city, and an impressive 33 mpg on the highway.
Acceleration & Features
While some purists argue in favor of the powerful V-8 engine for the Mustang. The inline-four option also has its undeniable merits. It impressively delivers decent and readily available torque, especially in the midrange. However, there is a notable flaw in the 10-speed automatic transmission. Which tends to upshift too quickly, resulting in an unpleasant moaning and droning sound as the tach needle drops. Although a Low mode exists, obtaining manual shifting convenience requires additional cost for the shift paddles. This might leave some Mustang enthusiasts desiring more excitement and control in their driving experience. Regarding the dashboard, the abundance of screens in modern glass cockpits can be viewed as overly ambitious, and the Mustang follows suit. The 12.4-inch display above the steering column and the 13.2-inch touchscreen on the center console stand out conspicuously, brimming with pixels.
Subaru BRZ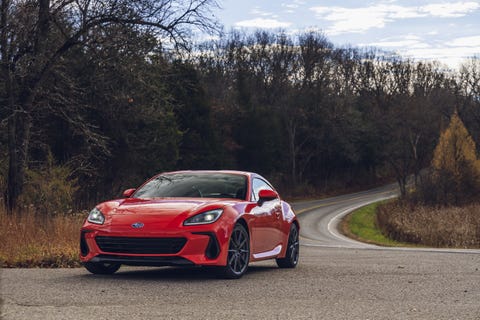 Engine & Performance
The heart of the BRZ boasts a naturally aspirated 2.4-liter flat-four engine. Packing a punch with 228 horsepower and 184 pound-feet of torque. You can opt for either a six-speed manual or a six-speed automatic transmission to channel that power to the rear wheels. This upgraded 2.4-liter engine offers more responsiveness compared to its predecessor. Even though it may not claim the title of the fastest car around. Nevertheless, it significantly improves acceleration times. The ride quality leans towards the firmer side, adding to the car's playful nature. Additionally, all models come equipped with a limited-slip rear differential. While the Premium model cruises on a set of 17-inch wheels, and the higher-performance Limited boasts 18-inch wheels.
Price & Mileage
Subaru offers the 2023 BRZ in two trim levels: Premium and Limited. Opting for the Limited trim would be a wise choice as it includes sought-after features like 18-inch aluminum wheels, summer tires, and blind-spot monitoring. The standard six-speed manual transmission perfectly complements Subaru's sports car, though an automatic option is available for an extra $1500. The BRZ has a starting price of $30,000. If you prioritize fuel efficiency, the automatic version leads the way with EPA estimates of 25 mpg combined, 21 mpg in the city, and 30 mpg on the highway. For those preferring the six-speed manual, the estimates are slightly lower at 22 mpg combined, 20 mpg in the city, and 27 mpg on the highway.
Acceleration & Features
The sprightly BRZ Limited with its six-speed manual transmission showcased impressive performance, accelerating to 60 mph in just 5.4 seconds and covering the quarter-mile in 13.9 seconds at 101 mph. This represents a substantial improvement of nearly a full second compared to the previous-gen BRZ tS. As for its infotainment system, every BRZ is equipped with an 8.0-inch touchscreen positioned at the center of the dashboard, serving as the central hub. Fortunately, the display is not solely reliant on touch inputs; it also incorporates physical knobs for volume and tuning functions, alongside various hard buttons. Moreover, the system includes Apple CarPlay, Android Auto, and access to SiriusXM satellite radio as standard features.