2024 Ford Mustang GT vs Dodge Challenger R/T: What To Choose?
Ford has unleashed the latest 2024 Mustang GT, a legendary muscle car with a revamped appearance, upgraded chassis, new interior, and enhanced powertrain. It confidently leaves its rivals—the Chevy Camaro and Dodge Challenger—uncertain about the future. The V-8 comes with a 10-speed automatic and an optional six-speed manual transmission for classic driving enthusiasts. Both hardtop coupe and soft-top convertible options are available. The Mustang's reimagined interior and improved engine choices uphold the muscle car legacy. On the other hand, the Dodge Challenger R/T embraces retro style, focusing on old-school pony-car fun and straight-line speed. Its optional Hemi V-8 engine offers 485-hp, 6.4-liter power. Though not as intense as the Hellcat, it evokes nostalgia for vintage Dodge pony cars. While the Camaro and Mustang excel on twisty roads, the Challenger's charm lies in its classic appeal.
| | | |
| --- | --- | --- |
| | Ford Mustang GT | Dodge Challenger R/T |
| Dimensions | 189.4 in x 75.4 in x 54.8–55.0 in | 198.0 in x 75.7 in x 55.9 in |
| Engine | 5.0L NA V8 | 6.4L pushrod V8 |
| Horsepower | 486 hp | 485 hp |
| Torque | 418 lb-ft | 475 lb-ft |
| 0-60 MPH | 3.8–4.3 sec | 4.2 sec |
| 0-100 MPH | 8.3–8.7 sec | 9.3 sec |
| Top-Speed | 145–155 mph | 176 mph |
Specs
Ford Mustang GT
Engine & Performance
The Mustang has earned its reputation as the epitome of the horse-car era, celebrated by enthusiasts worldwide. The 2024 version showcases a naturally aspirated 32-valve 5.0-liter engine, skillfully refined to enhance efficiency and power while minimizing friction. Unlike its predecessor, this model boasts two throttle bodies, contributing to its impressive performance. With a mighty 480 horsepower and 415 lb-ft of torque, it surpasses the previous version's 450 horses at 7000 rpm and 410 lb-ft at 4600. When you start the engine, it emits a spirited bark-burble, setting the stage for an exhilarating ride. For an even more thrilling experience, opt for the active-valve exhaust, delivering a surge in output to 486 horsepower and 418 lb-ft. The 2024 Mustang promises a driving experience that will leave you captivated and eager for more.
Price & Mileage
While the GT coupe does come with a significant premium of over $10,000 compared to the base four-cylinder option. There's an enticing opportunity to add the GT Performance package for an extra cost of around $5000. This package includes 19-inch wheels, large Brembo calipers, a 3.73-geared Torsen differential, and some visually striking enhancements. Starting at $43,090, the GT offers a powerful V-8 engine that used to emit an impressive growl in the past while delivering fuel efficiency of 15 mpg in the city and 24 mpg on the highway. And surprisingly, this impressive fuel economy still holds for the present-day model. Embracing the GT coupe not only guarantees exceptional performance but also showcases some compelling features that make it a captivating choice.
Acceleration & Features
Embracing a subtle yet alluring touch, the electronically assisted power-steering ratio now stands at 15.5:1. A slight acceleration from its previous 16.0:1, granting an enhanced sense of connection due to meticulously reworked control software. Thoughtful reinforcements have been strategically placed in crucial areas of the body, and the brakes now benefit from an electronic boost, replacing the older vacuum system. The second gear accelerates swiftly to sixty mph, while the third gear offers pure delight on winding backroads. Even if it occasionally flirts with the thrill of speed. At the heart of the vehicle, the iconic dual-brow dash has undergone an impressive transformation. Evolving from a long rectangular display, it now showcases a remarkable amalgamation of technology, featuring seamless integration of a 12.4-inch instrument cluster screen and a 13.2-inch touchscreen. Elegantly controlling various cockpit functions, from climate adjustments to stereo settings, and even the exhilarating launch control.
Dodge Challenger R/T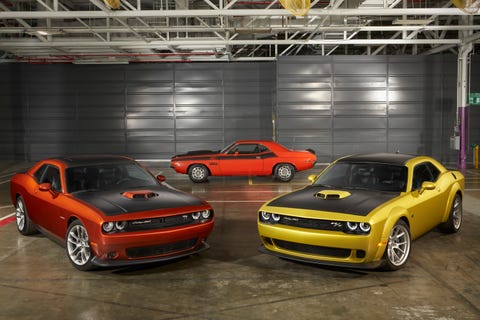 Engine & Performance
The base 305-hp V-6 of the Challenger might not quite meet the expectations of thrill seekers. It's exclusively paired with the eight-speed automatic, but in the weighty Challenger, it lacks the acceleration and excitement that competitors offer. However, the Dodge's Hemi V-8 engines tell a different story. The 375-hp 5.7-liter version had an abundance of power, perfect for thrilling powerslides on command, and its deep growl provided immense satisfaction. For those seeking to fully unleash the Challenger's potential. The 6.4-liter V-8 generating 485 horsepower and 475 pound-feet of torque is the way to go. While we have a preference for manual transmission, the automatic proves impressively responsive to throttle inputs, delivering rapid power-on downshifts.
Price & Mileage
The top choice would be the R/T Scat Pack model, boasting a powerful 485-hp 6.4-liter V-8 engine. Surprisingly, we prefer the eight-speed automatic transmission for its impressive responsiveness. To enhance the ride quality, we would include adaptive dampers, and for added performance. We'd go with the Dynamics package featuring wide 20-inch wheels, six-piston Brembo front brakes, and a leather-wrapped steering wheel. The Challenger's base price is $33,560. As for fuel efficiency, the rear-wheel-drive, V-6-powered Challenger is estimated to achieve 19 mpg city and 30 mpg highway. If all-wheel drive is chosen, these figures lower by 1 mpg in the city and 3 mpg on the highway. Challengers equipped with the 5.7-liter V-8 are expected to earn up to 16 mpg city and 25 mpg highway. While versions with the 6.4-liter V-8 are rated up to 15 mpg city and 24 mpg highway.
Acceleration & Features
The Challenger confidently charges through corners, exuding power and dominance like a formidable force. This muscular Dodge truly embodies the essence of a classic muscle car, performing exceptionally well on the streets and the drag strip. However, compared to the sharper and more agile handling of the Camaro and Mustang, the Challenger's performance in tight turns may feel slightly softer, and its steering lacks the desired responsiveness. Opting for the Plus package enhances the interior with delightful ambient lighting, faux-suede seat inserts, and premium materials adorning the dashboard and doors. For added convenience, the package includes the Driver Convenience Group, which offers features like blind-spot monitoring, rear-cross-traffic alert, power mirrors, and high-intensity-discharge headlights.