2024 Honda Civic vs Hyundai Elantra: Which is Better?
The 2024 Honda Civic stands out as a fuel-efficient, stylish, and enjoyable small car, excelling in practical daily transport. It surpasses competitors like the Hyundai Elantra and Mazda 3 with a standard 158-hp 2.0-liter four-cylinder engine, while an optional 180-hp turbocharged 1.5-liter engine adds power. Boasting standard touchscreen infotainment with Apple CarPlay and Android Auto, as well as a comprehensive set of driver-assistance features. In contrast, the Hyundai Elantra, though recognized for its style and value, is perceived as basic transportation. While its exterior turns heads, the Elantra lacks the sporty edge of rivals like the Civic and Mazda 3, offering a less engaging driving experience and a less agile overall feel.
| | | |
| --- | --- | --- |
| | Honda Civic | Hyundai Elantra |
| Dimensions | 184.0 in x 70.9 in x 55.7 in | 184.1 in x 71.9 in x 55.7 in |
| Engine | 1.5L turbocharged inline-4 | 2.0L NA inline-4 |
| Horsepower | 180 hp | 147 hp  |
| Torque | 177 lb-ft | 132 lb-ft |
| 0-60 MPH | 7.5 sec | 8.1 sec |
| 0-100 MPH | 19.7 sec | 22.1 sec |
| Top-Speed | 126 mph | 124 mph |
Specs
Honda Civic
Engine & Performance
Despite the 2022 redesign, the Civic maintains its powertrain lineage from the previous generation. The entry-level model boasts a standard 158-hp 2.0-liter four-cylinder, while the upgraded version still features a turbocharged 1.5-liter four-cylinder, now delivering a punchier 180 horsepower. Notably, the latest Civic exclusively comes as a front-wheel-drive vehicle. Regrettably, the manual transmission, a favorite from the prior Civic sedan, has been omitted for 2022, leaving the CVT as the sole option. However, the hatchback variant retains its charm with the availability of a six-speed manual.
Price & Mileage
Kicking off at $25,045 and reaching beyond $32,000, the 2024 Honda Civic covers a price spectrum to suit diverse budgets. The entry-level LX sets the stage, while the top-tier EX-L and Touring trims elevate the experience with additional features. Notably, the EPA designates the mid-range EX as the fuel efficiency champion in the lineup. Clocking in at 33 mpg in the city, 42 mpg on the highway, and a combined 36 mpg, it sets a noteworthy standard for those conscious of both performance and economy.
Acceleration & Features
On the test track, the turbocharged Touring sedan took a leisurely 7.5 seconds to hit 60 mph, a tad slower than the previous Civic generation. However, the manual Sport Touring hatchback fared a bit better, clocking in at 7.3 seconds. When it comes to tech, the Civic boasts a standard 7.0-inch touchscreen infotainment display, with the option to upgrade to a larger 9.0-inch unit or a 10.2-inch digital gauge display. Seamless connectivity is ensured with standard Apple CarPlay and Android Auto, offering wireless functionality with a larger screen. Further personalization is possible with extras like in-dash navigation, a premium Bose stereo system, and a convenient wireless smartphone charging pad.
Hyundai Elantra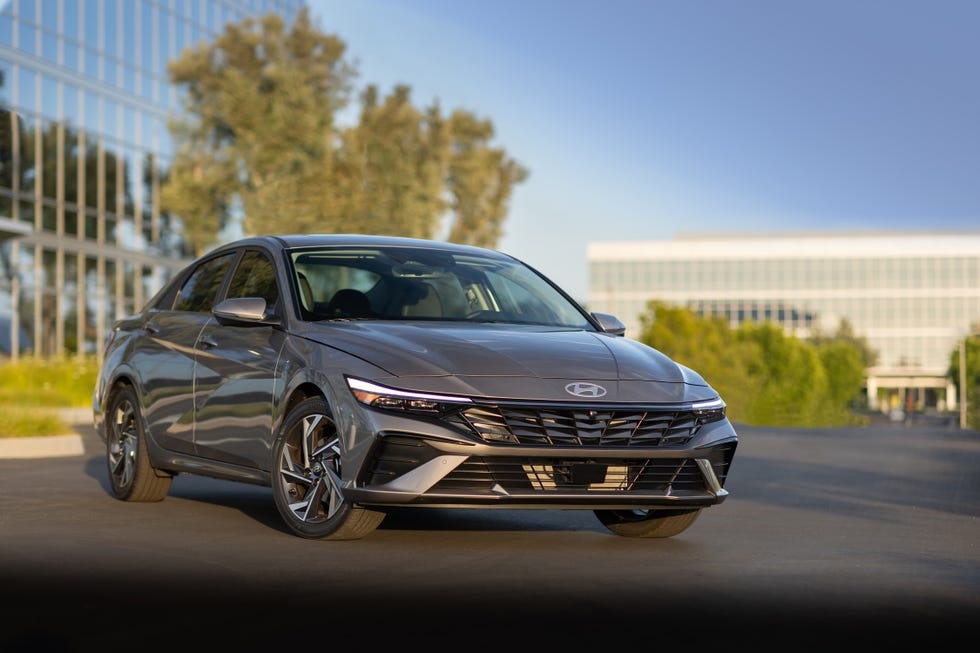 Engine & Performance
Transitioning into the powertrains of the standard Elantra, the SE and SEL house a naturally aspirated 2.0-liter four-cylinder engine, churning out a modest 147 horsepower and 132 pound-feet of torque. Meanwhile, the hybrid variants incorporate a 1.6-liter four-cylinder, coupled with an electric motor instead of a turbo, yielding slightly lower horsepower at 139 but a boost in torque to 195 lb-ft. Notably, the SE and SEL's 2.0-liter engine seamlessly integrates with a CVT, whereas the Blue Hybrid and Limited Hybrid models opt for a DCT.
Price & Mileage
Navigating the Elantra lineup, the SEL model emerges as the sweet spot, striking a harmonious balance between cost and features. Elevating the standard offerings from the SE, the SEL boasts a hands-free trunk release and SiriusXM inclusion. With a starting price of $22,590, the Elantra positions itself competitively. According to EPA estimates, the 2.0-liter four-cylinder variant achieves an impressive 33 mpg in the city and 42 mpg on the highway. For those opting for the turbocharged 1.6-liter four, expect estimates of 28 mpg city and 36 mpg highway. Meanwhile, the hybrid Elantra, prioritizing efficiency, excels with ratings of 53 mpg city and 56 mpg highway.
Acceleration & Features
Putting the Hyundai Elantra to the speed test, it hit 0-60 mph in a respectable 8.1 seconds, with the Elantra hybrid close behind at 8.4 seconds. Elevating the driving experience, an optional 10.3-inch digital gauge display complements a second 10.3-inch infotainment touchscreen gracefully emerging from the top of the Elantra's dashboard. Steering away from the ordinary, the standard infotainment setup boasts an 8.0-inch center display, accompanied by analog gauges for the instrument cluster. Taking center stage is Hyundai's latest infotainment interface, ensuring a seamless connection with Apple CarPlay and Android Auto, both included as standard features. Plus, stay connected on the go with the added convenience of a Wi-Fi connection.