2024 Honda Civic vs Toyota Prius: What To Choose?
The 2024 Honda Civic nails it with fuel efficiency, style, and driving fun, outshining rivals like the Hyundai Elantra and Mazda 3. Boasting a 158-hp 2.0-liter four-cylinder and an optional 180-hp turbocharged 1.5-liter engine, it offers variety. Standard features include touchscreen infotainment with Apple CarPlay and Android Auto, coupled with a comprehensive set of driver-assistance features. While it may lack the power of its performance-oriented siblings, the standard Civic still delivers crisp handling and refined road manners. On the other hand, the redesigned Toyota Prius is rewriting the hybrid narrative, flaunting 194 horsepower, optional all-wheel drive with 196 horsepower, and a stylish design. Surprisingly fun to drive, it achieves an impressive EPA-estimated 56 mpg highway rating, setting a new standard for cool, fuel-efficient rides among its compact competitors.
| | | |
| --- | --- | --- |
| | Honda Civic | Toyota Prius |
| Dimensions | 184.0 in x 70.9 in x 55.7 in | 181.1 in x 70.2 in x 56.3 in |
| Engine | 1.5L turbocharged inline-4 | 2.0L NA inline-4 + 2 AC motors |
| Horsepower | 180 hp | 194 hp |
| Torque | 177 lb-ft | 139 lb-ft |
| 0-60 MPH | 7.5 sec | 7.1 sec |
| 0-100 MPH | 19.7 sec | 18.8 sec |
| Top-Speed | 126 mph | 115 mph |
Specs
Honda Civic
Engine & Performance
Despite the 2022 redesign, the Civic maintains its powertrain lineage from the previous generation. The entry-level model boasts a standard 158-hp 2.0-liter four-cylinder, while the upgraded version still features a turbocharged 1.5-liter four-cylinder, now delivering a punchier 180 horsepower. Notably, the latest Civic exclusively comes as a front-wheel-drive vehicle. Regrettably, the manual transmission, a favorite from the prior Civic sedan, has been omitted for 2022, leaving the CVT as the sole option. However, the hatchback variant retains its charm with the availability of a six-speed manual.
Price & Mileage
Kicking off at $25,045 and reaching beyond $32,000, the 2024 Honda Civic covers a price spectrum to suit diverse budgets. The entry-level LX sets the stage, while the top-tier EX-L and Touring trims elevate the experience with additional features. Notably, the EPA designates the mid-range EX as the fuel efficiency champion in the lineup. Clocking in at 33 mpg in the city, 42 mpg on the highway, and a combined 36 mpg, it sets a noteworthy standard for those conscious of both performance and economy.
Acceleration & Features
On the test track, the turbocharged Touring sedan took a leisurely 7.5 seconds to hit 60 mph, a tad slower than the previous Civic generation. However, the manual Sport Touring hatchback fared a bit better, clocking in at 7.3 seconds. When it comes to tech, the Civic boasts a standard 7.0-inch touchscreen infotainment display, with the option to upgrade to a larger 9.0-inch unit or a 10.2-inch digital gauge display. Seamless connectivity is ensured with standard Apple CarPlay and Android Auto, offering wireless functionality with a larger screen. Further personalization is possible with extras like in-dash navigation, a premium Bose stereo system, and a convenient wireless smartphone charging pad.
Toyota Prius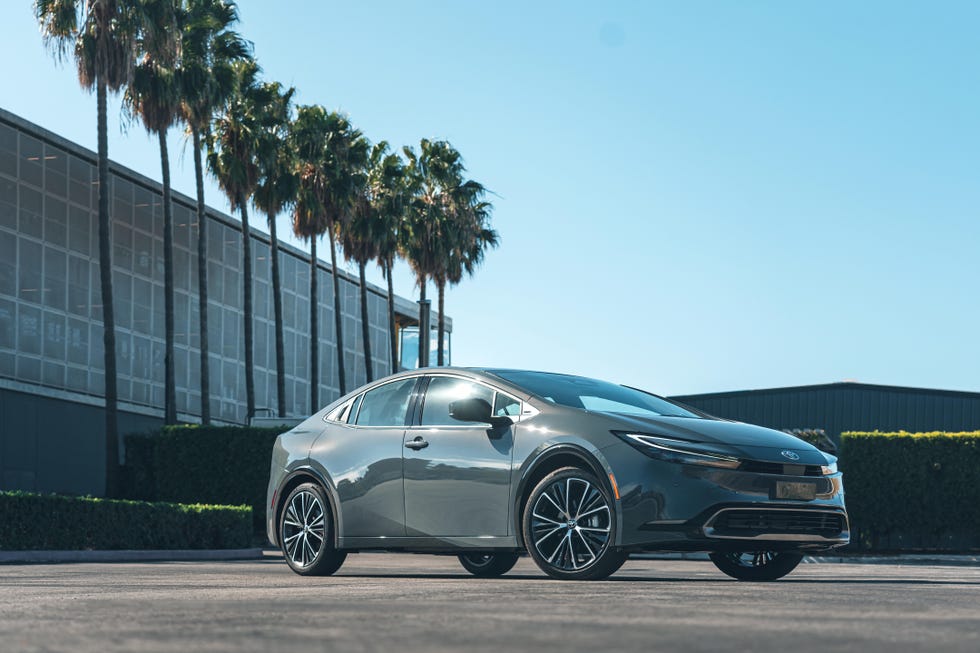 Engine & Performance
Powering the Toyota Prius lineup is a robust 194-hp hybrid system, featuring a 2.0-liter hybrid inline-four gasoline engine borrowed from the Corolla Cross hybrid crossover. This engine is seamlessly connected to a continuously variable automatic transmission, ensuring a smooth ride. Standard models come with front-wheel drive, while the all-wheel-drive variants receive an extra boost. Toyota enhances these with a high-output permanent magnet electric motor at the rear axle, elevating the overall powertrain output to an impressive 196 horsepower.
Price & Mileage
Renowned for its exceptional fuel efficiency, the Toyota Prius lives up to its eco-friendly reputation. Packed with safety features and extra goodies, it seamlessly aligns with its commitment to fewer gas station visits. The Corolla kickstarts at $28,745. According to the EPA, the Prius nails an impressive 57 mpg in the city and 56 mpg on the highway for the front-wheel drive model, marking a notable 4- and 6-mpg boost from the last generation. Notably, the all-wheel-drive LE variant showcases the most significant leap in fuel economy, elevating from 49 to 54 mpg combined compared to its predecessor.
Acceleration & Features
Zooming from 0 to 60 mph now takes a mere 7.1 seconds, a significant improvement from last year's Prius, which labored for 10.5 seconds to hit the mark—an impressive feat for the front-drive Limited model. This acceleration outpaces both the Camry Hybrid and Elantra Hybrid. Braking performance has also seen enhancement, with the new Prius halting from 70 mph in just 171 feet, a notable improvement from the previous 194 feet. Screen size gets an upgrade across models, with LE and XLE featuring an 8.0-inch infotainment screen, while the Limited boasts a generous 12.3-inch touchscreen. Alongside "Hey Toyota" voice control, the system facilitates cloud-based infotainment updates through over-the-air technology.