2024 Honda Prologue vs Kia EV6: What To Choose?
The 2024 Honda Prologue SUV, Honda's second foray into EVs, boasts a subtle design and shares a platform with General Motors. Powered by the Ultium battery pack. It offers a standard single-motor setup with 210 horsepower and an optional dual-motor, all-wheel drive with 288 horsepower. The range spans 250–320 miles per charge. Positioned above the CR-V, it aligns with the mid-size Passport in size. On the other hand, the Kia EV6 excels in maximizing the EV experience, blending a stylish design with a spacious cabin. Offering up to 310 EPA-estimated miles and a robust 576 horsepower in the GT version. It emphasizes an enjoyable, distraction-free electric ride. With a peak DC-fast charging rate of approximately 225 kW, the EV6 ensures swift recharging for convenient long-distance travel on electric power.
| | | |
| --- | --- | --- |
| | 2024 Honda Prologue | Kia EV6 |
| Dimensions | 192.0 in x 78.3 in x 64.7 in | 184.8 in x 74.4 in x 60.8 in |
| Motor | permanent-magnet AC | permanent-magnet AC |
| Horsepower | 288 hp | 576 hp |
| Torque | 333 lb-ft | 545 lb-ft |
| 0-60 MPH | NA | 3.2 sec |
| 0-100 MPH | NA | 8.0 sec |
| Top-Speed | NA | 161 mph |
Specs
Honda Prologue
Motor & Performance
Leveraging shared elements with the Chevrolet Equinox EV. The Prologue offers versatility with a choice between a single-motor front-wheel-drive option or a more potent dual-motor all-wheel-drive configuration boasting 288 horsepower. All Prologue variants pack an 85.0-kWh battery from General Motors. Prologue's single-motor, front-wheel-drive model targets an approximate 300-mile range. While the dual-motor, all-wheel-drive version while sacrificing some range for enhanced acceleration, is poised to hit around 280 miles. Transitioning smoothly between configurations, the Prologue offers a dynamic driving experience tailored to diverse preferences.
Price & Mileage
While Honda has not yet disclosed pricing details for the Prologue, industry speculations suggest a starting point of approximately $48,000. With variations based on trim levels like the conventional EX, Touring, and Elite. The Prologue's anticipated fuel efficiency, measured in MPGe, remains undisclosed by both the EPA and Honda at this juncture. This crucial information is likely to surface closer to the SUV's official launch, as regulatory estimates are pending. Keeping you in suspense, the Prologue's pricing tiers and expected fuel economy figures will be unveiled gradually. Aligning with the gradual anticipation building toward its imminent debut.
Acceleration & Features
Revving up the Prologue's battery is a breeze with its impressive 155 kW DC fast-charging capability, ensuring swift replenishment. For added convenience, Honda offers a home charging kit, allowing you to effortlessly top up your battery in the comfort of your own garage. Dominating the Prologue's dashboard is an expansive 11.3-inch infotainment touchscreen, standing as a technological centerpiece. It seamlessly integrates wireless Apple CarPlay and Android Auto, complemented by a built-in navigation system utilizing Google Maps. Standard features include an 11.0-inch digital gauge display and a wireless smartphone charging pad. While the top-tier Elite trim offers an optional head-up display, ensuring a premium driving experience. Elevate your journey with these cutting-edge features, making the Prologue a pinnacle of modern automotive technology.
Kia EV6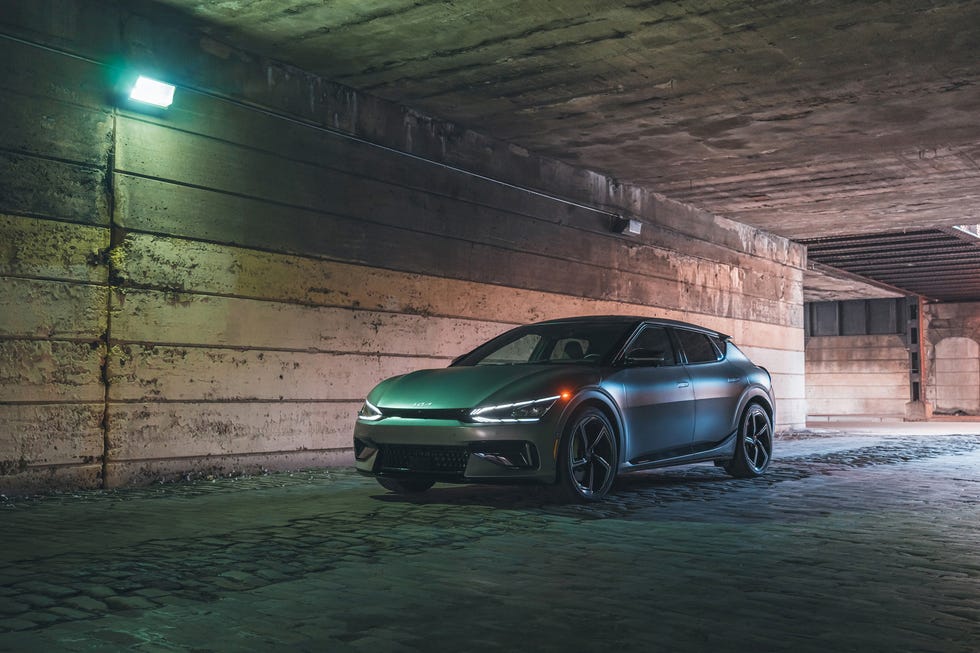 Motor & Performance
Transitioning into EV6's power dynamics, you've got choices – either the solo electric motor at the back for rear-wheel drive or the tag team of electric motors at both ends for an all-wheel-drive thrill. In the all-wheel-drive arena, a heftier battery pack propels you into the 320 or a whopping 576 horsepower league. Now, shift gears to the base rear-wheel-drive edition flaunting a modest 167 horses, thanks to a smaller battery. But, kick it up a notch by choosing the larger battery, and voila, the rear-wheel-drive variant now flexes a total output of 225 horsepower. Climbing the performance ladder, the top-tier model amps up the game with slick upgrades—think electronic limited-slip differential, a tuned-up chassis, adaptive suspension, and brakes that mean serious business.
Price & Mileage
While the high-octane allure of the GT model is undeniable, it's crucial to recognize that the majority of EV buyers prioritize extensive driving range over raw performance. For those leaning towards practicality, we highly recommend exploring the dual-motor, all-wheel-drive Wind trim level. The Kia EV6 kicks off at an accessible $43,925. Each single-motor EV6 impresses with a remarkable combined EPA rating of up to 117 MPGe. In the dual-motor variant, this rating sits at 109 MPGe when paired with standard 19-inch wheels, dipping slightly to 96 MPGe with the optional 20-inch wheels. Opting for the high-performance GT model does come at a cost, with a reduced combined estimate of 79 MPGe. It's a trade-off worth considering for enthusiasts craving top-tier performance.
Acceleration & Features
Zooming around the test track, the nimble 320-hp GT-Line variant wowed us with its impressive zero-to-60-mph sprint in a mere 4.5 seconds. Opting for the rear-wheel-drive model, while boosting range, did result in a slightly slower 6.7-second 0-60 mph time during trials. Now, if you're all about that raw acceleration, look no further than the muscular 576-hp GT variant, which scorched to 60 mph in a mere 3.2 seconds during testing. Navigating the infotainment system is a breeze with the 12.0-inch touchscreen seamlessly extending from the EV6's digital gauge cluster of the same size. Yet, the menu structure and navigation performance leave much to be desired in terms of both design and functionality.