2024 Hyundai Kona vs 2024 Subaru Crosstrek: What To Choose?
The Hyundai Kona, with its boxy design, appears more rugged than its urban-focused functionality suggests. Its engine options include a standard 147-hp 2.0L and an optional 190-hp turbocharged 1.6L. The interior boasts a futuristic look with dual 12.3-inch displays and increased space. Thanks to a longer wheelbase and redesigned front seats. On the other hand, the Subaru Crosstrek maintains its reputation as an affordable, fuel-efficient, and slightly adventurous vehicle. The 2024 model retains the practicality of its predecessor. Offering a choice between a 152-hp 2.0L flat-four and an optional 182-hp 2.5L flat-four. With AWD as standard. While the manual transmission is no longer available, Subaru enhances comfort with redesigned seats and improves cabin quietness through added sound-deadening materials.
| | | |
| --- | --- | --- |
| | Hyundai Kona | Subaru Crosstrek |
| Dimensions | 172.6 in x 71.9 in x 63.6 in | 176.4 in x 70.9 in x 63.0 in |
| Engine | 1.6L turbocharged inline-4 | 2.5L flat-4 |
| Horsepower | 190 hp | 182 hp |
| Torque | 195 lb-ft | 178 lb-ft |
| 0-60 MPH | 7.5 sec | 8.1 sec |
| 0-100 MPH | 21.1 sec | 21.9 sec |
| Top-Speed | 124 mph | 120 mph |
Specs
Hyundai Kona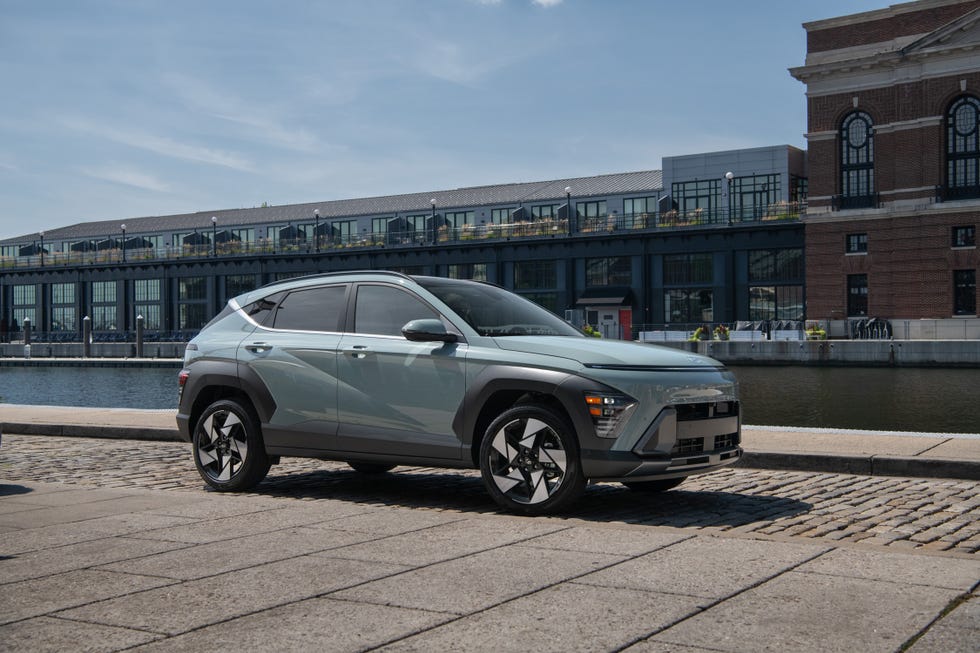 Engine & Performance
For the 2024 Kona, Hyundai is sticking with the trusty four-cylinder engines from the last model. It has got the standard 147-hp 2.0L, and if you're feeling a bit more zing, there's the option for a turbocharged 190-hp 1.6L engine paired with an eight-speed automatic transmission. Despite the Kona getting a bit bigger, it still handles quite well, though the charm of its on-road performance has taken a tiny dip in this larger second-gen model.
Price & Mileage
For better performance, consider upgrading to the N Line from the SE or SEL models, as they come with the base powertrain. The Hyundai Kona's starting price is $25,435. According to the EPA, the 2024 Kona boasts fuel efficiency, reaching up to 29 mpg city and 34 mpg highway. However, opting for AWD and the more robust turbo engine decreases these numbers to 24 mpg city and 29 mpg highway. This means additional costs for enhanced power.
Acceleration & Features
In the previous version, a Kona with a 2.0L engine took a bit long, around 9.2 seconds, to reach 60 mph. The turbo model was faster, hitting 60 mph in 7.3 seconds. We anticipate the new Kona to show improved performance with the base engine. Surprisingly, though, the optional turbo was a bit slower in the track test, clocking 7.5 seconds to 60 mph. The dashboard is dominated by two expansive 12.3-inch displays under a seamless glass surface. The first serves as a customizable gauge display, and the second functions as a large touchscreen for the infotainment system. This setup adds a modern touch to the overall driving experience.
Subaru Crosstrek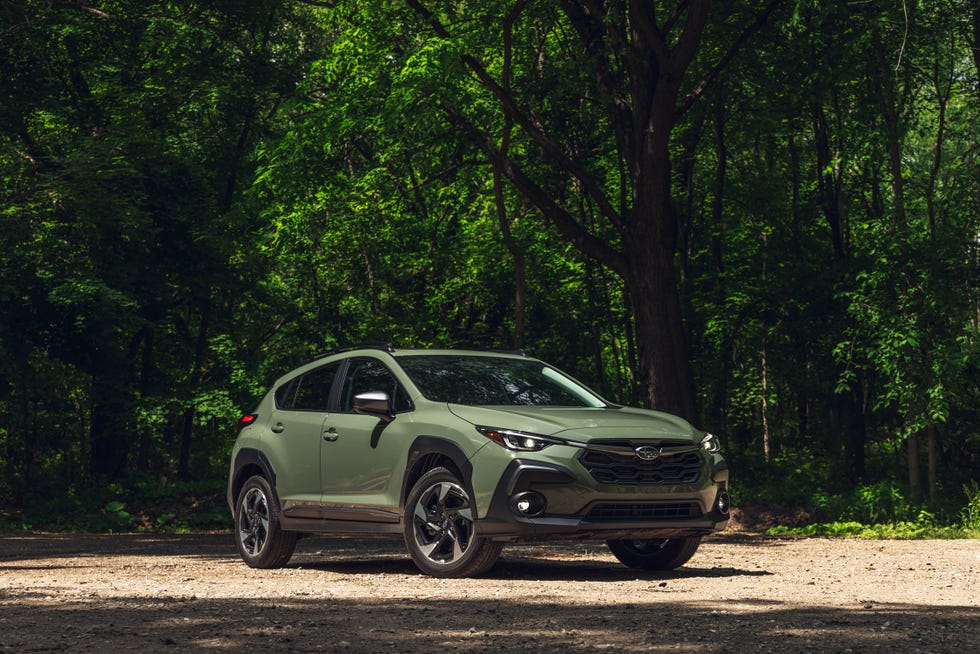 Engine & Performance
In 2024, the Crosstrek offers a standard 152-hp 2.0L four-cylinder, with Sport, Wilderness, and Limited models boasting a punchier 182-hp 2.5L inline-four. There's anticipation for a new 148-hp plug-in hybrid option. Unfortunately, unlike the previous model, Subaru has ditched the manual transmission, sticking to the standard CVT. As is customary with Subaru, AWD comes standard. Keep an eye out for the upcoming plug-in hybrid addition to the lineup, bringing more choices to Crosstrek enthusiasts.
Price & Mileage
While Subaru hasn't officially confirmed, there's anticipation for a plug-in hybrid model. However, until that arrives, we recommend the Sport trim for its access to a more potent engine. Starting at $26,290, the Subaru Crosstrek offers a fuel efficiency of up to 28 mpg in the city and 34 mpg on the highway, as per EPA ratings.
Acceleration & Features
Testing the larger four-cylinder engine on the Limited model, it clocked in at a leisurely 8.1 seconds to reach 60 mph. Meanwhile, the Premium, equipped with the 152-hp four, was even slower, taking 9.5 seconds for the same speed. In 2024, the Crosstrek will feature the 11.6-inch infotainment display seen in Subaru's Outback and WRX models, though it's not a piece of standard equipment.