2024 Maserati GranTurismo vs Aston Martin Vantage: Which is Better?
The 2024 Maserati GranTurismo marks a stunning return, blending classic and modern designs. It shares the lineup with the MC20, offering a slightly toned-down version of the Nettuno twin-turbo V-6 engine and all-wheel drive with an eight-speed automatic transmission. A GranCabrio convertible might arrive in 2025. The GranTurismo balances luxury and sports car performance, promising comfort and excitement. On the other hand, the 2023 Aston Martin Vantage seamlessly combines elegance and driving thrill, available as a coupe or convertible. Most variants feature a twin-turbo V-8 with over 500 horsepower, while some have a more potent twin-turbo V-12. The Vantage delivers agile handling, vigorous acceleration, and captivating exhaust notes. Though lacking a bit in luxury for its price, its iconic design and thrilling performance make it a coveted choice for driving enthusiasts.
| | | |
| --- | --- | --- |
| | Maserati GranTurismo | Aston Martin Vantage |
| Dimensions | 195.2–195.5 in x 77.0 in x 53.3 in | 176.8 in x 76.5 in x 50.2 in |
| Engine | 3.0L twin-turbo V6 | 4.0L twin-turbo V8 |
| Horsepower | 542 hp | 528 hp |
| Torque | 479 lb-ft | 505 lb-ft  |
| 0-60 MPH | 3.5–3.9 sec | 3.5 sec |
| 0-100 MPH | 8.2–8.6 sec | 7.9 sec |
| Top-Speed | 188–199 mph | 195 mph |
Specs
Maserati GranTurismo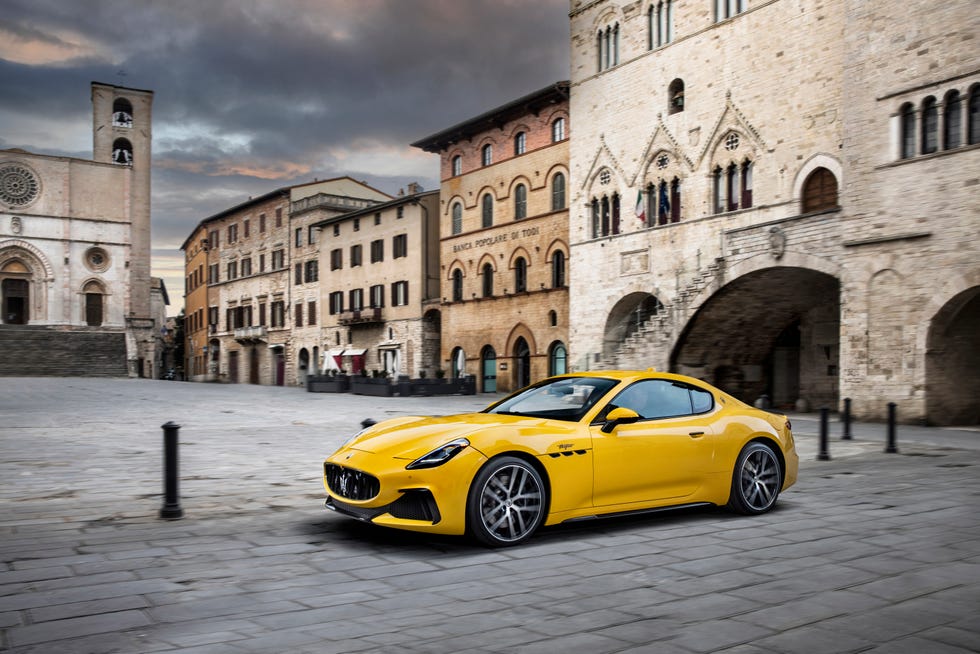 Engine & Performance
The GranTurismo has a slightly toned-down rendition of the MC20 sports car's twin-turbo V-6 engine. In the Modena trim, it generates 483 horsepower, while opting for the Trofeo elevates the power to 542 horses. Both variants excel in serene and pleasant cruising. The engine possesses a distinctive and melodious quality, and its unique dual-combustion design draws inspiration from Formula 1 racing. All gasoline-driven GranTurismo models are furnished with an eight-speed automatic transmission and all-wheel drive; however, a manual gearbox isn't available. When set to Comfort mode, the standard air suspension adeptly absorbs road imperfections, ensuring a gentle and steady journey.
Price & Mileage
The GranTurismo comes in two versions: the standard Modena trim and the more dynamic Trofeo trim, which we highly recommend. Opting for the Trofeo brings extra horsepower, distinctive forged wheels, an electronically-locking differential, and sportier exterior and interior designs. The starting price for the GranTurismo is $175,495. While specific fuel economy details will be disclosed closer to the release date, preliminary sources suggest that the car achieves around 20 mpg in urban settings and 27 mpg on highways.
Acceleration & Features
Activating launch control, the GranTurismo Modena, with its 483-hp power, achieves 0-60 mph in a claimed 3.7 seconds. Alternatively, the Trofeo model, boasting 542-hp, boasts a quicker claimed 3.5-second 0-60 mph time. The new GranTurismo also features Maserati's latest infotainment system, powered by Google and already seen in the Grecale. The dashboard hosts a 12.3-inch touchscreen along with a secondary 8.8-inch display for climate control. With the inclusion of wireless Apple CarPlay and Android Auto integration, connectivity is seamless.
Aston Martin Vantage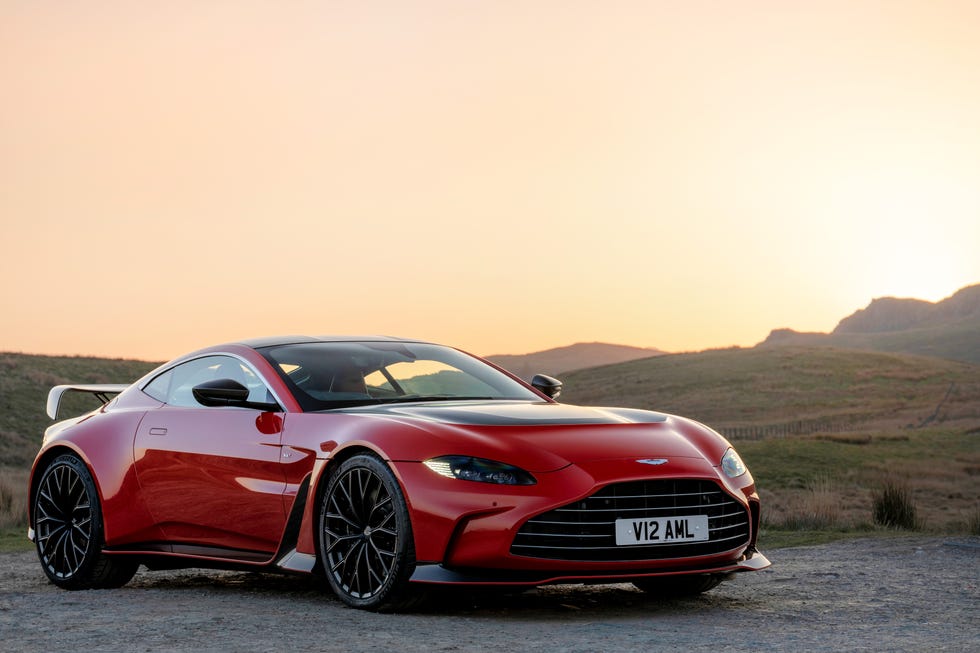 Engine & Performance
Under the Vantage's distinctive hood rests a choice between an exhilarating twin-turbo 4.0-liter V-8 or an imposing twin-turbo 5.2-liter V-12 powerplant. The base V-8 option generates either 503 or 528 horsepower, coupled with 505 pound-feet of torque. The higher-powered V-8 is exclusively available in the track-focused F1 Edition model. The Vantage's V-8 emits an enchanting sound, ranging from a deep, resonant growl at idle to a spirited, high-pitched wail as it approaches its redline. Standard features encompass electronically controlled limited-slip differential and adaptive dampers, contributing to the overall driving experience.
Price & Mileage
Deciding between the Vantage coupe and the convertible presents a delightful dilemma. While the hardtop ensures structural integrity, the soft-top option grants us the freedom to embrace the wind and relish the magnificent engine sounds of the Aston Martin. Ultimately, the financial aspect will play a role in our ultimate choice, as opting for the coupe seems more economically prudent. With a starting price of $146,989, the Vantage surprises with its reasonable fuel consumption, especially when coupled with the automatic transmission. According to EPA estimates, the Vantage is projected to achieve a commendable 18 mpg in the city and an impressive 24 mpg on the highway.
Acceleration & Features
The V-12 engine boasts an impressive 690 horsepower, and Aston asserts a 3.4-second 0-60 mph time—although we suspect it's even quicker. Our track testing with the F1 model recorded a 3.5-second sprint to 60 mph. Its dashboard features an 8.0-inch display that emerges from the top, controlled mainly through a rotary knob and console buttons. The Vantage's infotainment setup incorporates an Aston Martin audio system, Bluetooth connectivity, and integrated navigation. While there's an option for an enhanced audio system and touchpad, notable elements like Apple CarPlay and Android Auto integration are regrettably absent.