2024 Mercedes-AMG GT Coupe vs Mercedes-AMG SL63: What To Choose?
The new Mercedes-AMG GT Coupe draws significant inspiration from the SL roadster. Showcasing expanded dimensions and introducing a remarkable all-wheel-drive system, marking a first within the AMG GT lineup. The lineup offers a variety of power outputs through its twin-turbo 4.0-liter V-8 engine. Encompassing choices like the GT55 and GT63. The anticipated release of the GT Coupe is in 2024. In contrast, the Mercedes-AMG SL63 seamlessly melds luxury and performance. Now adopting a two-plus-two seating arrangement. However, the rear seats remain more suitable for storing items rather than accommodating passengers. Within the interior, you can adjust the expansive touchscreen to minimize glare, which beautifully complements the luxurious interior. The power soft top has been redesigned to maximize the conservation of trunk space. The SL63 exclusively features a commanding V-8 powertrain.
| | | |
| --- | --- | --- |
| | Mercedes-AMG GT Coupe | Mercedes-AMG SL63 |
| Dimensions | 186.1 in x 78.1 in x 53.3 in | 185.2 in x 75.4 in x 53.5 in |
| Engine | 4.0L twin-turbo V8 | 4.0L twin-turbo V8 |
| Horsepower | 585 hp | 577 hp |
| Torque | 590 lb-ft | 590 lb-ft |
| 0-60 MPH | 3.2 sec | 3.0 sec |
| 0-100 MPH | NA | 7.1 sec |
| Top-Speed | 196 mph | 196 mph |
Specs
Mercedes-AMG GT Coupe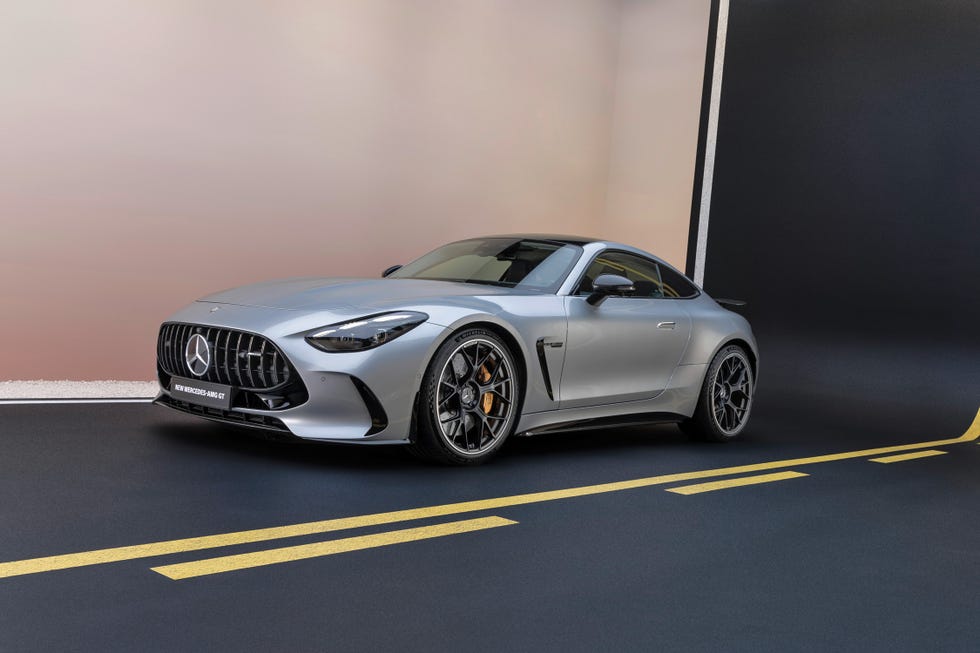 Engine & Performance
The GT53 and GT63 employ the renowned twin-turbo 4.0-liter V-8 engine from Mercedes, coupled with an innovative nine-speed automatic transmission. Generating 469 horsepower and 516 pound-feet of torque, the Mercedes-AMG GT Coupe GT53 exemplifies power. While the GT63 impresses with a robust 577 horsepower and 590 pound-feet of torque. Mercedes has repositioned the engine slightly forward. Situating it atop the GT's front axle line instead of its previous rear placement. This adjustment translates to augmented interior space, potentially compromising the front-to-rear weight distribution. The newly incorporated standard all-wheel-drive system promises enhanced acceleration from its predecessor and the capability to channel 100 percent of the engine's torque to the rear axle. Enabling captivating burnouts and donuts.
Price & Mileage
Anticipate a notable contrast of around $40,000 in cost when juxtaposing the GT55 against the GT63. If you're contemplating the fiscal chasm, direct your focus to the substantial surge of vigor. Boasting a spirited 577 horsepower and 590 pound-feet of torque. Additionally, an available package introduces carbon-ceramic brakes, surpassing the dimensions of standard wheels on a full-size Sprinter delivery van. The starting point for the GT coupe's pricing is projected at $150,000. Of course, this abundance of horsepower inevitably demands fuel, although the EPA's estimations remain pending. Drawing from the preceding AMG GT iteration, the former 577-hp AMG GT R Pro secured a 15 mpg city and 20 mpg highway rating. Considering the present model now encompasses all-wheel drive and likely carries extra weight, marginal improvements are envisaged at best.
Acceleration & Features
Mercedes asserts that the GT63 boasts a 0-60 mph acceleration of merely three seconds, with the integration of rear-wheel steering and an electronically-controlled limited-slip differential ensuring the GT's agility. When it comes to negotiating challenging driveways or speed bumps, the AMG GT offers an optional nose-lift system that elevates the front by 1.2 inches. Across all AMG GT Coupe variants, you'll find a standard 11.9-inch infotainment touchscreen, complemented by convenient wireless smartphone charging. Notably, both Apple CarPlay and Android Auto come as standard features, in addition to the high-quality Burmester audio system that enriches your driving experience.
Mercedes-AMG SL63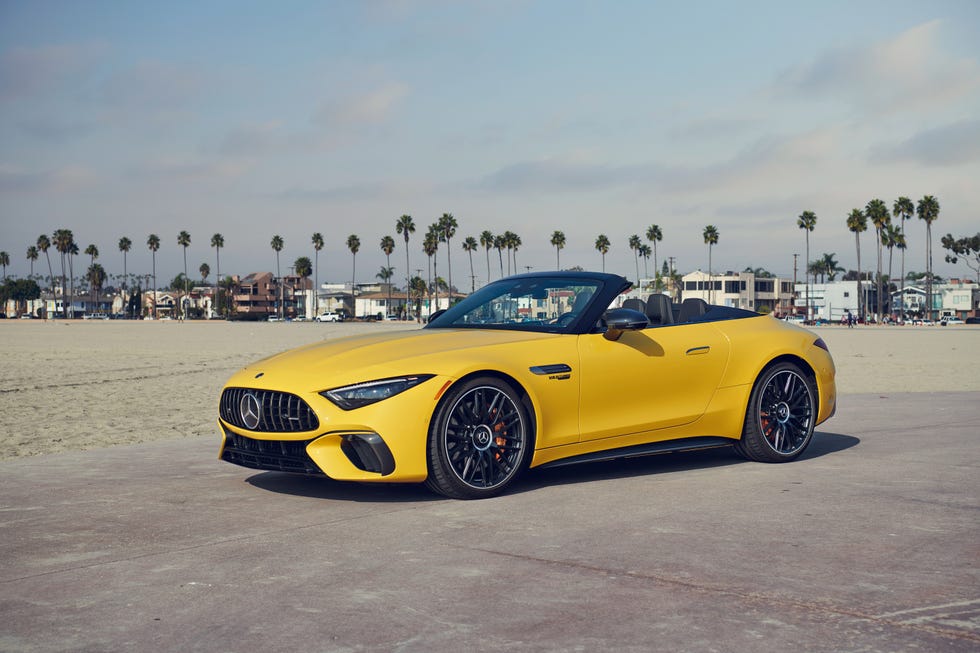 Engine & Performance
The SL63 gains its power from a robust twin-turbo 4.0-liter V8, drawing inspiration from the GT sports car. With a robust 577 horsepower at its command, the vehicle's sole transmission offering is a nine-speed automatic, which pairs seamlessly with an advanced AWD system and four-wheel steering. While the car boasts an array of customizable drive modes, achieving the perfect equilibrium between agility and comfort could prove to be a nuanced task. This aspect might evoke the impression that it doesn't distinctly prioritize either end of the performance-comfort spectrum.
Price & Mileage
The SL63 stands tall with an array of luxurious features as part of its standard package. Among these are massaging seats, an integrated head-up display, and an exquisite Burmester stereo system. For those seeking the pinnacle of power, the higher-tier SL63 variant opens the gateway to fully unleash the potential of its twin-turbo V-8 engine. Delving into choices, prospective buyers can select between the Touring model and the Performance model, with the latter showcasing a front axle lift function and elegantly darkened exterior accents. The entry point for the SL63 starts at $184,050, representing a starting point into its world of sophistication and power. As far as efficiency goes, the SL61 has been assessed by the EPA, receiving a city-driving rating of 14 mpg, while exhibiting a more frugal 21 mpg for those serene highway journeys.
Acceleration & Features
The acceleration showcases impressive speed, especially with the upgraded V8 option, catapulting the SL63 to 60 mph in just 3.0 seconds. Across all SL63 models, you'll find Mercedes's latest MBUX infotainment system, partnered with the intuitive "Hey Mercedes" virtual assistant. Additionally, the interior boasts a generous 11.9-inch touchscreen that can be adjusted for optimal driver visibility, complemented by a standard 12.3-inch digital gauge display, enhancing the array of technological features.