2024 Mercedes-AMG GT63 S vs Audi RS7: Which is Better?
The 2024 Mercedes-AMG GT63 S sedan embodies a fusion of performance and elegance. Borrowing mechanical prowess from the E-class wagon and featuring a twin-turbo V8 that defines it as the apex predator in the lineup. With sporty handling and the capacity for three passengers, it strikes a balance between speed and luxury. The interior boasts opulence with fine materials and modern conveniences, though rear-seat headroom is less generous than the E63. On the other hand, the Audi RS7 impresses with a 591-hp twin-turbo V8 and, in the new Performance trim. A robust 621 horsepower and 627 pound-feet of torque. Operating as a comfortable luxury performance sedan, the RS7. Alongside the Cadillac CT5-V Blackwing and BMW M5, exhibits a refined approach to road mastery. Its rear-axle steering imparts a sense of lightness, making it agile despite its curb weight, and the 190-mph top speed ensures a thrilling performance when needed.
| | | |
| --- | --- | --- |
| | 2024 Mercedes-AMG GT63 S | Audi RS7 |
| Dimensions | 199.2 in x 76.9 in x 57 in | 197.2 in x 76.8 in x 56.1 in |
| Engine | 4.0L twin-turbo V8 | 4.0L twin-turbocharged V8 |
| Horsepower | 630 hp | 591 hp |
| Torque | 664 lb-ft | 590 lb-ft |
| 0-60 MPH | 2.9 sec | 3.0 sec |
| 0-100 MPH | 7.1 sec | 7.6 sec |
| Top-Speed | 196 mph | 190 mph |
Specs
Mercedes-AMG GT63 S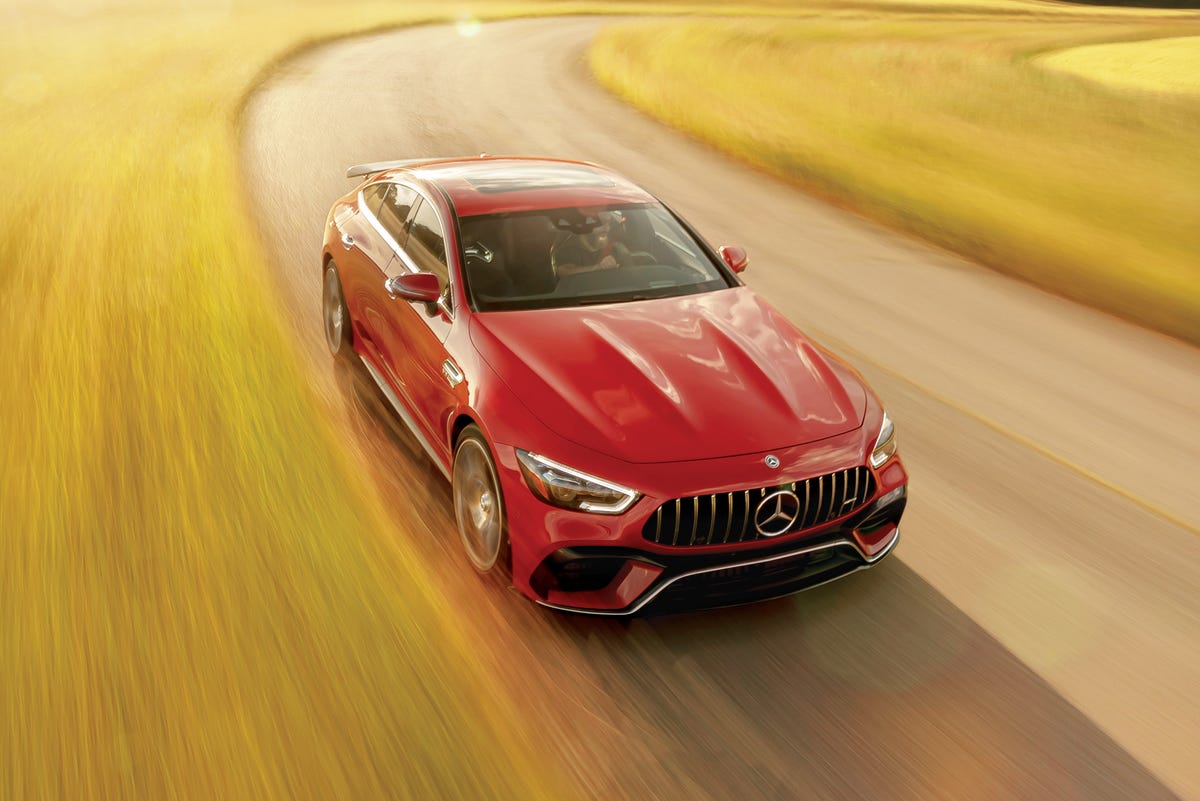 Engine & Performance
Roaring beneath the hood of the GT63 S is a formidable 4.0-liter V8. Showcasing a technological marvel with dry-sump oiling, direct injection, and twin turbos nestled within its V configuration. Sporting a rating of 575 horsepower in the GT63. The power is cranked up to an impressive 630 horsepower in the GT63 S. These models feature a dual-clutch nine-speed automatic transmission paired with air suspension for a seamless ride. Looking ahead, the 2024 lineup will welcome an even mightier GT63 S E-Performance plug-in hybrid. Introducing a rear-mounted electric motor that catapults the combined horsepower to a staggering 830 hp. Brace yourselves, as this powerhouse is set to dominate every inch of the asphalt.
Price & Mileage
While the GT63 S's price may trigger some raised eyebrows, it's important to note that the Porsche Panamera resides in the same lofty price range. Therefore, it's unfair to fault Mercedes for competing in the upper echelons of the sedan market. Surprisingly, despite its comparable size to the Panamera. The GT63 S distinguishes itself with a remarkable connection between the road and the steering wheel. Showcasing a fidelity and directness that can outshine even Porsche. Commencing at $171,500, the Mercedes-AMG GT63 S comes with a price tag that reflects its exceptional performance. Admittedly, its thirst for fuel aligns with its high-performance nature. But the EPA fuel economy estimates, at 15/20 mpg city/highway, are not as dire as one might anticipate.
Acceleration & Features
During testing, the GT63 S exhibited remarkable speed, hitting 60 mph in just 2.9 seconds. A feat matching the quickness of a Porsche Panamera Turbo. However, the AMG's infotainment system, though impressively capable, tends to be intricate and potentially frustrating in operation. On a positive note, its expansive 12.3-inch screen delivers a visually immersive experience. Complemented by standard Apple CarPlay integration, wireless phone charging, and navigation. The inclusion of onboard Wi-Fi and a rear-seat central touchscreen display adds to the tech-forward appeal. In the front seat area, three USB ports enhance connectivity. With an additional two in the back, ensuring ample charging options for all occupants.
Audi RS7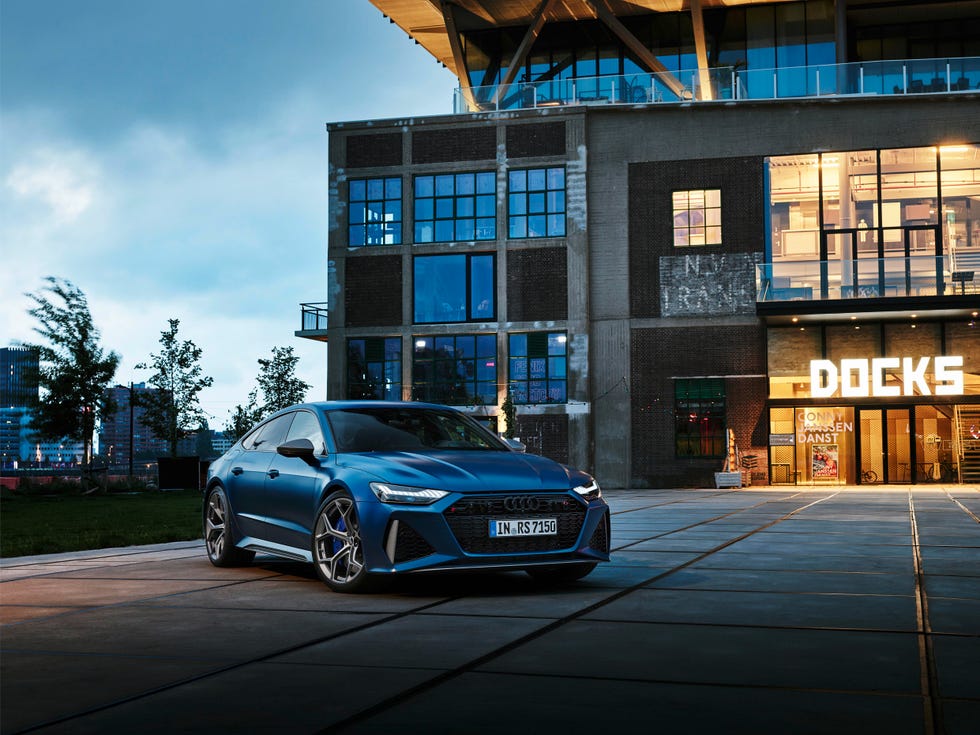 Engine & Performance
Unleashing power, the Audi RS7 boasts a brilliant twin-turbo 4.0-liter V-8, seamlessly integrated with a 48-volt hybrid system. An eight-speed automatic transmission and Quattro all-wheel drive. While this technological ensemble adds weight compared to its predecessor's 605 horsepower version. The new RS7 Performance, equipped with larger turbos and increased boost, commands a formidable 621 horsepower and 627 pound-feet of torque. Every RS7 cruises on an air suspension with adaptive settings for customizable stiffness levels. Ensuring a refined experience across drive modes. Even without opting for carbon-ceramic brakes, which could elevate the top speed from 155 to 190 mph. The standard brakes efficiently decelerate the nearly 5000-pound sedan from 70 mph to an impressive 151 feet. Underscoring its stopping prowess.
Price & Mileage
Audi simplifies the process by generously equipping the RS7 with must-have features like all-wheel drive, four-wheel steering, and an adaptable air suspension as standard. For an extra dash of excitement, explore the Black Optics package, which introduces sleek darkened exterior trims and massive 22-inch rims sporting summer performance tires. For the optimal V-8 soundtrack, we highly recommend opting for the sports exhaust. Priced starting at $128,595, the RS7, although powerful and slightly fuel-thirsty with EPA ratings of 15 mpg in the city and 22 mpg on the highway, remains an enticing option. Note that the EPA is yet to certify the performance-packed 621-hp RS7 variant.
Acceleration & Features
Boasting an impressive 591 horses and 590 pound-feet of torque, the RS7 we tested catapulted to 60 mph in a mere 3.0 seconds. The RS7 is not just about raw power; it features a stylish infotainment system with two seamlessly integrated touchscreens on the upper dashboard and a flowing center console. However, there's a caveat—manipulating climate controls and other settings on the lower screen might divert the driver's attention from the road. To counter this, Audi's voice-recognition software proves invaluable. Complementing the upper screen's robust navigation system, expandable to the fully digital gauge cluster, the RS7 comes equipped with standard Apple CarPlay, Android Auto, wireless charging, and a subscription-based Wi-Fi hotspot. For audiophiles, there's the top-tier Bang & Olufsen stereo option, albeit at a premium, delivering an immersive 1820 watts through 19 speakers.