2024 Mercedes AMG GT63 S vs BMW M8 Gran Coupe: Which is Better?
In the realm of high-performance sedans, the 2024 Mercedes-AMG GT63 S stands out by seamlessly blending power and style, drawing inspiration from the GT sports car lineage. Whether powered by the robust inline-six or the dominating twin-turbo V8, the GT63 S mirrors the agility of its two-seater counterpart. Its generous interior accommodates three passengers without compromising the exhilarating driving experience. Despite its sports-oriented prowess, the GT63 S maintains a luxurious interior, featuring premium materials and modern amenities. On the other side of the spectrum, the BMW M8 Gran Coupe boasts a 617-hp twin-turbo V-8, reaching a thrilling 190 mph. While offering comfort within its four doors, it grapples with steering nuances and an occasionally too-sporty ride. Despite the sacrifices inherent in commanding such powerful vehicles, the preferences may sway towards competitors like the Cadillac CT5-V Blackwing and Mercedes-AMG E63 for their superior sound, steering, and dynamics.
| | | |
| --- | --- | --- |
| | 2024 Mercedes-AMG GT63 S | BMW M8 Gran Coupe |
| Dimensions | 199.2 in x 76.9 in x 57 in | 200.9 in x 76.5 in x 55.9 in |
| Engine | 4.0L twin-turbo V8 | 4.4L twin-turbocharged V8 |
| Horsepower | 630 hp | 617 hp |
| Torque | 664 lb-ft | 553 lb-ft |
| 0-60 MPH | 2.9 sec | 2.7 sec |
| 0-100 MPH | 7.1 sec | 6.5 sec |
| Top-Speed | 196 mph | 190 mph |
Specs
Mercedes-AMG GT63 S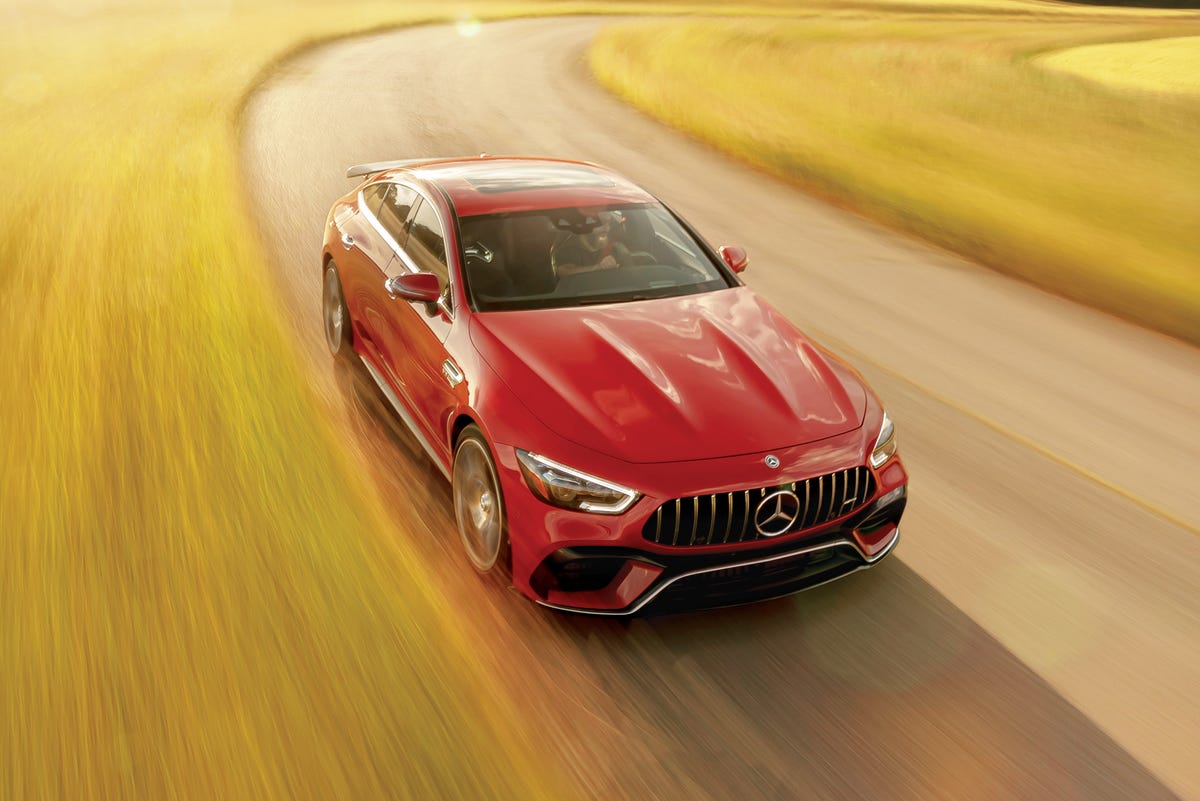 Engine & Performance
Roaring beneath the hood of the GT63 S is a formidable 4.0-liter V8. Showcasing a technological marvel with dry-sump oiling, direct injection, and twin turbos nestled within its V configuration. Sporting a rating of 575 horsepower in the GT63. The power is cranked up to an impressive 630 horsepower in the GT63 S. These models feature a dual-clutch nine-speed automatic transmission paired with air suspension for a seamless ride. Looking ahead, the 2024 lineup will welcome an even mightier GT63 S E-Performance plug-in hybrid. Introducing a rear-mounted electric motor that catapults the combined horsepower to a staggering 830 hp. Brace yourselves, as this powerhouse is set to dominate every inch of the asphalt.
Price & Mileage
While the GT63 S's price may trigger some raised eyebrows, it's important to note that the Porsche Panamera resides in the same lofty price range. Therefore, it's unfair to fault Mercedes for competing in the upper echelons of the sedan market. Surprisingly, despite its comparable size to the Panamera. The GT63 S distinguishes itself with a remarkable connection between the road and the steering wheel. Showcasing a fidelity and directness that can outshine even Porsche. Commencing at $171,500, the Mercedes-AMG GT63 S comes with a price tag that reflects its exceptional performance. Admittedly, its thirst for fuel aligns with its high-performance nature. But the EPA fuel economy estimates, at 15/20 mpg city/highway, are not as dire as one might anticipate.
Acceleration & Features
During testing, the GT63 S exhibited remarkable speed, hitting 60 mph in just 2.9 seconds. A feat matching the quickness of a Porsche Panamera Turbo. However, the AMG's infotainment system, though impressively capable, tends to be intricate and potentially frustrating in operation. On a positive note, its expansive 12.3-inch screen delivers a visually immersive experience. Complemented by standard Apple CarPlay integration, wireless phone charging, and navigation. The inclusion of onboard Wi-Fi and a rear-seat central touchscreen display adds to the tech-forward appeal. In the front seat area, three USB ports enhance connectivity. With an additional two in the back, ensuring ample charging options for all occupants.
BMW M8 Gran Coupe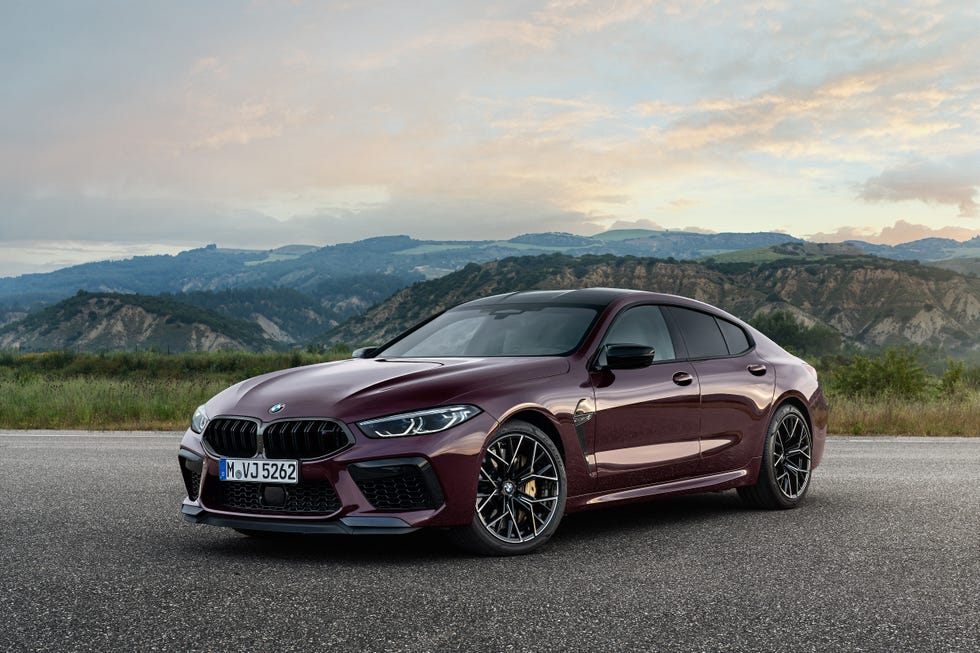 Engine & Performance
Fueled by a robust twin-turbo 4.4-liter V-8, the M8 Gran Coupe roars with 617 horsepower, a result of incorporating the once-optional Competition package. The power seamlessly channels through an agile eight-speed automatic transmission, distributing the V-8's might across all four wheels. For enthusiasts seeking spirited driving, a rear-wheel-drive mode unleashes the full fury to the rear, allowing for exhilarating tail-out maneuvers. Despite its lightning-quick acceleration and impressive 1.0 g cornering grip, the M8 confronts challenges in steering responsiveness and a rigid ride that compromises overall comfort. These nuances, however, don't diminish the thrill of commanding this powerhouse.
Price & Mileage
Opting for the M8 Gran Coupe in its singular configuration, we suggest exploring diverse enhancements for an optimal blend of opulence and performance. Our top pick is the Comfort Seating package, offering remote start, numerous heated surfaces, and retractable shades for the rear seats. Elevate the M experience by considering the optional carbon-ceramic brakes, reinforcing the performance ethos on and off the track. Starting at $140,795, the M8 Gran Coupe exudes power. While its V-8 engine delivers a noteworthy 15 mpg in the city and 22 mpg on the highway, it's far from hybrid territory. Customize your M8 Gran Coupe to strike the perfect harmony between luxury and thrilling performance.
Acceleration & Features
Zooming from 0 to 60 mph in a mere 2.7 seconds and conquering the quarter-mile in just 10.8 ticks at 129 mph, this four-door powerhouse is a speed demon, rivaling even some supercars. It's a remarkable feat, especially considering the sedan's weight surpassing 4300 pounds. Each M8 Gran Coupe features a user-friendly 12.3-inch touchscreen infotainment system, controllable via a convenient rotary controller on the center console. Amplifying the driving experience, the robust BMW comes with a standard 16-speaker Harman/Kardon sound system, a Wi-Fi hotspot, and seamless integration with Apple CarPlay and Android Auto. For audiophiles seeking an even more immersive experience, there's an option to upgrade to the potent Bowers & Wilkins setup.