2024 Mercedes AMG GT63 S vs Dodge Charger SRT: What To Choose?
The 2024 Mercedes-AMG GT63 S sedan blends performance and style, drawing inspiration from its GT sports car cousin. Its twin-turbo V8 engine makes it the top-tier model, delivering a powerful driving experience with sporty handling. Accommodating three passengers, it doesn't sacrifice luxury, featuring a finely crafted interior and modern amenities. While rear-seat headroom is slightly less than the E63 sedan, the GT's sleek fastback roofline adds an exotic touch. On the other hand, the Dodge Charger SRT presents a unique proposition. With a history of powerful engines, its latest version boasts a supercharged V8 with up to 807 horsepower. While excelling on the drag strip, it surprises with its cornering ability. Although not as luxurious as its high-end competitors, the Hellcat offers a thrilling muscle car experience, making it a sure delight for those seeking performance and family space.
| | | |
| --- | --- | --- |
| | 2024 Mercedes-AMG GT63 S | Dodge Charger SRT |
| Dimensions | 199.2 in x 76.9 in x 57 in | 201.0 in x 78.3 in x 57.6 in |
| Engine | 4.0L twin-turbo V8 | supercharged 6.2L V8 |
| Horsepower | 630 hp | 797 hp |
| Torque | 664 lb-ft | 707 lb-ft |
| 0-60 MPH | 2.9 sec | 3.5 sec |
| 0-100 MPH | 7.1 sec | 7.5 sec |
| Top-Speed | 196 mph | 203 mph |
Specs
Mercedes-AMG GT63 S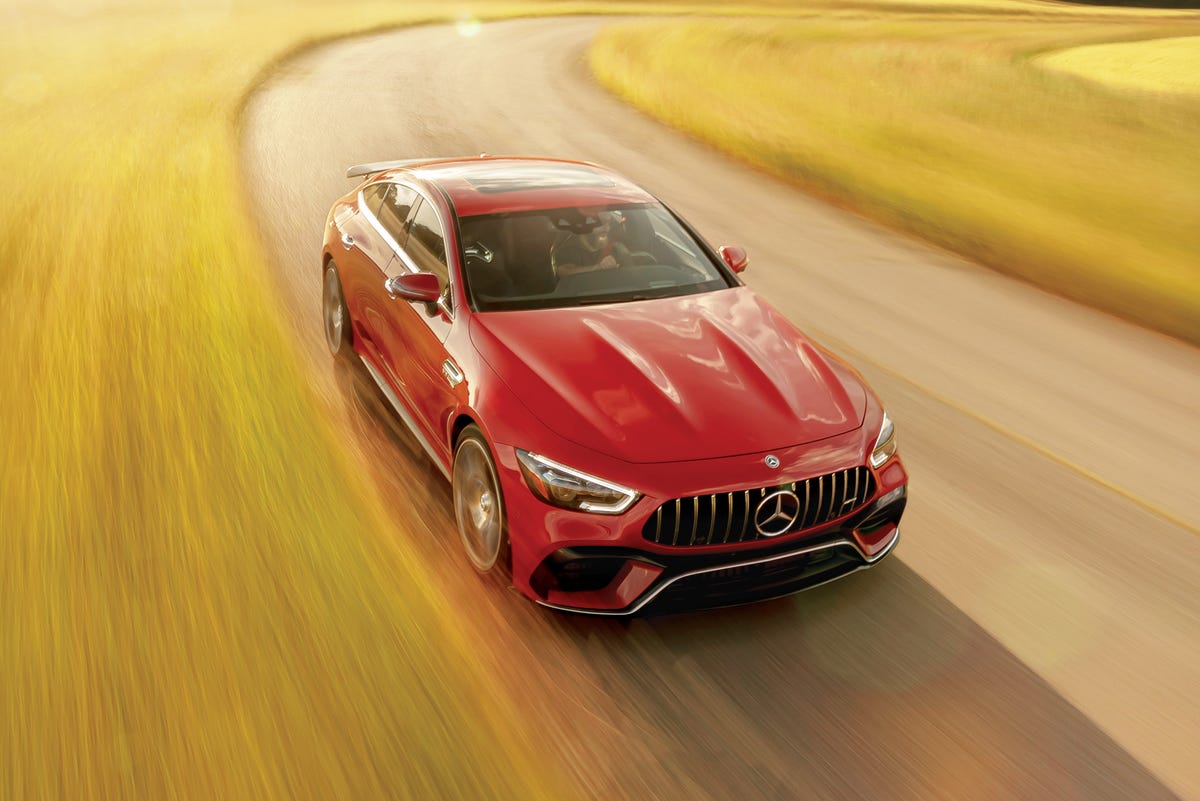 Engine & Performance
Roaring beneath the hood of the GT63 S is a formidable 4.0-liter V8. Showcasing a technological marvel with dry-sump oiling, direct injection, and twin turbos nestled within its V configuration. Sporting a rating of 575 horsepower in the GT63. The power is cranked up to an impressive 630 horsepower in the GT63 S. These models feature a dual-clutch nine-speed automatic transmission paired with air suspension for a seamless ride. Looking ahead, the 2024 lineup will welcome an even mightier GT63 S E-Performance plug-in hybrid. Introducing a rear-mounted electric motor that catapults the combined horsepower to a staggering 830 hp. Brace yourselves, as this powerhouse is set to dominate every inch of the asphalt.
Price & Mileage
While the GT63 S's price may trigger some raised eyebrows, it's important to note that the Porsche Panamera resides in the same lofty price range. Therefore, it's unfair to fault Mercedes for competing in the upper echelons of the sedan market. Surprisingly, despite its comparable size to the Panamera. The GT63 S distinguishes itself with a remarkable connection between the road and the steering wheel. Showcasing a fidelity and directness that can outshine even Porsche. Commencing at $171,500, the Mercedes-AMG GT63 S comes with a price tag that reflects its exceptional performance. Admittedly, its thirst for fuel aligns with its high-performance nature. But the EPA fuel economy estimates, at 15/20 mpg city/highway, are not as dire as one might anticipate.
Acceleration & Features
During testing, the GT63 S exhibited remarkable speed, hitting 60 mph in just 2.9 seconds—a feat matching the quickness of a Porsche Panamera Turbo. However, the AMG's infotainment system, though impressively capable, tends to be intricate and potentially frustrating in operation. On a positive note, its expansive 12.3-inch screen delivers a visually immersive experience. Complemented by standard Apple CarPlay integration, wireless phone charging, and navigation. The inclusion of onboard Wi-Fi and a rear-seat central touchscreen display adds to the tech-forward appeal. In the front seat area, three USB ports enhance connectivity. With an additional two in the back, they are ensuring ample charging options for all occupants.
Dodge Charger SRT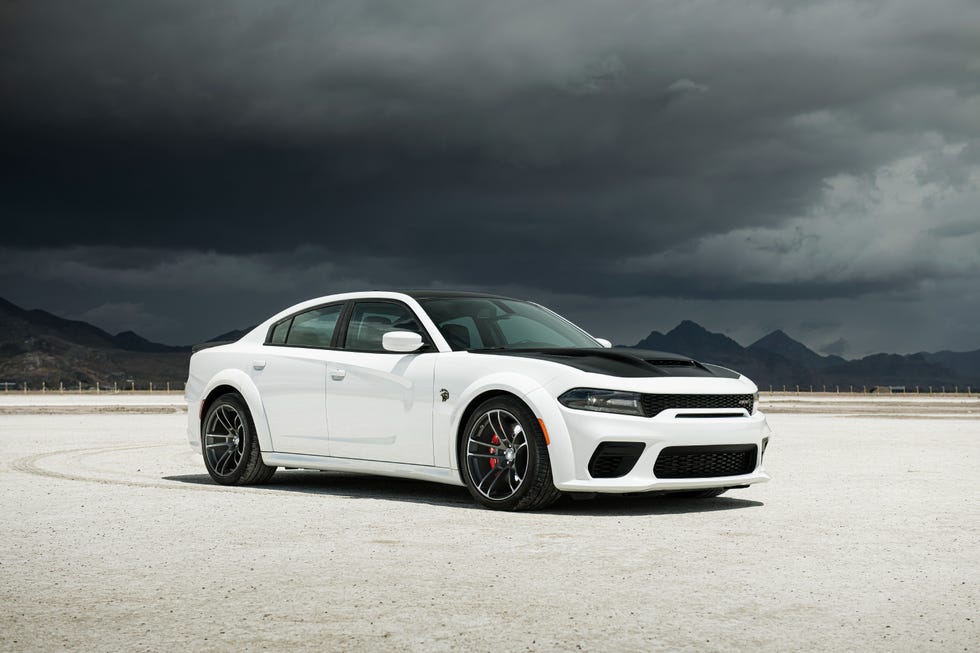 Engine & Performance
Undoubtedly, the standout feature of the Hellcat is its potent supercharged 6.2-liter V-8. Currently, it commands attention with a robust output of 717 horsepower and 650 pound-feet of torque. Elevating the game, the Redeye variant houses an upgraded Hellcat engine, cranking out an impressive 797 horses and 707 pound-feet. Taking it a step further, opt for the Jailbreak package, and the Redeye surges to an astonishing 807 horsepower. These high-performance Chargers boast unbridled power, efficiently channeled to the rear wheels through a swift eight-speed automatic transmission. In the realm of muscle cars, these ultimate powerhouses ensure no one is left yearning for more dynamism.
Price & Mileage
Investing in the extra horsepower of the Redeye model would be our preferred choice. This variant not only retains the coveted standard features but also introduces exclusive elements like a 220-mph red speedometer and distinctive Redeye logos. The Charger SRT has a starting price of $85,250, and its fuel efficiency is noteworthy at 12 mpg in the city and 21 mpg on the highway—a remarkable feat given the sedan's substantial power. Opting for the Redeye model brings an added layer of uniqueness, making the expenditure worthwhile. With a blend of standard excellence and distinctive Redeye enhancements, this iteration elevates the Charger SRT experience for those seeking a powerful yet personalized driving adventure.
Acceleration & Features
Zooming from 0 to 60 mph in a mere 3.8 seconds, the standard Hellcat put to the test showcased its rapid acceleration, conquering the quarter-mile in just 11.9 seconds at a remarkable 124 mph. Now, shift gears to the Hellcat Redeye, clocking in at 3.5 seconds for the 60 mph sprint and an impressive quarter-mile finish in 11.5 seconds at a speed of 126 mph. Each Charger SRT Hellcat boasts an 8.4-inch touchscreen equipped with Apple CarPlay and Android Auto functionality. The responsive touchscreen, complemented by user-friendly physical knobs and buttons, ensures seamless interaction with the interface. For those who crave a soundtrack to accompany their tire-scorching endeavors, Dodge offers an immersive 19-speaker Harman/Kardon audio system, turning every burnout into a musical experience.