Mercedes-Maybach EQS SUV vs Mercedes-Maybach GLS: What To Choose?
The Mercedes-Maybach EQS680 SUV heralds a new era of electric ultra-luxury, surpassing the opulence of its Benz-branded counterpart. Boasting a 649-horsepower dual-motor electric powertrain with standard all-wheel drive, it mirrors the EQS580 SUV's impressive 285-mile range. While the production model opts for slightly smaller wheels, the concept's lavish exterior and deluxe cabin remain intact. Tailored for rear-seat indulgence, it features reclining seats, a beverage chiller, and an optional stemware set. Despite its chauffeur-oriented design, the Maybach promises driving enjoyment, achieving 0-60 mph in just 3.5 seconds. In the realm of luxurious SUVs, the Mercedes-Maybach GLS600 stands as the epitome of opulence. Derived from the Benz-branded GLS, it trades the third row for a spacious four-seat layout, prioritizing comfort for rear-seat occupants. Tailored for those immersed in capitalist triumph, the GLS600 is priced for exclusivity and designed for chauffeur-driven journeys, ensuring an unrivaled experience for those at the pinnacle of success.
| | | |
| --- | --- | --- |
| | 2024 Mercedes-Maybach EQS SUV | Mercedes-Maybach GLS |
| Dimensions | 201.8 in x 80.1 in x 67.8 in | 204.9 in x 79.9 in x 72.4 in |
| Motor/Engine | permanent-magnet synchronous AC | 4.0L twin-turbo V8 |
| Horsepower | 649 hp | 550 hp |
| Torque | 700 lb-ft | 538 lb-ft |
| 0-60 MPH | 3.5 sec | 4.1 sec |
| 0-100 MPH | 9.2 sec | 9.4 sec |
| Top-Speed | 130 mph | 130 mph |
Specs
Mercedes-Maybach EQS SUV
Motor & Performance
Harnessing a robust duo of electric motors, the EQS680 SUV flexes its muscles with a formidable 649 combined horsepower, ensuring an exhilarating all-wheel-drive experience. Standard air springs, adaptive dampers, and a cutting-edge four-wheel steering feature further elevate maneuverability, particularly in confined spaces. Engineered for plush passenger comfort rather than a sporty drive, the EQS680's soft suspension reflects a deliberate tuning choice. Nestled beneath the Maybach EQS's floorboards is a potent 108.4-kW battery pack. In contrast to the Benz variant's 285-mile range, the EQS680, with its mightier motors and potentially heavier build, anticipates an approximate 270-mile range. Fortunately, charging becomes a swift affair with speeds up to 200 kW, enabling a 10 to 80 percent battery boost in just 31 minutes through a compatible DC fast charger, underscoring the SUV's efficiency and practicality.
Price & Mileage
Launching at a hefty six-figure baseline, the Mercedes-Maybach EQS680 SUV is poised to deliver an all-inclusive luxury experience. While the $200,000 starting point suggests a comprehensive set of standard luxuries, anticipate optional features and customization opportunities for an extra cost. Despite the absence of official EPA estimates, we foresee the EQS680 SUV matching the performance of its counterpart, the Benz-branded EQS580 SUV, known for its impressive 79 MPGe city and 74 MPGe highway ratings. Keep an eye out for forthcoming updates on the official figures. The Maybach EQS promises an elevated luxury standard, ensuring a lavish driving experience for those willing to invest in opulence.
Acceleration & Features
Zooming from 0 to 60 mph in a mere 3.5 seconds, the EQS680 SUV is a luxury fortress in motion. However, a word of caution: unleashing this speed may turn the serene rear-seat ambiance into a champagne cascade, so a heads-up is advisable. The dashboard of the EQS680 SUV is a marvel, featuring Mercedes' innovative Hyperscreen— a colossal infotainment touchscreen at its core, flanked by smaller displays catering to both the driver's needs and the passenger's entertainment desires. Even rear-seat passengers bask in technological opulence with individual 11.6-inch infotainment screens on the front seatbacks. Standard features across all EQS SUVs include wireless Apple CarPlay and Android Auto, a top-tier Burmester audio system, and hassle-free wireless device charging.
Mercedes-Maybach GLS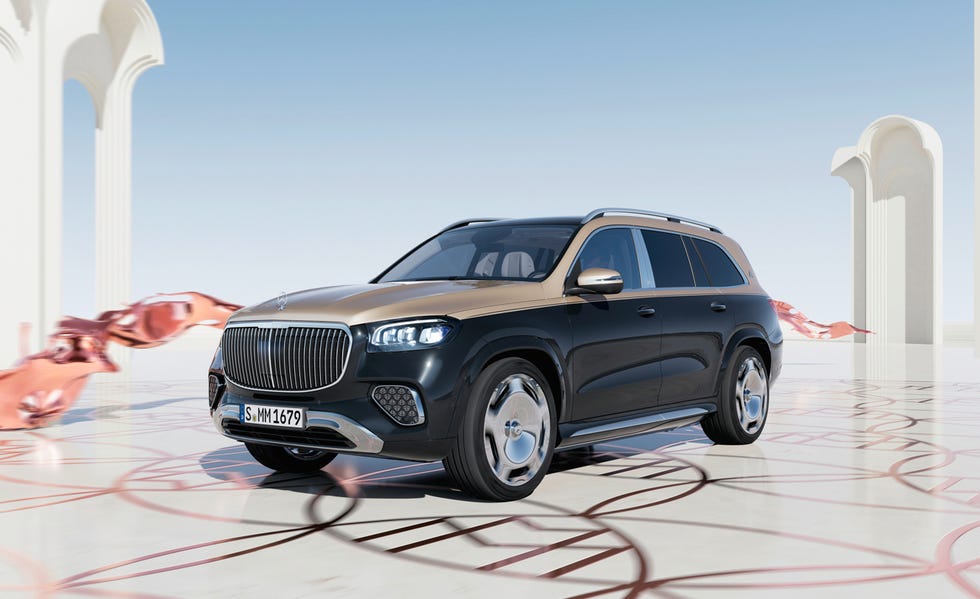 Engine & Performance
Powering the GLS600 is a robust twin-turbocharged V-8, boasting 550 horsepower. This formidable engine receives an added boost at the onset from a 48-volt hybrid system. The standard air suspension, equipped with an exclusive Maybach mode, adeptly smoothens road imperfections. This innovative feature ensures a luxurious, bump-free ride, elevating the driving experience to unparalleled heights.
Price & Mileage
If you find yourself in the luxurious SUV arena, you might not be inclined to heed our suggestions on your extravagant choices. However, considering its $175,000 starting point and EPA fuel-economy ratings of 15 mpg city and 19 mpg highway, the Maybach GLS holds its ground as a contender.
Acceleration & Features
Zooming from 0 to 60 mph in a mere 4.7 seconds, the substantial luxury SUV is propelled by a robust twin-turbocharged V-8, as affirmed by Mercedes-Maybach. The pinnacle of connectivity unfolds through Mercedes-Benz's latest MBUX software interface, elegantly presented on twin 12.3-inch infotainment displays. Meanwhile, rear-seat passengers, enveloped in opulence, wield authority over two 11.6-inch screens for seamless movie or audio control. For an elevated auditory journey, opt for the available Burmester audio system, flaunting an impressive array of 27 speakers. This amalgamation of performance prowess and cutting-edge technology transforms every drive into a multisensory delight, marking the Mercedes-Maybach experience as unparalleled in the realm of luxury SUVs.