2024 Mercedes SL63 AMG vs Porsche 911 Carrera S: Which is Better?
The Mercedes-AMG SL63 combines luxury and performance in a captivating convertible package. While favoring performance, the current SL63 still caters to its traditional luxury-oriented clientele. It diverges from the past by adopting a two-plus-two seating arrangement, albeit more suitable for storage than passengers. The interior boasts a prominent touchscreen with adjustable angles to mitigate sun glare. The SL63 features a power soft top that economizes trunk space compared to the prior model's hardtop. Its sole powertrain is a potent V-8. In contrast, the Porsche 911 Carrera, stemming from a modified Volkswagen, has maintained its status as a performance benchmark. The enduring 911 formula incorporates a turbocharged flat-six engine at the rear, now available with up to 443 horsepower. Functioning as both a sports car and a grand tourer, the 911 Carrera blends performance and luxury, evoking nostalgia with its vintage-inspired design and offering open-top options.
| | | |
| --- | --- | --- |
| | Mercedes-AMG SL63 | Porsche 911 Carrera S |
| Dimensions | 185.2 in x 75.4 in x 53.5 in | 177.9 in x 72.9 in x 51.1 in |
| Engine | 4.0L twin-turbo V8 | twin-turbo 3.0L flat-6 |
| Horsepower | 577 hp | 443 hp |
| Torque | 590 lb-ft | 390 lb-ft |
| 0-60 MPH | 3.0 sec | 3.5 sec |
| 0-100 MPH | 7.1 sec | 7.2 sec |
| Top-Speed | 196 mph | 193 mph |
Specs
Mercedes-AMG SL63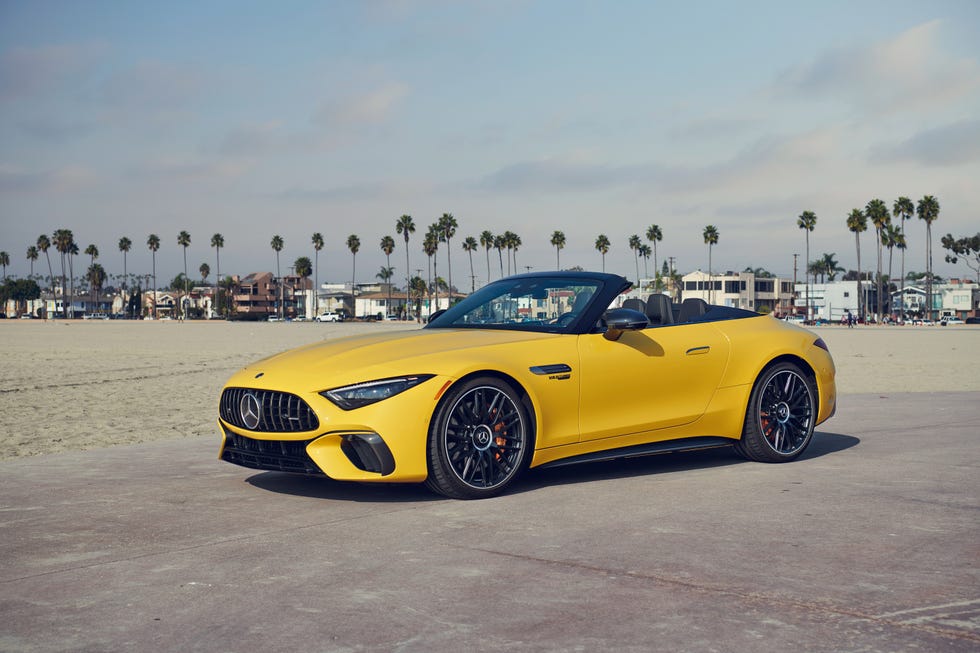 Engine & Performance
Propelled by a twin-turbo 4.0-liter V8 sourced from the GT sports car, the SL63 harnesses a commanding 577 horsepower. Its sole transmission option is a nine-speed automatic, complemented by an AWD system and four-wheel steering. While the vehicle presents multiple customizable drive modes, achieving the ideal balance between agility and comfort can be challenging. This might convey the sense that it lacks a clear-cut emphasis on either end of the spectrum.
Price & Mileage
The SL63 boasts a range of opulent features as standard. These include massaging seats, a head-up display, and a Burmester stereo system. Opting for the pricier SL63 variant grants access to the twin-turbo V-8's full power potential. Buyers can choose between Touring or Performance models, the latter equipped with a front axle lift feature and sleek darkened exterior accents. The price for the SL63 begins at $184,050. Regarding efficiency, the SL61 received an EPA rating of 14 mpg for city driving and 21 mpg for highway cruising.
Acceleration & Features
The acceleration proves rapid, particularly when equipped with the enhanced V8 variant, propelling the SL63 to 60 mph in a mere 3.0 seconds. All SL63 editions feature Mercedes's fresh MBUX infotainment system, accompanied by the "Hey Mercedes" virtual assistant. Moreover, a spacious 11.9-inch touchscreen display, adaptable for optimal driver visibility, and a standard 12.3-inch digital gauge display enhance the technology suite.
Porsche 911 Carrera S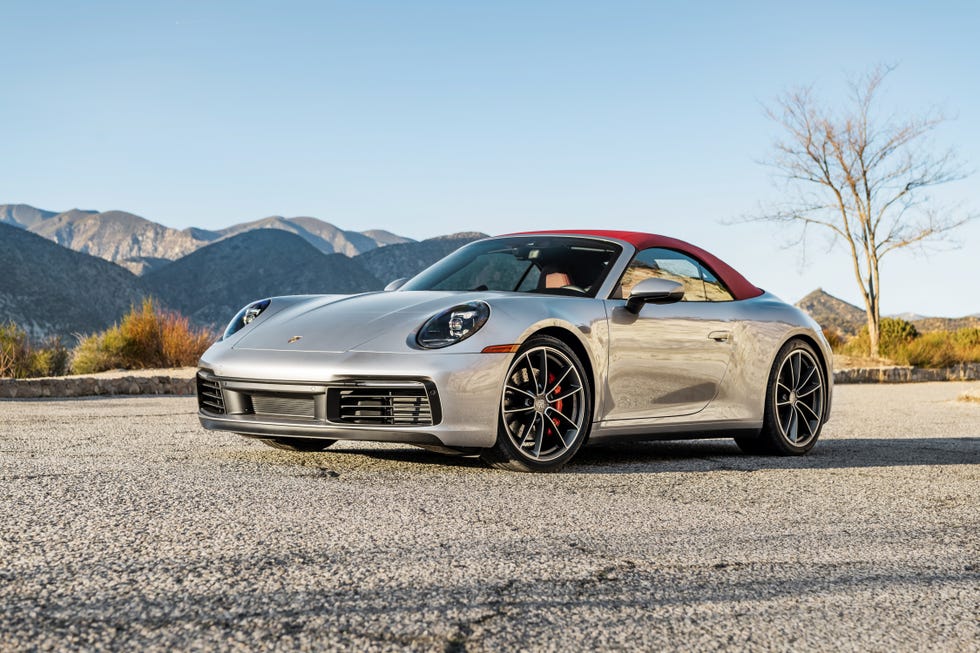 Engine & Performance
Situated at the rear of the 911 lies a potent twin-turbo 3.0-liter flat-six-cylinder engine. The Carrera S offers an impressive 443 ponies. As expected, all models come equipped with a lightning-fast eight-speed automatic transmission as standard. While a delightful seven-speed manual option is available, it's reserved for the S trim at an additional cost. Both the coupe and cabriolet come with standard rear-wheel drive. But for those seeking all-weather, high-performance capabilities, all-wheel drive is an option. Porsche goes the extra mile with their optional sports exhaust system. Which not only enriches the driving experience but also fills the air with a captivating engine sound. What's truly remarkable is that the 911 remains incredibly comfortable while delivering an even more exhilarating driving performance.
Pricing & Features
Drawing from our extensive experience with various 911 models, we highly recommend considering the Carrera S coupe. This remarkable vehicle boasts a significant power advantage of 64 horses compared to the standard Carrera. The 911's starting price is $116,050, making it a compelling option for those seeking a premium driving experience. The Carrera S with a manual transmission stands out as the most fuel-efficient 911, boasting EPA ratings of 18 mpg city and 25 mpg highway. Remarkably, even other 911 models maintain fuel-economy estimates quite close to these impressive figures.
Acceleration & Features
Notably, during a test track session, the S model clocked a jaw-dropping 0-60 mph time of just 3.5 seconds with the eight-speed automatic. Additionally, you have the freedom to choose between a seven-speed manual transmission for a more engaging driving experience or an efficient eight-speed automatic transmission. For those seeking an enhanced driving package, we suggest adding the Sport Chrono package. Which includes exciting features like launch control and additional drive modes, elevating the overall driving dynamics. To further elevate your comfort and convenience. We would also recommend opting for ventilated front-seat cushions, passive entry, a heated multifunction GT steering wheel, and Porsche's Dynamic Light System Plus.