2024 Mullen GT vs Audi RS E-Tron GT: What To Choose?
In Citi Field Lot E, discreetly beneath a verdant tent, rests the captivating 2025 Mullen GT—an enigmatic electric sports car featuring a sleek gray exterior with a bold black swoosh and a distinctive dragonfly emblem on the nose. The rear proudly bears the name 'Mullen,' representing a startup with a narrative unfolding since the 2015 Shanghai debut of the Qiantu K50. Originally a Great Wall Huaguan subsidiary, Mullen now aims for U.S. deliveries by 2025 or 2026, following its 2019 New York Auto Show appearance. In contrast, the Audi RS e-tron GT, Audi's premier electric sedan, impresses with its mega fun and 637 hp, sharing a platform with the Porsche Taycan. Despite a slightly lower range than rivals, Audi incorporates a convenient 270-kW DC fast charging capability.
| | | |
| --- | --- | --- |
| | Mullen GT | Audi RS e-tron GT |
| Dimensions | NA | 196.4 in x 77.3 in x 54.9 in |
| Engine/Motor | permanent magnet sync AC motors | permanent magnet sync AC motors |
| Horsepower | 400 hp | 637 hp |
| Torque | NA | 612 lb-ft |
| 0-60 MPH | 4.2 sec | 2.9 sec |
| 0-100 MPH | NA | 6.9 sec |
| Top-Speed | 125 mph | 156 mph |
Specs
Mullen GT
Motor & Performance
In the dynamic landscape of electric performance, the forefront is claimed by the dual-motor setup, emanating a serene absence of whine. Simultaneously, it seamlessly integrates regenerative capabilities, while the steering assumes a pleasantly weighted character, and body motions confidently assert control. Amidst these dynamics, the impressive performance specs of this electric marvel come to the forefront. A formidable 400 horsepower neatly housed within an aluminum frame adorned with sleek carbon body panels. Its all-wheel-drive prowess, coupled with torque vectoring, guarantees a ride marked by dynamism. Strategically placing the bulk of its cells behind the driver, the robust 78.0-kWh T-shaped lithium-ion battery ensures longevity. With a claimed range of 230 miles, the GT boldly establishes its electric prowess.
Price & Mileage
Set to materialize its vision, Mullen strategically chooses the ex-AM General facility in Indiana for crafting the GT. Sharing space with the Five crossovers and Bollinger B1 and B2. Securing a GT reservation demands just a modest $1,000 deposit, promising delivery in late 2025 or early 2026. With a $150,000 price tag, the Mullen GT boldly enters the arena, navigating the intricacies of the industry. Time holds the key to unveiling its standing in the ever-changing landscape. Notably, the EPA is yet to provide ratings for the GT, adding an element of anticipation to its electric prowess. Stay tuned as Mullen's narrative unfolds in the heart of automotive evolution.
Acceleration & Features
In March, Mullen boldly redefined the GT's performance, dubbing it an "EV supercar" with a promised 0-60 mph in 1.95 seconds and speeds topping 200 mph. This shift followed Mullen's regaining of K50 selling rights, settling a $23 million contract dispute after defaulting post the New York debut. Adjustments came swiftly, revising expectations to a 4.2-second 0-60 mph sprint and a capped top speed of 125 mph. Mullen's engineers meticulously opted for 19-inch center-lock wheels, Brembo brakes, and Pirelli P Zero tires. Despite these changes, the design retained Qiantu's essence, with manufacturer etchings on the glass. The Mullen GT's sleek profile, akin to an Acura NSX, closely echoes mid-engine car dimensions.
Audi RS e-tron GT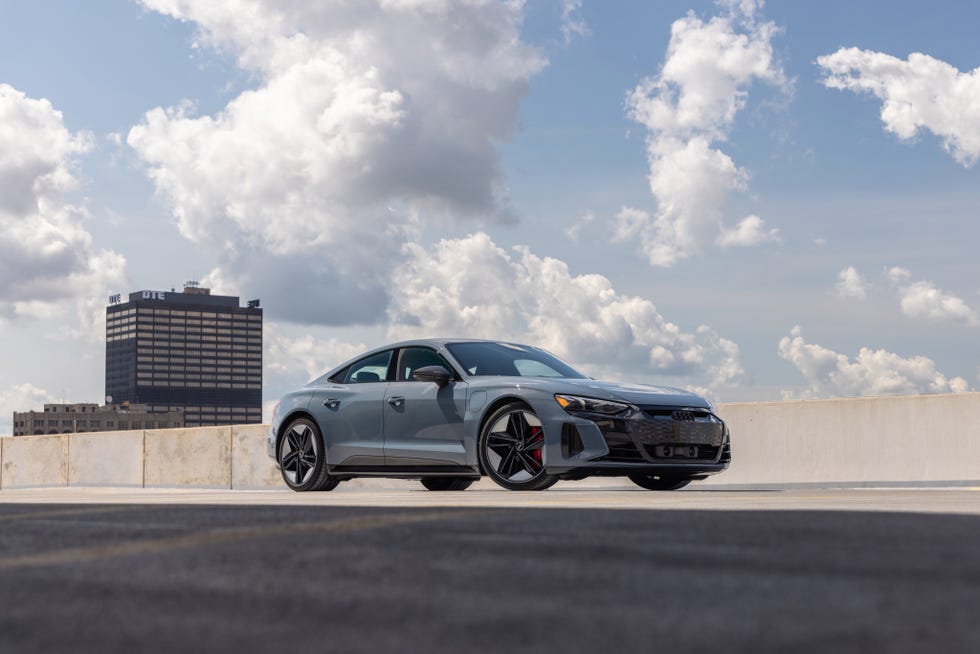 Motor & Performance
With a dynamic duo of electric motors powering Audi's Quattro all-wheel-drive system. The standard e-tron GT cranks out a robust 522 horsepower, while its RS counterpart peaks at an impressive 637 horses. This formidable power translates into an exhilarating ride. Thanks to an innovative two-speed rear transmission that optimizes launches with its first gear and ensures efficiency with a second top gear. Fueled by an 83.7-kWh lithium-ion battery, the e-tron GT lineup offers sustainability without compromising performance. While the regular model boasts an EPA-estimated 238 miles of range, the RS model isn't far behind at 232 miles. Charging is a breeze too, with the ability to go from 5 to 80 percent battery capacity in just 23 minutes using the standard 270-kW DC fast charger.
Price & Mileage
Boasting a formidable 637 horsepower and a more athletic demeanor compared to its regular counterparts. The RS variant emerges as the epitome of desire within the Audi e-tron GT lineup. Priced from $107,995, the e-tron GT exudes efficiency, garnering a combined rating of 82 MPGe. Meanwhile, the RS version falls just shy of this mark by one. With its robust power and distinct sportiness, the RS variant stands out, offering a compelling choice for enthusiasts. This Audi model starts at $107,995. Not only exemplifies efficiency with a combined rating of 82 MPGe but also introduces a more dynamic RS version. Slightly trailing in efficiency but making up for it with heightened performance.
Acceleration & Features
Zooming from 0 to 60 mph in a mere 2.9 seconds during testing, the RS e-tron GT outpaces its less powerful counterpart, the e-tron GT, which achieves the feat in 3.6 seconds. Despite the e-tron GT's infotainment system differing from touch-heavy setups in other Audi models like the A7 sedan and e-tron SUV, it maintains a visually captivating interface, brimming with popular content. Boasting a 10.1-inch central touchscreen, the system seamlessly integrates with steering-wheel-mounted controls and voice-recognition software. Enhanced features include a subscription-based Wi-Fi hotspot, wireless charging, and an impressive 16-speaker Bang & Olufsen sound system. The e-tron GT stands as a technological marvel, delivering not only speed but also an immersive and user-friendly driving experience.