2024 Nissan Z Nismo vs Ford Mustang GT: Which is Better?
The NISMO treatment enhances the track-driving experience of the Nissan Z Performance trim with improved visuals and mechanics. It goes beyond the Z Performance by offering upgraded features like redesigned bodywork, stickier tires, and more horsepower. On the other hand, Ford has unveiled the highly anticipated 2024 Mustang GT, a powerful muscle car with a refreshed appearance, upgraded chassis, and new interior. The enhanced powertrain, available in a 10-speed automatic or six-speed manual transmission, provides an exhilarating driving experience. The Mustang's impressive improvements make the Chevy Camaro and Dodge Challenger uncertain about their future. It caters to various preferences with both hardtop coupe and soft-top convertible versions available.
| | | |
| --- | --- | --- |
| | Nissan Z Nismo | Ford Mustang GT |
| Dimensions | 172.4 in x 72.6 in x 51.8 in | 189.4 in x 75.4 in x 54.8–55.0 in |
| Engine | 3.0L twin-turbo V6 | 5.0L NA V8 |
| Horsepower | 420 hp | 486 hp |
| Torque | 384 lb-ft | 418 lb-ft |
| 0-60 MPH | ≤ 4.3 sec | 3.8–4.3 sec |
| 0-100 MPH | ≤ 9.8 sec | 8.3–8.7 sec |
| Top-Speed | ≥ 155 mph | 145–155 mph |
Specs
Nissan Z Nismo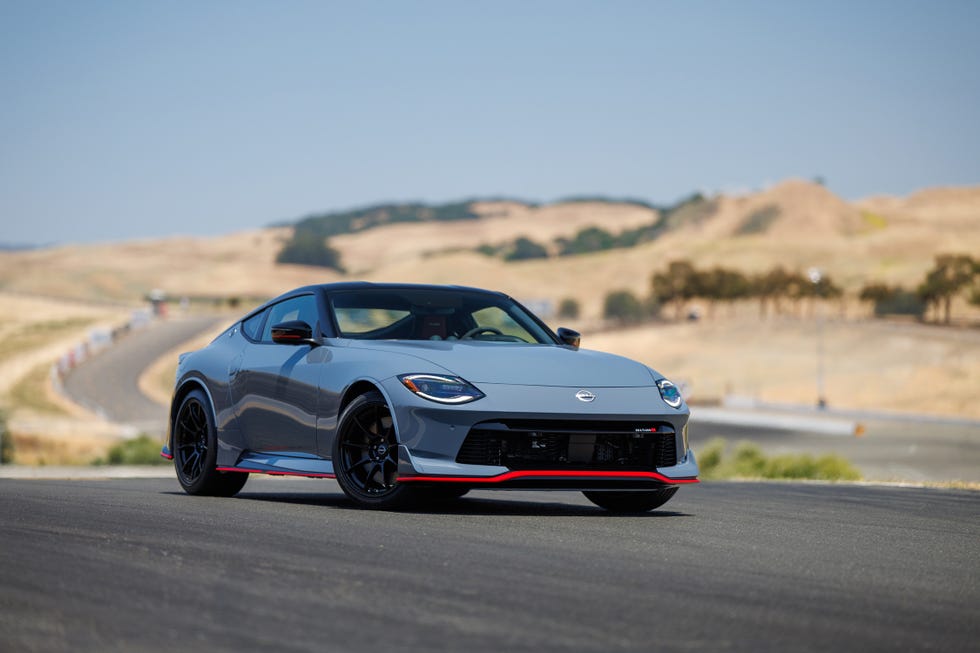 Engine & Performance
Beneath the surface, the twin-turbo 3.0-liter V-6 undergoes a remarkable transformation, drawing inspiration from the GT-R NISMO. The wastegate receives a smart redesign, accompanied by improved cooling and performance-enhancing ignition timing. The outcome is truly impressive. Delivering an extra 20 horses and a substantial 34 more pound-feet of torque compared to the standard Z. As a result, the Z NISMO proudly boasts a robust 420 horsepower and 384 pound-feet of torque. With peak torque conveniently available from 2000 to 5200 rpm. The high-performance engine also benefits from an enlarged oil cooler. Providing the confidence to utilize all that power on the track for extended periods. Rest assured, this finely-tuned powerhouse is ready to unleash its prowess and elevate your driving experience to new heights.
Price & Mileage
The pricing details for the Z NISMO haven't been released yet. But it will be available for purchase in the autumn of 2024. The EPA indicates that the most fuel-efficient version of the Z is equipped with the automatic transmission, offering 19 mpg in the city and 28 mpg on the highway. Opting for the manual transmission slightly reduces these figures to 18 mpg in the city and 24 mpg on the highway. It's worth noting that the NISMO package might lead to lower fuel efficiency. But further information on this is yet to be disclosed. Keep an eye out for upcoming announcements and updates regarding this matter.
Acceleration & Features
The Z NISMO boasts exclusive features that elevate its performance. It's exclusively paired with a nine-speed automatic transmission but with NISMO-only clutch packs and enhanced engine management software. These modifications result in nearly twice as fast downshifts and more aggressive launch control for quicker starts. The addition of Sport+ driving mode further streamlines downshifts, eliminating the need for manual shift paddles. To enhance aerodynamics, the Z NISMO includes front corner extensions that guide wind past the wheels and a sleek three-piece rear spoiler that seamlessly blends into the top of the rear quarters. Like the Z Performance, it rides on 19-inch wheels, but with a glossy black finish and a 0.5-inch wider stance. The Z NISMO is crafted to deliver an exhilarating and dynamic driving experience, setting it apart from its counterparts.
Ford Mustang GT
Engine & Performance
The Mustang has earned its reputation as the epitome of the horse-car era, celebrated by enthusiasts worldwide. The 2024 version showcases a naturally aspirated 32-valve 5.0-liter engine, skillfully refined to enhance efficiency and power while minimizing friction. Unlike its predecessor, this model boasts two throttle bodies, contributing to its impressive performance. With a mighty 480 horsepower and 415 lb-ft of torque, it surpasses the previous version's 450 horses at 7000 rpm and 410 lb-ft at 4600. When you start the engine, it emits a spirited bark-burble, setting the stage for an exhilarating ride. For an even more thrilling experience, opt for the active-valve exhaust, delivering a surge in output to 486 horsepower and 418 lb-ft. The 2024 Mustang promises a driving experience that will leave you captivated and eager for more.
Price & Mileage
While the GT coupe does come with a significant premium of over $10,000 compared to the base four-cylinder option. There's an enticing opportunity to add the GT Performance package for an extra cost of around $5000. This package includes 19-inch wheels, large Brembo calipers, a 3.73-geared Torsen differential, and some visually striking enhancements. Starting at $43,090, the GT offers a powerful V-8 engine that used to emit an impressive growl in the past while delivering fuel efficiency of 15 mpg in the city and 24 mpg on the highway. And surprisingly, this impressive fuel economy still holds for the present-day model. Embracing the GT coupe not only guarantees exceptional performance but also showcases some compelling features that make it a captivating choice.
Acceleration & Features
Embracing a subtle yet alluring touch, the electronically assisted power-steering ratio now stands at 15.5:1. A slight acceleration from its previous 16.0:1, granting an enhanced sense of connection due to meticulously reworked control software. Thoughtful reinforcements have been strategically placed in crucial areas of the body, and the brakes now benefit from an electronic boost, replacing the older vacuum system. The second gear accelerates swiftly to sixty mph, while the third gear offers pure delight on winding backroads. Even if it occasionally flirts with the thrill of speed. At the heart of the vehicle, the iconic dual-brow dash has undergone an impressive transformation. Evolving from a long rectangular display, it now showcases a remarkable amalgamation of technology, featuring seamless integration of a 12.4-inch instrument cluster screen and a 13.2-inch touchscreen. Elegantly controlling various cockpit functions, from climate adjustments to stereo settings, and even the exhilarating launch control.