2024 Porsche 718 Spyder RS vs Jaguar F-Type: What To Choose?
The 2024 Porsche 718 Spyder RS, originally a small offering, now rivals the 911 as a mid-engine standout. With a flat-six engine, it excels as a sports car masterpiece with agile handling and a balanced chassis. Drop the top for an exhilarating exhaust note while tackling corners. The Boxster Spyder RS suits highway drives and errands, but limited space affects practicality. In contrast, the Jaguar F-type boasts stunning looks and strong performance. Its engine delivers a captivating soundtrack, and its handling satisfies enthusiasts. The interior offers quality materials and a snug design, though an update is needed. The convertible's power-operated soft-top adds appeal, while the coupe provides more cargo space. The F-type is a visually striking sports car that blends style with driving enjoyment.
2024 Porsche 718 Spyder RS vs Jaguar F-Type
| | | |
| --- | --- | --- |
| | Porsche 718 Spyder RS | Jaguar F-Type |
| Dimensions | 174.0 in x 71.8 in x 49.3 in | 176.0 in x 75.7 in x 51.5 in |
| Engine | 4.0L flat-6 | 5.0L supercharged V8 |
| Horsepower | 493 hp | 575 hp |
| Torque | 331 lb-ft | 516 lb-ft |
| 0-60 MPH | 3.2 sec | 3.5 sec |
| 0-100 MPH | 6.2 sec | 8.2 sec |
| Top-Speed | 191 mph | 186 mph |
Specs
Porsche 718 Spyder RS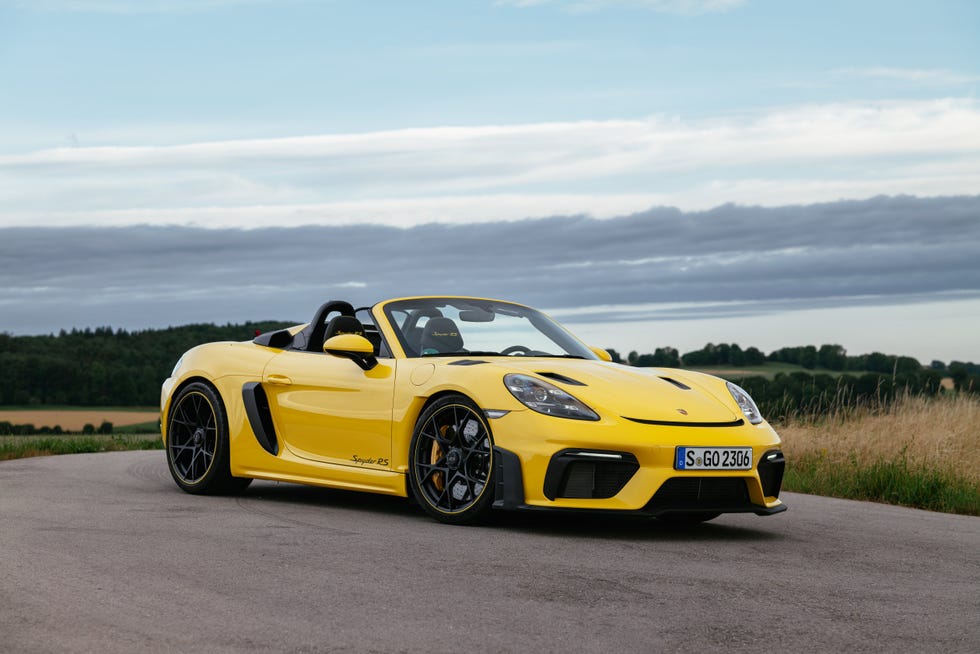 Engine & Performance
With just one engine option, the 718 Spyder RS presents a 4.0-liter flat-six, boasting 493 hp. This powerhouse is coupled with a six-speed manual transmission. Known for its precision and ease, the option of Porsche's intuitive seven-speed PDK dual-clutch automatic is available to buyers. Notably, the Boxster's exceptional handling and steering capabilities command our utmost respect. It maintains stability through corners, displaying a well-balanced nature. The steering is exceptionally responsive and communicates brilliantly, swiftly, and accurately responding to even minor driver inputs.
Price & Mileage
Adding nearly $40,000 to a $163,650 Boxster, a model not intended for track use. Might appear extravagant unless you possess a penchant for exposed carbon fiber. However, we don't pass judgment. The Weissach package predominantly serves as an aesthetics bundle, featuring exposed carbon-fiber parts that would otherwise be painted, a faux-suede dashboard, and a small carbon lip on the duckbill-style spoiler. As for the 718 Spyder RS, its tested fuel efficiency stands at 15 mpg in the city and 19 mpg on the highway.
Acceleration & Features
The PDK's advantage lies in its unwavering launch control, allowing the Spyder RS to reach 60 mph in just 3.2 seconds, as stated by Porsche. Alongside, a standard CD player caters to those who prefer CDs for their driving tunes. For enhanced convenience, buyers have the choice to add navigation and a Wi-Fi hotspot. While Apple CarPlay integration is now a standard feature from Porsche, it's worth noting that Android Auto remains unavailable.
Jaguar F-Type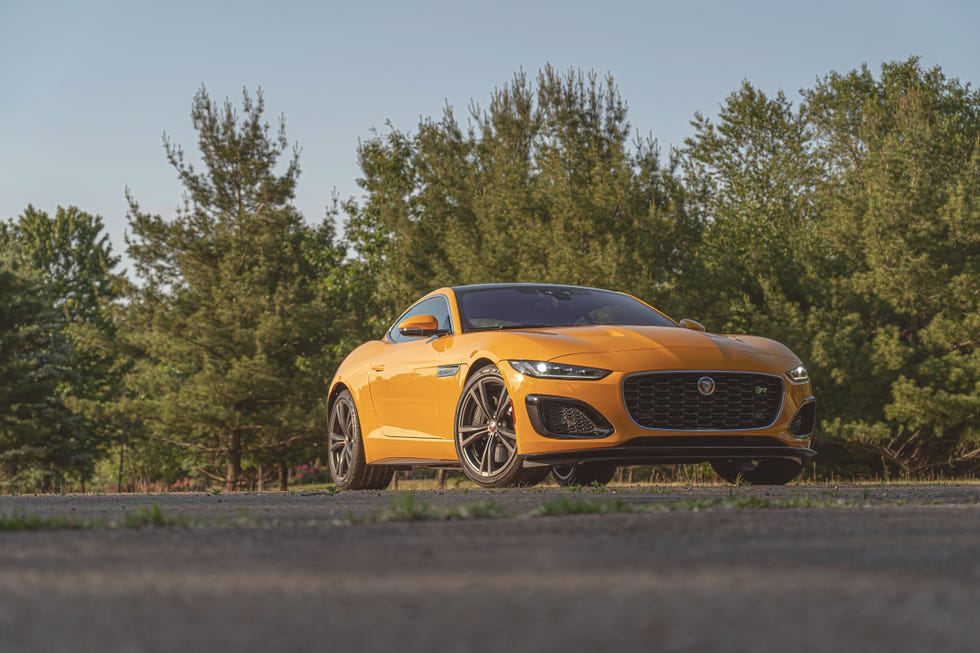 Engine & Performance
In contrast to the trend of adopting smaller turbocharged engines in many sports cars, Jaguar has taken a different route by exclusively equipping the F-type with a classic, supercharged 5.0-liter V-8. This choice is exemplified in the high-performance R P575 variant, generating a robust 575 horsepower. The R model not only delivers impressive power but also treats drivers to an extraordinary auditory journey, producing a symphony of snaps, crackles, and pops from its exhaust system.
Price & Mileage
With its alluring 575-horsepower V-8 engine, the F-type presents an irresistible proposition, emitting an equally impressive sound and providing ample power. While our preference leans towards the stylish coupe, the convertible option promises the classic joy of sunlight overhead for those inclined. Beginning at $79,175, the F-Type range captures attention. The 575-hp, all-wheel-drive F-type R achieves a fuel efficiency of 16 mpg in urban settings and 24 mpg on highways.
Acceleration & Features
During a test, the F-Type R impressively accelerated to 60 mph in just 3.5 seconds. Each F-type model incorporates a 10.0-inch touchscreen, which operates the company's InControl Touch Pro infotainment software and includes standard features like Apple CarPlay and Android Auto compatibility. While a premium surround-sound audio system, Wi-Fi hotspot, and wireless phone charging remain optional additions.