2024 Porsche 718 Spyder RS vs Porsche 718 GT4 RS: Which is Better?
The 2024 Porsche 718 Spyder RS, once an appetizer, now rivals the 911 as a mid-engined standout. Its flat-six engine creates a sports car masterpiece, excelling in handling and balance. Drop the top to savor the exhaust note and sun while conquering switchbacks. Despite limited space, the Boxster Spyder RS manages daily tasks but sacrifices practicality. The 718 Cayman GT4 RS combines modern amenities like infotainment with a vintage Porsche's raw feel. Its steering and handling set new standards among sports cars. Placing the engine midship grants balance unmatched by front-engine rivals. The snug cabin lacks storage but confirms the Cayman's long-term excellence.
| | | |
| --- | --- | --- |
| | Porsche 718 Spyder RS | Porsche 718 GT4 RS |
| Dimensions | 174.0 in x 71.8 in x 49.3 in | 175.5 in x 71.7 in x 50.0 in |
| Engine | 4.0L flat-6 | 4.0L flat-6 |
| Horsepower | 493 hp | 493 hp |
| Torque | 331 lb-ft | 331 lb-ft |
| 0-60 MPH | 3.2 sec | 2.8 sec |
| 0-100 MPH | 6.2 sec | 6.7 sec |
| Top-Speed | 191 mph | 196 mph |
Specs
Porsche 718 Spyder RS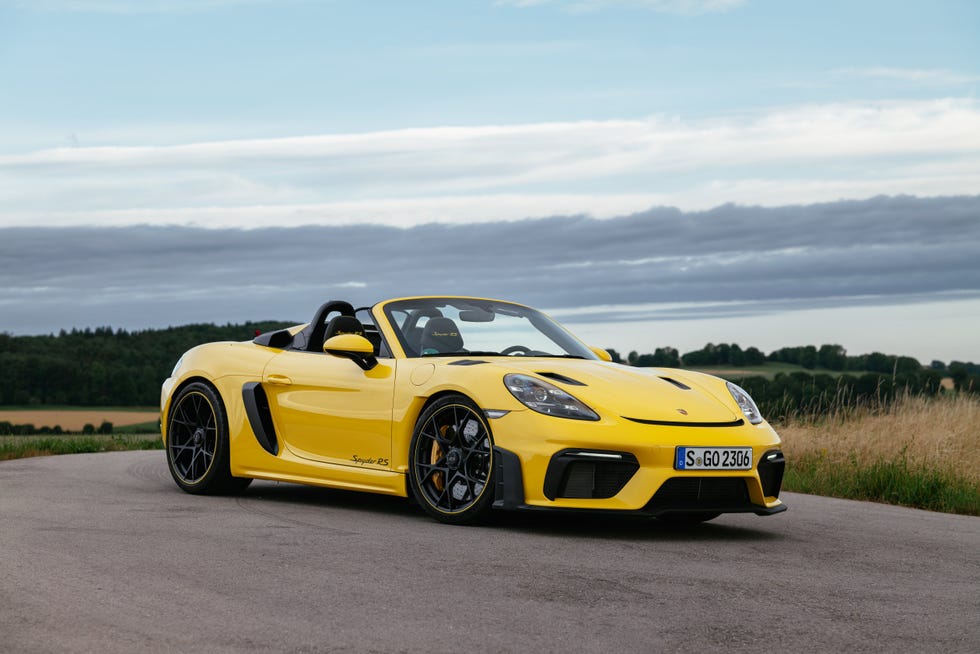 Engine & Performance
With just one engine option, the 718 Spyder RS presents a 4.0-liter flat-six, boasting 493 hp. This powerhouse is coupled with a six-speed manual transmission. Known for its precision and ease, though the option of Porsche's intuitive seven-speed PDK dual-clutch automatic is available to buyers. Notably, the Boxster's exceptional handling and steering capabilities command our utmost respect. It maintains stability through corners, displaying a well-balanced nature. The steering is exceptionally responsive and communicates brilliantly, swiftly, and accurately responding to even minor driver inputs.
Price & Mileage
Adding nearly $40,000 to a $163,650 Boxster, a model not intended for track use. Might appear extravagant unless you possess a penchant for exposed carbon fiber. However, we don't pass judgment. The Weissach package predominantly serves as an aesthetics bundle, featuring exposed carbon-fiber parts that would otherwise be painted, a faux-suede dashboard, and a small carbon lip on the duckbill-style spoiler. As for the 718 Spyder RS, its tested fuel efficiency stands at 15 mpg in the city and 19 mpg on the highway.
Acceleration & Features
The PDK's advantage lies in its unwavering launch control, allowing the Spyder RS to reach 60 mph in just 3.2 seconds, as stated by Porsche. Alongside, a standard CD player caters to those who prefer CDs for their driving tunes. For enhanced convenience, buyers have the choice to add navigation and a Wi-Fi hotspot. While Apple CarPlay integration is now a standard feature from Porsche, it's worth noting that Android Auto remains unavailable.
Porsche 718 GT4 RS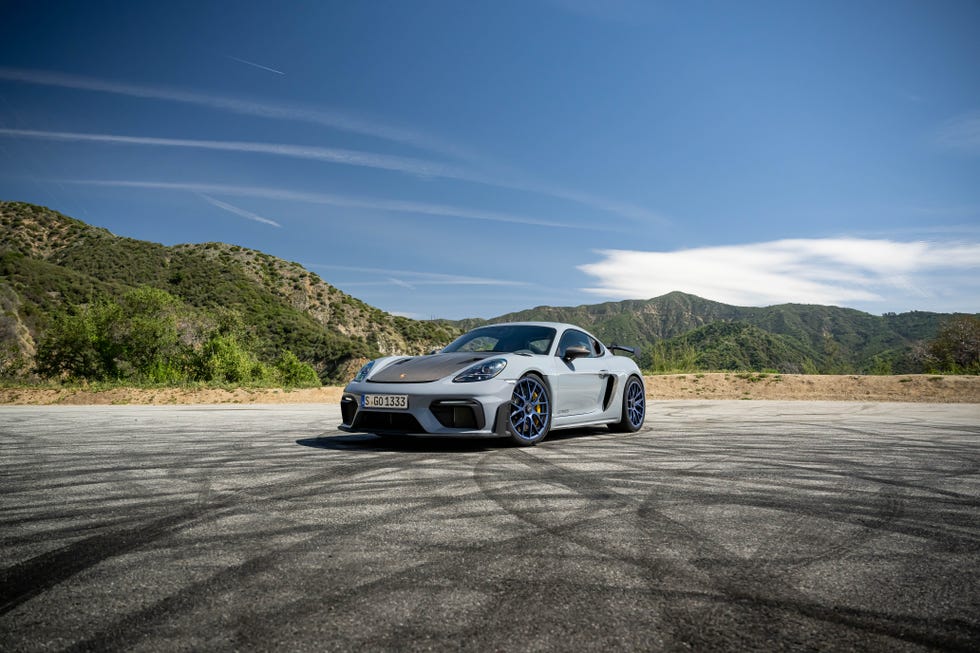 Engine & Performance
Fortunately, the Cayman's sound problems find resolution with the 4.0-liter flat-six engine, which not only produces captivating noises but also pumps out 493 horsepower in the GT4 RS model. No matter your engine preference, each Cayman model includes a seamless six-speed manual transmission that could arguably be deemed the finest available. For those who prefer an alternative, a rapid seven-speed dual-clutch automatic transmission with steering-wheel-mounted shift paddles is also on offer.
Price & Mileage
Starting at $144,050, provided you manage to get your hands on one, the GT4 RS comes in almost $20,000 cheaper than the 911 GT3. Of course, if you decide to play around with the options, you might push the price closer to $200,000, but that's typical for Porsche enthusiasts. In terms of fuel efficiency, the 718 GT4 RS achieves 15 mpg in the city and 17 mpg on the highway.
Acceleration & Features
Engage launch control, and the GT4 RS delivers a powerful connection to the road. Assessing initial traction, the time to reach 30 mph serves as a traction benchmark. The acceleration remains relentless, propelling from 0 to 60 mph in just 2.8 seconds. Hold tight for 20.8 seconds to reach a thrilling 160 mph. The Cayman's touchscreen infotainment is user-friendly with swift responses. Although Porsche charges extra for certain features like built-in navigation and Wi-Fi, every model now supports Apple CarPlay. Despite the nickel-and-diming approach, this addition enhances connectivity.