2024 Range Rover Evoque vs Land Rover Discovery Sport: What To Choose?
The 2024 Range Rover Evoque stands out with its fashionable and avant-garde design compared to its competitors. Such as the BMW X1, Mercedes-Benz GLB-class, and Volvo XC40, which have a more casual look. However, like some designer garments, the Evoque sacrifices practicality with limited rear-seat space and cargo area. Inside, it takes inspiration from its big brother, the flagship Land Rover Range Rover SUV. Featuring comfortable seats, premium materials, and a sleek touchscreen infotainment system. The Evoque also boasts off-road capabilities with standard all-wheel drive and favorable approach and departure angles. On the other hand, the 2024 Discovery Sport brings an adventurous vibe to the compact crossover class, excelling in off-road features with all-wheel drive, off-road cruise control, and an exterior camera system. Nevertheless, it falls short in on-road refinement compared to rivals like the BMW X3, Porsche Macan, and Mercedes-Benz GLC-Class, which offer greater comfort and driver satisfaction.
| | | |
| --- | --- | --- |
| | Range Rover Evoque | Land Rover Discovery Sport |
| Dimensions | 172.1 in x 75.0 in x 64.9 in | 181.0 in x 75.0 in x 68.0 in |
| Engine | turbocharged 2.0L inline-4 | turbocharged 2.0L inline-4 |
| Horsepower | 296 hp | 246 hp |
| Torque | 295 lb-ft | 269 lb-ft |
| 0-60 MPH | 6.6-7.1 sec | 7.5 sec |
| 0-100 MPH | NA | 21.7 sec |
| Top-Speed | 150 mph | 132 mph |
Specs
Range Rover Evoque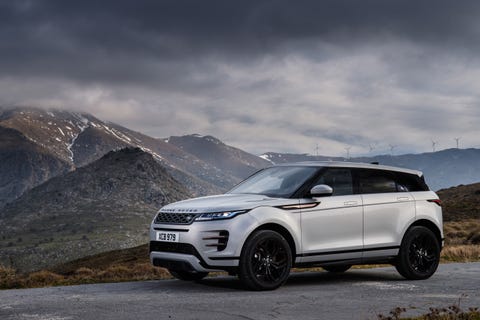 Engine & Performance
The Evoque boasts a spirited 246-hp turbocharged 2.0-liter four-cylinder engine. Known as the P250, and includes a nine-speed automatic transmission and all-wheel drive as standard. When cruising on the road, it exudes a commanding presence, and the elevated seat height complements its SUV nature. While it handles corners competently, it may not offer the thrill sought by avid driving enthusiasts like the BMW or Mercedes-Benz GLA class do.
Price & Mileage
The ideal choice for us would be the Dynamic SE model, which comes with enticing additions like a power liftgate, a 12-way power-adjustable driver's seat, LED headlights, and blind-spot monitoring. Considering its value, we'd be willing to invest in the Technology package as well. Which offers convenient features like a head-up display and a 360-degree exterior camera system. It's worth noting that the Evoque's starting price is $51,075. According to EPA estimates, the Evoque is expected to achieve 20 mpg in the city and 27 mpg on the highway, ensuring respectable fuel efficiency.
Acceleration & Features
During testing at the track, the Evoque achieved a respectable 7.1-second 60-mph run. While competitors like the BMW X1 and Volvo XC40 managed slightly quicker times. The Range Rover holds its ground with impressive performance. All Evoque models are equipped with a sleek 11.4-inch curved touchscreen, showcasing JLR's latest Pivi Pro infotainment software. The user-friendly system allows most features to be accessed with just two taps on the screen, and it now includes convenient wireless Apple CarPlay and Android Auto compatibility. Along with Amazon Alexa capability. For those seeking additional enhancements, optional features such as a head-up display, a Wi-Fi hotspot, and a top-of-the-line Meridian premium audio system are available.
Land Rover Discovery Sport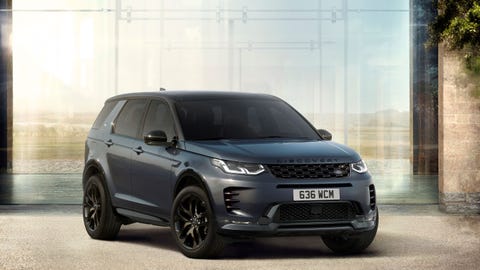 Engine & Performance
Each Discovery Sport is equipped with a powerful turbocharged four-cylinder engine, delivering 246 horsepower. With standard all-wheel drive and numerous optional trail-ready features, the Sport effortlessly conquers rough terrains and handles challenging weather conditions. It boasts an impressive wading depth of up to 23.6 inches and a towing capacity of 4409 pounds. While it may not offer razor-sharp handling for exhilarating drives on winding roads. The Discovery Sport provides a smooth and comfortable ride, perfect for leisurely cruising.
Price & Mileage
The S model of the Discovery Sport serves as its entry-level variant. But it impresses us with an array of luxurious amenities and practical features. Revel in the convenience of power front seats, a Meridian stereo system, a digital gauge display, wireless smartphone charging, and a breathtaking panoramic glass roof. To elevate the experience further, we highly recommend indulging in the Comfort package. Which enhances the ambiance with ambient interior lighting, rear climate controls, and a refreshing cabin air purification system. The starting price for the Discovery stands at $50,075. In terms of fuel efficiency, the Discovery Sport delivers an EPA-estimated 19 mpg in the city, 23 mpg on the highway, and a combined 20 mpg, making it an efficient companion for your journeys.
Acceleration & Features
After evaluating the 2020 model equipped with a 246-hp engine, it became apparent that the performance was lackluster. The throttle response was sluggish, resulting in a leisurely 7.5-second time to reach 60 mph. However, the Discovery Sport does come with some notable tech features. It includes an 11.4-inch infotainment touchscreen featuring Land Rover's latest Pivi Pro interface and a digital gauge display. Both wireless Apple CarPlay and Android Auto come as standard, while additional infotainment options like a mobile hotspot and a head-up display are available as extras. Additionally, all models are equipped with a premium Meridian stereo system, adding a touch of luxury to the driving experience.