2024 Range Rover Sport SV VS 2024 Land Rover Range Rover: What to Choose?
The 2024 Range Rover Sport SV is a sophisticated and stylish SUV that focuses on enhanced handling, performance, and advanced technology, accompanied by a subtle design. It directly competes with formidable rivals like the Lamborghini Urus, Aston Martin DBX, and BMW X5M, offering even higher levels of performance. The SV variant showcases the future potential of the Range Rover Sport lineup, highlighting the continuous evolution of its powerful V8 engine. While the Range Rover has long been favored by celebrities and the affluent for its luxurious experience. It also retains its off-road capability, allowing it to venture far beyond glamorous settings. All models are equipped with all-wheel drive, an adjustable air suspension, and generous ground clearance. Powertrain options include inline-six, plug-in hybrid, and V-8 engines.
Range Rover Sport SV
Engine & Performance
The Range Rover Sport prioritizes an exceptional powertrain that leaves no room for compromise. While previous models offered an upgraded six-cylinder hybrid, the latest iteration takes a significant leap forward. Instead of the 5.0-liter supercharged V8, a new and potent V8 engine with twin turbochargers, sourced from BMW, takes the spotlight. This remarkable engine is none other than the 4.4-liter powerhouse featured in BMW's most impressive M vehicles. In the pursuit of maintaining efficiency while delivering outstanding performance, the P530 variant incorporates BMW's mild-hybrid technology, resulting in an impressive output of 523 horsepower. Not to be outdone, the P510 plug-in hybrid has received an exciting transformation, now known as the P550e. With an upgraded electric motor seamlessly integrated into the automatic gearbox, its power has surged from 503 to an exhilarating 542 horsepower.
Price & Mileage
The 2019 Range Rover Sport is available in the United Kingdom with a starting price of £83,620, indicating its premium positioning. As for the pricing details in the United States, we currently do not have the specific information. We are actively working to gather this data and will provide you with the latest pricing information as soon as it becomes available. Regarding the EPA ratings for fuel efficiency, we advise you to stay tuned for updates as the Environmental Protection Agency has not released any official figures at this time.
Acceleration & Features
Indulge in the exhilarating power of the SV, featuring an impressive 626 horsepower and 590 lb-ft of torque, propelling it to a remarkable top speed of 180 mph. Its advanced hydraulics surpass conventional anti-roll bars, delivering an astonishing 2,300Nm of stability during cornering and 4,000Nm under pitch. Equipped with all-season tires, it achieves an impressive lateral acceleration of 1.1g. The SV prioritizes user-friendly controls, state-of-the-art speech recognition software, and a spacious 13.1-inch Pivi Pro infotainment touchscreen. Embracing innovation, the Country Road Assist feature intelligently adjusts speed based on real-time navigation data. Range Rover seamlessly combines power, technology, and performance to offer an unmatched driving experience.
Land Rover Range Rover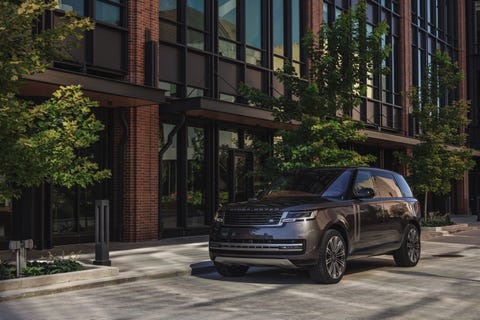 Engine & Performance
The Range Rover offers a range of four powertrain options. The entry-level choice is a turbocharged inline-six engine with a 48-volt hybrid system named P400, producing 395 horsepower. For a more energetic performance, there is a twin-turbo 4.4-liter V-8 engine, referred to as P530, generating 523 horsepower. This engine also enhances the Range Rover's towing capacity to 8200 pounds. Another option is a plug-in hybrid version with 542 horsepower, known as P550e, but it is only available on the short wheelbase Autobiography trim. The range-topping SV variant boasts a powerful 606-hp V-8 engine called P615. The Range Rover delivers a comfortable and smooth ride, particularly when the adjustable air suspension is set to Comfort mode, providing a near-floating sensation on the road. Switching to Dynamic mode adds some firmness to the ride, but the focus of the Range Rover remains on prioritizing passenger comfort.
Price & Mileage
We recommend considering the mid-range Autobiography model, as it offers several desirable features that luxury buyers will value. The Autobiography includes a 1600-watt Meridian stereo system with headrest-mounted speakers and active noise cancellation as standard. The Land Rover Range Rover has a starting price of $108,780 for the P400 SE, and the range-topping 615 SV model reaches up to $210,350. Regarding fuel efficiency, the plug-in hybrid P550e is expected to be the most economical option, although official EPA estimates for its fuel economy are not yet available. The entry-level P400 model has a rating of 18 mpg in the city and 26 mpg on the highway, while the V-8-powered P530 model achieves an estimated 16 mpg in the city and 21 mpg on the highway.
Acceleration & Features
During testing, the Range Rover demonstrated impressive smoothness and sufficient power to effortlessly maneuver its large frame. Specifically, the P530 variant achieved a swift acceleration, reaching 60 mph in just 4.3 seconds, while the P400 model accomplished the same feat in 5.5 seconds. Notably, the long-wheelbase P400 version exhibited a respectable 5.5-second acceleration time, whereas the short-wheelbase P530 achieved it in a remarkable 4.3 seconds. All models of the Range Rover Sport now feature a new 13.1-inch curved infotainment display, equipped with Land Rover's latest Pivi Pro interface. The system offers wireless Apple CarPlay and Android Auto as standard, and it includes Amazon's Alexa voice assistant. Additional standard features consist of in-dash navigation, wireless smartphone charging, SiriusXM satellite radio, and a 13.7-inch digital gauge display.
Difference Between 2024 Range Rover Sport SV VS 2024 Land Rover Range Rover
| | | |
| --- | --- | --- |
| | Range Rover Sport SV | Land Rover Range Rover |
| Dimensions | NA | 206.8 in x 80.6 in x 73.6 in |
| Engine | twin-turbocharged V8 | twin-turbocharged V8 |
| Horsepower | 626 hp | 523 hp |
| Torque | 590 lb-ft | 553 lb-ft  |
| 0-60 MPH | 3.6 sec | 4.3 sec |
| 0-100 MPH | NA | 10.6 sec |
| Top-Speed | 180 mph | 155 mph |
| Airbags | 6 Airbags | 6 Airbags |
Specs