2024 Subaru Crosstrek vs Honda HR-V Comparison: Which is Better?
The Subaru Crosstrek, known for its affordability, ruggedness, and fuel efficiency, remains true to its roots in the 2024 model year. The design and interior continue the evolution from the previous model, maintaining spaciousness and practicality. Engine options remain unchanged, offering a 152-hp base engine and an optional 182-hp version, both with standard all-wheel drive. However, the manual transmission is no longer available, replaced by a CVT. Meanwhile, Honda created the HR-V by borrowing components from its Civic compact car, resulting in a practical and value-oriented entry-level SUV. The HR-V's chassis lends it agile road manners, but its 2.0-liter four-cylinder engine feels underpowered, especially when paired with a CVT. There's hope for a hybrid version using the Accord hybrid powertrain to compete with the Toyota Corolla Cross, but for now, the HR-V offers a practical cabin, modern infotainment, and driver-assistance features as its main strengths.
| | | |
| --- | --- | --- |
| | Subaru Crosstrek | Honda HR-V |
| Dimensions | 176.4 in x 70.9 in x 63.0 in | 179.8 in x 72.4 in x 63.4 in |
| Engine | 2.5L NA flat-4 | 2.0L NA inline-4 |
| Horsepower | 182 hp | 158 hp |
| Torque | 178 lb-ft | 138 lb-ft |
| 0-60 MPH | 8.1 sec | 9.4 sec |
| 0-100 MPH | 21.9 sec | 26.0 sec |
| Top-Speed | 120 mph | 115 mph |
Specs
Subaru Crosstrek
Engine & Performance
As you delve into the 2024 Crosstrek, you'll encounter a standard 152-hp 2.0-liter four-cylinder engine, while the Sport, Wilderness, and Limited models elevate the experience with a more robust 182-hp 2.5-liter four-cylinder. You can look forward to the imminent inclusion of a 148-hp plug-in hybrid option in the lineup. Unfortunately, the manual transmission, once available on the previous Crosstrek, is no longer on the table. However, staying true to Subaru's legacy, all-wheel drive remains a standard feature. Noteworthy is the Crosstrek's readiness for off-road adventures, boasting a minimum 8.7 inches of ground clearance and incorporating hill-descent control and hill-start assist features. This positions it as a capable contender for tackling challenging terrains that many other crossovers might hesitate to approach.
Price & Mileage
In the meantime, while Subaru has not made an official announcement, it is widely expected that a plug-in hybrid variant will soon be added to its lineup. Nevertheless, until this anticipated model hits the market, we recommend considering the Sport trim, which provides access to the more potent engine. With a starting price of just $26,290, the Crosstrek remains an affordable choice. Additionally, it boasts commendable fuel efficiency, achieving an EPA rating of up to 28 mpg in city driving and an impressive 34 mpg on the highway, depending on your specific configuration.
Acceleration & Features
During our testing, we evaluated a Limited model equipped with the larger of the two four-cylinder engines, achieving a 60 mph time of 8.1 seconds—a bit on the leisurely side. Conversely, the Premium version, equipped with the 152-hp four-cylinder, proved even slower, taking 9.5 seconds to reach 60 mph. It's worth noting that the Crosstrek provides an 11.6-inch infotainment display, a feature shared with other Subaru models like the Outback station wagon and the WRX sports sedan. However, this impressive screen isn't standard; the base model comes with a smaller 7.0-inch display. Regardless of screen size, both options support seamless connectivity with Apple CarPlay and Android Auto, ensuring a modern and integrated driving experience.
Honda HR-V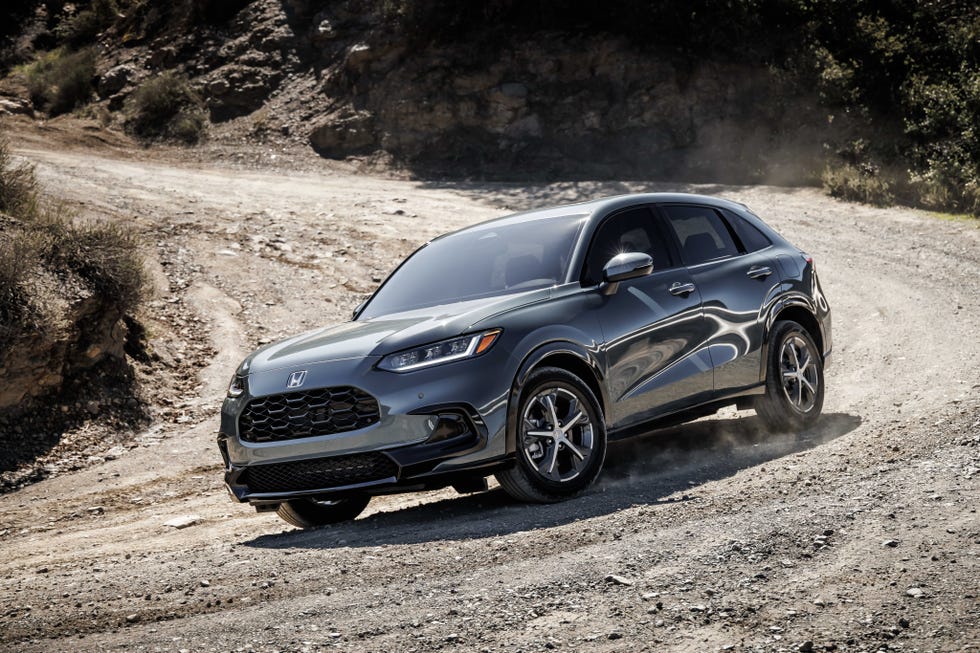 Engine & Performance
In the European market, the HR-V benefits from a hybrid powertrain borrowed from the Accord. However, in the United States, the HR-V exclusively offers a conventional 2.0-liter four-cylinder gasoline engine producing 158 horsepower. This may ring a bell because it's the same engine utilized as the base power source in the Civic. Within the HR-V, the 2.0-liter four-cylinder engine exhibits a noticeable lack of enthusiasm and power. Given that the HR-V shares its platform with the Civic, it's conceivable that we might anticipate the introduction of a 180-hp turbocharged 1.5-liter engine or a hybrid powertrain in the future. Presently, all trims come with front-wheel drive and a CVT as the standard configuration, although all-wheel drive is an optional choice across the board.
Price & Mileage
Among the three available HR-V trims, we believe the Sport trim stands out as the most sensible choice, and its mildly enhanced exterior styling adds to its appeal. Notably, it exclusively features 18-inch wheels, the largest wheel size in the lineup. Starting at a competitive price point of $25,454, the HR-V offers varying fuel efficiency estimates. Opting for the front-wheel-drive model yields the highest fuel economy, boasting a commendable 26 mpg in the city and an impressive 32 mpg on the highway. However, if you opt for all-wheel drive, the city rating decreases slightly to 25 mpg, with the highway rating at a still respectable 30 mpg. These distinctions are worth considering when making your HR-V selection.
Acceleration & Features
During acceleration testing, the HR-V exhibited a leisurely 9.4-second 0-60 mph time, which is notably more sluggish compared to the more potent non-turbo Mazda CX-30, lagging behind by a full second. Moreover, all HR-V models feature either a 7.0-inch or 9.0-inch touchscreen infotainment system boasting Apple CarPlay and Android Auto compatibility. The larger screen extends the convenience with wireless connectivity, but this is exclusively accessible on the top-tier EX-L trim. Additionally, the EX-L trim level throws in a wireless smartphone charging pad as a standard feature. For those seeking more entertainment options, SiriusXM satellite radio is available, along with the convenience of a Wi-Fi hotspot.