2024 Subaru WRX vs Ford Mustang: Which is Better?
The 2024 Subaru WRX, a fusion of sports car and rally racer, stands out with a 271-horsepower turbocharged engine and agile cornering. While it retains its distinct character, Subaru added refinement, bidding farewell to some of its youthful charm. In this generation, competitors like the Hyundai Elantra N and Toyota GR Corolla offer similar excitement with a more spirited demeanor. On the other hand, Ford's latest Mustang, the seventh in its legacy, boasts revamped styling, an upgraded interior, and two enhanced powertrains. With a 480-horsepower V-8 and a 315-horsepower turbocharged EcoBoost, it embraces the future. Yet, the fate of rivals like the Chevy Camaro and Dodge Challenger appears uncertain. The Mustang's refreshed cockpit and robust engine options ensure the continuation of the muscle car saga.
| | | |
| --- | --- | --- |
| | 2024 Subaru WRX | Ford Mustang |
| Dimensions | 183.8 in x 71.9 in x 57.8 in | 189.7 in x 75.5 in x 55.2 in |
| Engine | 2.4L turbocharged flat-4 | 5.0L DOHC V8 |
| Horsepower | 271 hp | 500 hp |
| Torque | 258 lb-ft | 418 lb-ft |
| 0-60 MPH | 5.4 sec | 4.1 sec |
| 0-100 MPH | 13.6 sec | 9.7 sec |
| Top-Speed | 134 mph | 166 mph |
Specs
Subaru WRX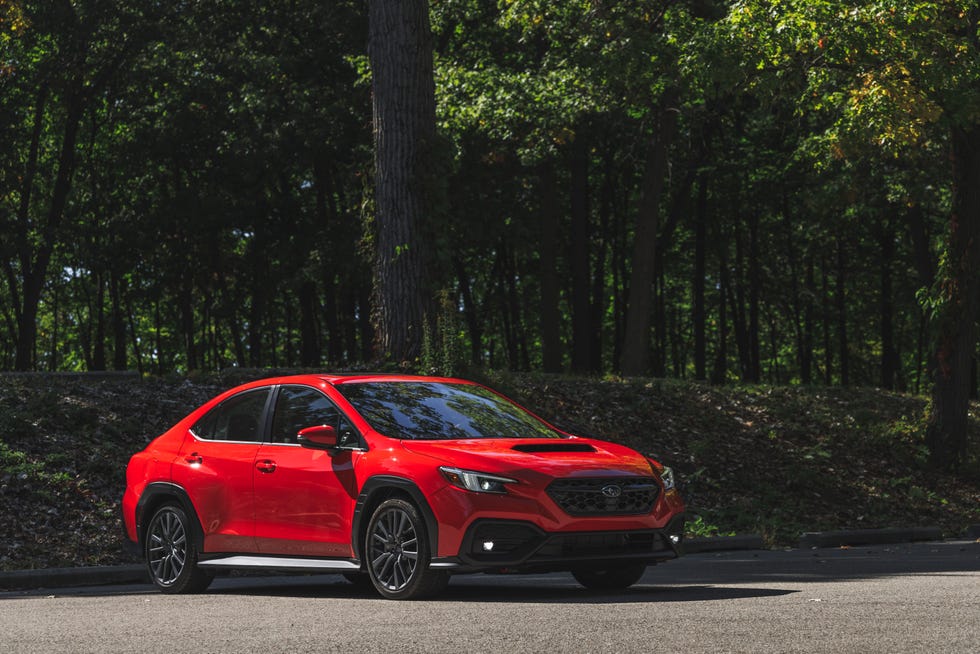 Engine & Performance
Beneath the WRX's hood lies a turbocharged 2.4-liter flat-four-cylinder engine, propelling an impressive 271 horsepower and 258 pound-feet of torque. Drivers can channel this power through a standard six-speed manual or a CVT, staying true to the WRX's all-wheel-drive legacy. For those opting for the automatic transmission. Conveniently controllable via paddle shifters on the steering wheel, three drive-mode settings await exploration. The exclusive GT trim, available only in automatic, boasts adaptive dampers for heightened performance. Choose between 17- or 18-inch wheels paired with summer performance tires. Notably, the WRX has garnered acclaim for its refined ride, marking a substantial improvement over its predecessor.
Price & Mileage
Opting for the WRX Premium model with the standard six-speed manual is our pick. Striking a balance between features without escalating costs akin to the fully loaded automatic-only GT model. Anticipated to kick off at $32,000, the 2024 WRX boasts EPA ratings of 22 mpg combined with the manual and 21 mpg with the optional CVT automatic. This choice not only ensures a well-equipped ride but also avoids the pricier bells and whistles associated with the automatic GT model. Transitioning seamlessly between gears, the manual transmission offers an engaging driving experience, and with the bonus of fuel efficiency. It aligns with both performance and economic considerations.
Acceleration & Features
Zooming around the test track the WRX. With its manual transmission, rocketed to 60 mph in just 5.5 seconds, covering the quarter-mile in a swift 13.9 seconds at 101 mph. Meanwhile, the WRX GT, equipped with the standard CVT, hit 60 mph in 5.4 seconds. However, it lagged in the quarter-mile, taking 14.1 seconds to cross the line at the same 101 mph. Touching on tech, every WRX boasts a touchscreen infotainment system. Yet, the base model showcases a 7.0-inch display, distinguishing itself from other trims, which flaunt a vertically oriented 11.6-inch screen. Emphasizing user-friendliness, the system primarily responds to touch inputs. Though it incorporates some physical controls for the climate system and stereo. Enhancing the sonic experience, an optional 11-speaker Harman-Kardon sound system is on the menu. Complementing the standard Apple CarPlay and Android Auto integration in the WRX's multimedia suite.
Ford Mustang
Engine & Performance
The Mustang, a revered symbol of the horse-car era, continues to captivate enthusiasts globally. In its 2024 iteration, it flaunts a finely tuned, naturally aspirated 32-valve 5.0-liter engine, meticulously designed to boost both efficiency and power while minimizing friction. Diverging from its predecessor, this model incorporates two throttle bodies, a key contributor to its remarkable performance. Boasting an impressive 480 horsepower and 415 lb-ft of torque, it outpaces the prior version's 450 horses at 7000 rpm and 410 lb-ft at 4600. Upon ignition, the engine emits a spirited bark-burble, signaling the onset of an exhilarating journey. Opting for the active-valve exhaust amps up the output to 486 horsepower and 418 lb-ft, promising an even more thrilling experience. The 2024 Mustang ensures a captivating drive that will leave you yearning for more.
Price & Mileage
With a premium exceeding $10,000 over the base four-cylinder option, the GT coupe presents a tempting proposition. For an additional cost of approximately $5000, you can elevate your driving experience by opting for the GT Performance package. This upgrade encompasses 19-inch wheels, substantial Brembo calipers, a 3.73-geared Torsen differential, and visually striking enhancements. Priced from $43,090, the GT houses a potent V-8 engine renowned for its impressive growth in the past. Remarkably, its fuel efficiency remains commendable, boasting 15 mpg in the city and 24 mpg on the highway. This noteworthy fuel economy endures in the current model. Choosing the GT coupe not only ensures outstanding performance but also showcases captivating features that make it a compelling option for enthusiasts.
Acceleration & Features
Delighting in a subtle yet captivating upgrade, the electronically assisted power-steering ratio has narrowed to 15.5:1, a nuanced shift from its former 16.0:1. This tweak establishes a heightened connection, thanks to meticulously refined control software. Key body areas receive strategic reinforcements, and the brakes now benefit from electronic enhancement, replacing the previous vacuum system. Acceleration to sixty mph is swift in the second gear, while the third gear delivers pure delight on winding backroads, occasionally flirting with the thrill of speed. At the vehicle's core, the iconic dual-brow dash undergoes an impressive transformation. Evolving from a lengthy rectangular display, it now seamlessly integrates a 12.4-inch instrument cluster screen and a 13.2-inch touchscreen, elegantly overseeing various cockpit functions, from climate adjustments to stereo settings, and even the exhilarating launch control.