2024 Subaru WRX vs Toyota GR86: Which is Better?
The 2024 Subaru WRX, a hybrid of sports car and rally racer, boasts a distinct identity with a 271-horsepower turbocharged engine and agile handling. While maintaining familial ties with the Impreza, this latest WRX generation exhibits increased refinement, shedding some of its youthful charm. Competitors like the Hyundai Elantra N and Toyota GR Corolla offer similar thrills with a more youthful vibe. On the other hand, the Toyota GR86 stands out in the sparse realm of affordable rear-wheel-drive coupes, featuring a 228-hp flat-four engine and agile handling. With its standard six-speed manual gearbox, this compact two-door delivers driving enjoyment at a reasonable price, a rare find amid the dominance of crossovers and SUVs.
| | | |
| --- | --- | --- |
| | 2024 Subaru WRX | Toyota GR86 |
| Dimensions | 183.8 in x 71.9 in x 57.8 in | 167.9 in x 69.9 in x 51.6 in |
| Engine | 2.4L turbocharged flat-4 | 2.4L NA flat-4 |
| Horsepower | 271 hp | 228 hp |
| Torque | 258 lb-ft | 184 lb-ft |
| 0-60 MPH | 5.4 sec | 5.4 sec |
| 0-100 MPH | 13.6 sec | 13.8 sec |
| Top-Speed | 134 mph | 140 mph |
Specs
Subaru WRX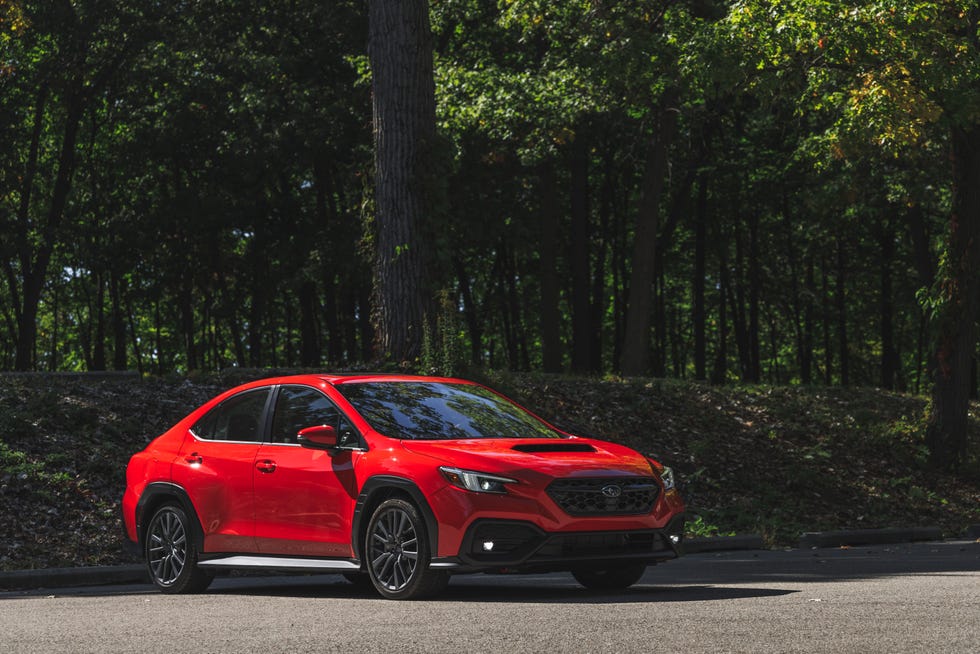 Engine & Performance
Beneath the WRX's hood lies a turbocharged 2.4-liter flat-four-cylinder engine, propelling an impressive 271 horsepower and 258 pound-feet of torque. Drivers can channel this power through a standard six-speed manual or a CVT, staying true to the WRX's all-wheel-drive legacy. For those opting for the automatic transmission. Conveniently controllable via paddle shifters on the steering wheel, three drive-mode settings await exploration. The exclusive GT trim, available only in automatic, boasts adaptive dampers for heightened performance. Choose between 17- or 18-inch wheels paired with summer performance tires. Notably, the WRX has garnered acclaim for its refined ride, marking a substantial improvement over its predecessor.
Price & Mileage
Opting for the WRX Premium model with the standard six-speed manual is our pick. Striking a balance between features without escalating costs akin to the fully loaded automatic-only GT model. Anticipated to kick off at $32,000, the 2024 WRX boasts EPA ratings of 22 mpg combined with the manual and 21 mpg with the optional CVT automatic. This choice not only ensures a well-equipped ride but also avoids the pricier bells and whistles associated with the automatic GT model. Transitioning seamlessly between gears, the manual transmission offers an engaging driving experience, and with the bonus of fuel efficiency. It aligns with both performance and economic considerations.
Acceleration & Features
Zooming around the test track the WRX. With its manual transmission, rocketed to 60 mph in just 5.5 seconds, covering the quarter-mile in a swift 13.9 seconds at 101 mph. Meanwhile, the WRX GT, equipped with the standard CVT, hit 60 mph in 5.4 seconds. However, it lagged in the quarter-mile, taking 14.1 seconds to cross the line at the same 101 mph. Touching on tech, every WRX boasts a touchscreen infotainment system. Yet, the base model showcases a 7.0-inch display, distinguishing itself from other trims, which flaunt a vertically oriented 11.6-inch screen. Emphasizing user-friendliness, the system primarily responds to touch inputs. Though it incorporates some physical controls for the climate system and stereo. Enhancing the sonic experience, an optional 11-speaker Harman-Kardon sound system is on the menu. Complementing the standard Apple CarPlay and Android Auto integration in the WRX's multimedia suite.
Toyota GR86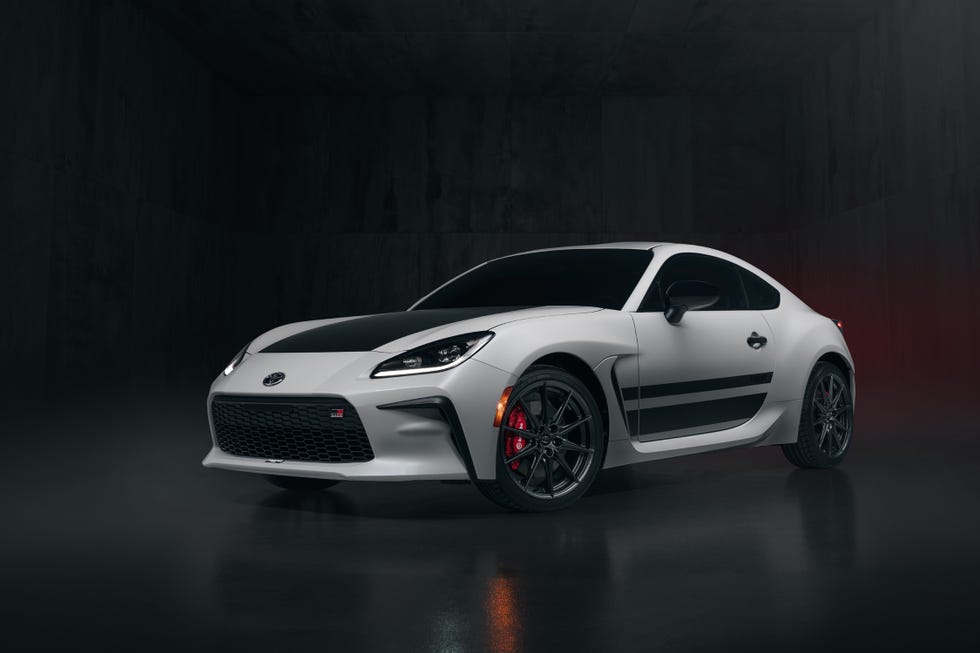 Engine & Performance
Revved up with a Subaru-derived naturally aspirated flat-four engine, the GR86 has upped its game with a robust 2.4-liter variant churning out 228 horsepower. For aficionados, the standard six-speed manual transmission beckons, though a six-speed automatic alternative is on the table. Notably, the manual steals the spotlight, shaving off 0.7 seconds in the 0-60 mph sprint. Our exhilarating test drive was a symphony of dynamism, accentuated by the zestier engine note. On both the road and the race track, the GR86 offers an invigorating experience. Surprisingly, amidst its razor-sharp handling and adrenaline-pumping thrills, the GR86 maintains a forgiving suspension, rendering it equally fitting for daily driving escapades.
Price & Mileage
Upgrade your driving experience with the Toyota GR86 Premium, a compelling step up from the base model that justifies its slightly higher price. Packed with desirable features like heated seats, stylish 18-inch wheels, adaptive LED headlights, and an enhanced eight-speaker audio system, the Premium version ensures a sophisticated ride. Opting for the six-speed manual transmission is a no-brainer for enthusiasts. Starting at $30,000, the GR86 strikes a perfect balance between performance and efficiency. According to EPA estimates, the six-speed automatic transmission delivers an impressive 21 mpg in the city and 31 mpg on the highway. Meanwhile, the six-speed manual variant achieves slightly lower but still commendable EPA numbers at 20 mpg in the city and 27 mpg on the highway. Elevate your driving experience with the upgraded features of the GR86 Premium.
Acceleration & Features
In the acceleration department, the previous model achieved a decent 6.2 seconds for the 0-60 mph sprint. Contrastingly, the latest GR86 not only meets but exceeds expectations, clocking an impressive 5.4 seconds for the same maneuver and covering a quarter-mile in just 14.0 seconds. Turning our attention to entertainment features, the GR86 comes equipped with an 8.0-inch infotainment touchscreen as a standard offering. Adding to its allure is a versatile 7.0-inch digital gauge display featuring customizable modes like Normal, Sport, and Track. Embracing modern connectivity trends, the GR86 ensures seamless integration with Apple CarPlay and Android Auto, which are standard features. Furthermore, all models come with a complimentary three-month trial of SiriusXM satellite radio, enhancing the overall driving experience.