2024 Tesla Model 3 vs BMW i4: Which is Better?
The 2024 Tesla Model 3 offers a sleek new design, an appealing estimated driving range, and an affordable price, making it a top choice for eco-conscious car buyers. However, it's not without flaws, as it has struggled with fit-and-finish issues, has a snug cabin, and lacks features like Apple CarPlay and SiriusXM radio. Additionally, it relies heavily on its touchscreen for controls, which can be inconvenient. Meanwhile, the BMW i4 sedan faces a unique challenge, competing not only with other electric vehicles but also with gas-powered M cars. It excels in performance, with the xDrive40 and M50 models delivering impressive horsepower. The xDrive40 also offers a substantial EPA range of 307 miles and fast charging capabilities. While it serves as a comfortable daily driver with strong performance, some may find its steering less engaging.
| | | |
| --- | --- | --- |
| | 2024 Tesla Model 3 | BMW i4 |
| Dimensions | 184.8 in x 72.8 in x 56.8 in (est) | 188.5 in x 72.9 in x 57.0 in |
| Motor | permanent-magnet AC | synchronous AC |
| Horsepower | 470 hp | 536 hp |
| Torque | 298 lb-ft | 586 lb-ft |
| 0-60 MPH | 3.1 sec | 3.3 sec |
| 0-100 MPH | 8.2 sec | 8.0 sec |
| Top-Speed | 162 mph | 127 mph |
Specs
2024 Tesla Model 3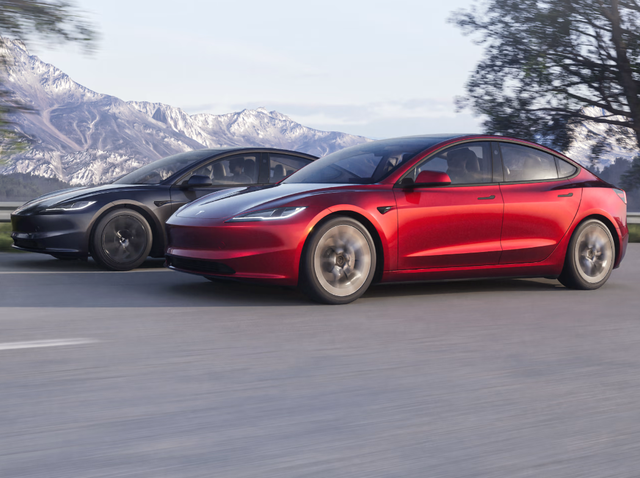 Motor & Performance
Like many electric vehicles, the Model 3 exhibits rapid acceleration, delivering a seamless and nearly noiseless ride thanks to its powerful electric motor. Impressively quick, especially in certain trims, Teslas offer a dynamic driving experience. The Model 3's battery placement beneath the floor contributes to its remarkable stability and agility when maneuvering around corners. The steering is precise and well-balanced, offering three customizable settings to tailor the steering effort according to your preferences. All in all, the Model 3 promises an exhilarating drive with its cutting-edge technology and exceptional handling capabilities.
Price & Mileage
Anticipated to launch in 2024, the Tesla Model 3 comes with an estimated price range of $42,000 to approximately $55,000. In its basic configuration, this model employs a single motor powering the rear wheels. In contrast, all higher trims boast dual motors that provide all-wheel drive capabilities. According to EPA assessments, the Model 3 offers a spectrum of energy efficiency, with ratings spanning from 113 to 138 MPGe combined.
Acceleration & Features
During testing, the rear-wheel-drive Long Range model demonstrated impressive acceleration, reaching 60 mph in just 5.1 seconds. On the other hand, the Model 3 Performance variant takes things to the next level. Achieving an incredible 0-60 mph in just 3.5 seconds, making it half a second faster than the Model 3 Long Range. Standard features include navigation, Bluetooth, and USB connectivity. But it's worth noting that AM radio and SiriusXM satellite radio options are surprisingly not available for the Model 3. However, users do have access to various internet-streaming radio options. Additionally, some may be disappointed by the absence of Android Auto or Apple CarPlay. The Model 3 still offers a range of cutting-edge features to enhance the driving experience.
BMW i4
Motor & Performance
The 2024 i4 offers a range of electric motor options. The eDrive35 and eDrive40 models feature single rear-drive motors with 281 and 335 horsepower respectively. The xDrive e40 adds all-wheel drive with 396 horsepower. The M50 utilizes dual motors for all-wheel drive, delivering 536 horsepower. According to EPA estimates, the eDrive40 achieves around 301 miles of range, while the xDrive40 achieves 307 miles with standard 18-inch wheels or 282 miles with optional 19-inch wheels. The M50, with the same 81.5-kWh battery, has a range of 245 miles. These i4 models support 200-kW charging, providing 88 to 108 miles of range in just 10 minutes. The eDrive35 variant has a smaller 66.0 kWh battery with a range of approximately 260 miles and supports up to 180-kW charging speeds. Using a Level 2 onboard charger, the i4 can fully recharge in under 8 hours.
Pricing & Mileage
We prefer the higher-performance M50 trim with its assertive appearance, tuned suspension, and upgraded brakes. Opting for the optional 20-inch rims enhances performance but reduces the estimated range from 270 to 227 miles. For the interior, consider vernasca leather options, the Premium package, and features like adaptive LED headlights, ventilated seats, Harman Kardon sound system, and wireless charging. The EPA rates the eDrive40 with standard 18-inch wheels as the most efficient, achieving 109 MPGe city and 108 MPGe highway, while the M50 has a lower rating.
Acceleration & Features
The M50 proved its impressive acceleration, achieving 0-60 mph in just 3.3 seconds, surpassing the rear-drive M3 Competition. The i4 offers a choice between standard 18-inch rims for the rear-wheel-drive version and optional 19-inch wheels. In contrast, the all-wheel-drive M50 provides options of 19 or 20-inch wheels, along with adaptive dampers and a variable-ratio steering system. Initially equipped with iDrive 8 infotainment and connectivity software, the i4 received an upgrade to iDrive 8.5 through an over-the-air update. The system features a 14.9-inch touchscreen integrated with a 12.3-inch digital instrument panel, offering advanced voice commands, Apple CarPlay, Android Auto, and a Wi-Fi hotspot.