2024 Toyota GR86 vs Hyundai Elantra N: What to choose?
The Toyota GR86 and Subaru BRZ are rare affordable rear-wheel-drive coupes among the abundance of crossovers and SUVs. The GR86 is best enjoyed with its standard six-speed manual gearbox, offering a fun driving experience with sharp steering and nimble handling. Despite its small rear seats, they can be used for extra cargo space when needed. The GR86 provides all these features at a reasonable price. On the other hand, the Elantra N sport compact has received an update that brings its design in line with the more conservative sedan it is based on. We look forward to seeing the return of both manual and automatic transmission options in this latest version, along with new wheel options, updated headlights and taillights, and redesigned bumper covers.
| | | |
| --- | --- | --- |
| | Toyota GR86 | Hyundai Elantra N |
| Dimensions | 167.9 in x 69.9 in x 51.6 in | 184.1 in x 71.9 in x 55.7 in |
| Engine | 2.4L naturally aspirated flat-4 | 2.0L turbocharged inline-4 |
| Horsepower | 228 hp | 286 hp |
| Torque | 184 lb-ft | 289 lb-ft |
| 0-60 MPH | 5.4 sec | 4.8–5.3 sec |
| 0-100 MPH | 13.8 sec | 12.2–12.7 sec |
| Top-Speed | 140 mph | 155 mph |
Specs
Toyota GR86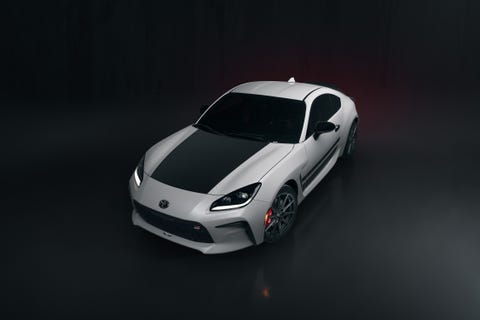 Engine, Power & Performance
The GR86 is equipped with a Subaru-provided naturally aspirated horizontally opposed four-cylinder engine. In the previous generation, it offered decent acceleration with a 0-60 mph time of 6.2 seconds. However, the latest GR86 model has shown significant improvement, achieving a 0-60 mph time of 5.4 seconds and covering a quarter-mile in 14.0 seconds. This enhancement can be attributed to a more powerful 2.4-liter engine that generates 228 horsepower. The GR86 comes standard with a six-speed manual transmission, while a six-speed automatic is available as an option. It's worth noting that the six-speed automatic lags behind the manual transmission by 0.7 seconds in the 0-60 mph acceleration.
Price & Features
The additional cost for the Toyota GR86 Premium is a worthwhile investment. Opting for the Premium version provides you with a range of desirable features. These include heated seats, sleek 18-inch wheels with high-performance tires, adaptive LED headlights, and an enhanced eight-speaker audio system. Choosing the six-speed manual transmission is a clear decision for this model. The GR86's starting price for the Base trim is estimated to be around $30,000.
Hyundai Elantra N
Engine, Power & Performance
The Hyundai Elantra N will probably incorporate the turbocharged 2.0-liter four-cylinder engine from the now-discontinued Veloster N hatchback. Previously, this engine delivered 276 horsepower, but it remains uncertain if the 2024 Elantra N will receive any power enhancements to complement its updated appearance. While the previous model offered an optional eight-speed automatic transmission, our preference leaned towards the standard six-speed manual transmission for a more engaging driving experience. During our instrument testing of the 2023 Elantra N, we witnessed impressive acceleration figures, with sprints to 60 mph taking just 5.1 seconds and a quarter-mile run completed in 13.8 seconds at a trap speed of 105 mph.
Price & Features
The Elantra N is a powerhouse that doesn't hold back on both its attitude and features. It boasts an array of technology and safety enhancements, setting it apart from the standard Elantra models. Buyers will have a limited but appealing selection of paint options to personalize their vehicle. With a starting price of $36,000, the 2024 Hyundai Elantra N offers a compelling package. The Elantra N maintains the all-digital dashboard found in the regular Elantra model, featuring a spacious 10.3-inch digital gauge display positioned alongside a slightly angled 10.3-inch infotainment display that prioritizes the driver's perspective.