2024 Toyota Land Cruiser vs Jeep Grand Cherokee: What To Choose?
The Land Cruiser is making a comeback, sharing a platform with the Lexus GX and adopting a boxy look. It's now a medium-size SUV, competing with the Ford Bronco and Jeep Wrangler. This move leaves the full-size SUV market to the Toyota Sequoia. Inside, it seats five and offers modern infotainment and driver-assistance features. Set to arrive in spring 2024. The Grand Cherokee blends ruggedness and elegance. The base model is mainstream, while midrange and high-end trims are luxurious. It maintains its off-road capability with V-6 and 4xe powertrains. The SUV has two rows, providing ample space for passengers and cargo. Families with more kids might prefer the three-row Grand Cherokee L.
| | | |
| --- | --- | --- |
| | 2024 Toyota Land Cruiser | Jeep Grand Cherokee |
| Dimensions | 193.7 in x 78.0 in x 73.2 in | 193.5 in x 77.5 in x 70.9 in |
| Engine | Hybrid turbocharged 2.4L 4-pot | 2.0L turbocharged inline-4 + electric motor |
| Horsepower | 381 hp | 375 hp |
| Torque | 401 lb-ft | 470 lb-ft |
| 0-60 MPH | NA | 5.3 sec |
| 0-100 MPH | NA | 13.9 sec |
| Top-Speed | NA | 117 mph |
Specs
Toyota Land Cruiser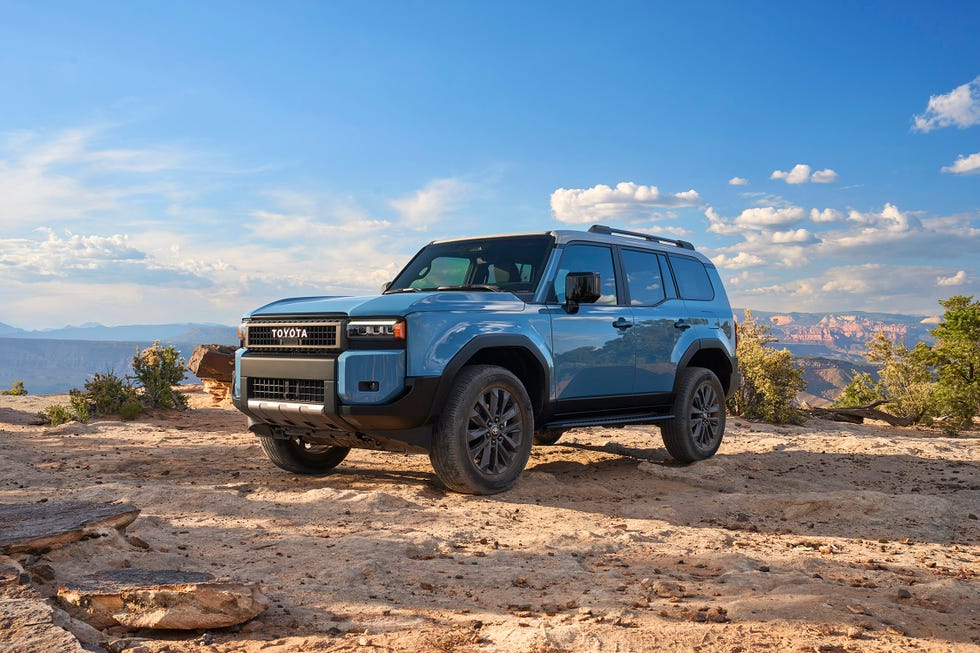 Engine & Performance
In an exciting update for the 2024 Land Cruisers. All models will now be equipped with the innovative 2.4-liter turbocharged four-cylinder hybrid iForce Max powertrain and eight-speed transmission. Already proven successful in the top-tier Tacoma TRD Pro. While the new powertrain boasts slightly lower horsepower at 326 combined. It significantly outperforms the previous 5.7-liter V-8 with a robust combined torque of 465 pound-feet compared to the old model's 401 pound-feet. Particularly in off-road conditions. Notably, the iForce generates peak torque at just 1700 rpm, offering improved capabilities where it truly matters off the beaten path, a notable advantage over the previous 3600 rpm.
Price & Mileage
In its previous U.S. market appearance, the Land Cruiser had a hefty starting price of $87,030. However, this time, Toyota has pleasantly surprised us with a much more appealing starting price in the mid-$50,000 range. Thanks to its smaller frame and five-seat cabin. As for fuel economy, Toyota has not yet released the estimates. But we anticipate significant improvements over the disappointing 14 mpg combined of the 2021 model. With the introduction of the reformulated hybrid Cruiser, it is likely to outperform the larger LX600, which only managed 19 mpg combined. This change brings a breath of fresh air to the Land Cruiser. Making it a more affordable and eco-friendly option for potential buyers.
Acceleration & Features
The Land Cruiser's integrated tow hitch comes standard. Though this smaller and less powerful version has a reduced tow rating of 6000 pounds compared to the previous model's 8100 pounds—still a respectable figure. This engine choice limits the Land Cruiser to accommodate only five passengers. Due to the hybrid system's 1.87-kWh NiMH battery placed where a third row could have been. The load floor is higher than ideal. On the bright side, all Land Cruisers feature Toyota's excellent infotainment system with wireless Apple CarPlay and Android Auto. However, it's worth noting that the base 1958 trim has a relatively modest 8.0-inch display. While the other trims boast a much larger 12.3-inch touchscreen.
Jeep Grand Cherokee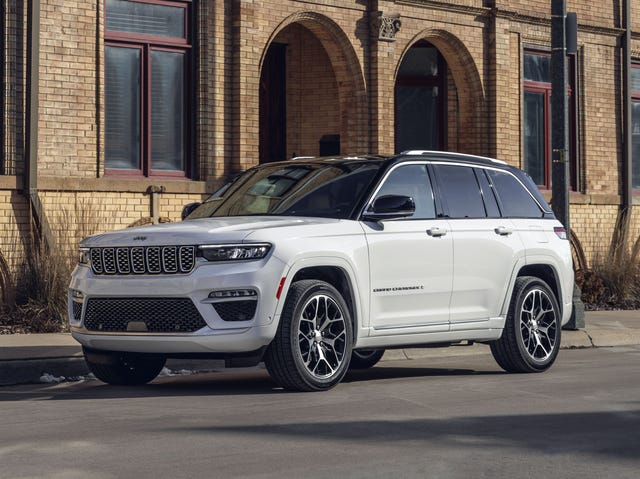 Engine & Performance
The Grand offers two powerful engine options: a 293-hp, 3.6-liter V-6 or the electrifying plug-in-hybrid 4xe powertrain. The hybrid combo combines a turbocharged 2.0-liter inline-four with an electric traction motor, producing an impressive total of 375 horsepower and 470 pound-feet of torque. The hybrid's motor is fueled by a 14.0-kWh battery pack. While rear-wheel drive comes standard with the V-6 version, all-wheel drive is the norm for Grand Cherokees equipped with the plug-in-hybrid powertrain. Furthermore, you have a range of all-wheel-drive systems to choose from, including an electronically locking limited-slip differential for enhanced traction and control.
Price & Mileage
The Grand Cherokee comes with a higher price tag compared to rivals like the Kia Telluride and the Hyundai Palisade, which some may consider the "Jeep-brand tax." Its top trims are even on par with luxury SUVs in terms of pricing. However, we believe the Limited model offers the best combination of features, surpassing the base Laredo with additional equipment to please luxury-oriented buyers. The starting price for the Grand Cherokee is $41,440. The V-6 version's fuel economy estimates are typical for mid-size SUVs, reaching 19 mpg city and 26 mpg highway with rear-wheel drive, but dropping by 1 mpg each when equipped with all-wheel drive. On the other hand, the plug-in-hybrid 4xe offers better fuel efficiency, rated at 23 mpg city and 24 mpg highway.
Acceleration & Features
The Grand Cherokee 4xe takes the lead as the fastest option, zipping from 0 to 60 mph in just 5.3 seconds and covering a quarter-mile in 13.9 seconds at 100 mph. This outpaces the discontinued V-8 model from 2022 by 0.3 seconds. Even the V-6-powered Summit test vehicle impressively achieved a 7.4-second sprint to 60 mph on the test track. Along with its remarkable performance, the Grand Cherokee maintains excellent composure and offers an exceptionally smooth ride. Its dashboard features an 8.4- or 10.1-inch touchscreen, standard with Apple CarPlay, Android Auto, and SiriusXM satellite radio, gracefully hovering just above the surface.