2024 Toyota Tundra vs Ford F-150: What To Choose?
The 2024 Toyota Tundra has been revamped with a unique take on the traditional half-ton pickup. Unlike some rivals, it skips the V-8 engine option, offering a twin-turbo V-6 and a V-6 hybrid instead. Notably, it lacks full-time four-wheel drive. The Tundra maintains a classic truck blueprint with various cab and bed options across seven trims, emphasizing coil spring rear suspension. However, its 12,000-pound towing capacity falls slightly behind competitors like the Silverado 1500, F-150, and Ram 1500. In contrast, the 2024 Ford F-150 embraces modernity, featuring turbocharged engines, a hybrid choice, and optional V-8 power. With impressive towing capabilities, diverse trim options, and a contemporary interior, the F-150 competes fiercely, standing out for its advanced interpretation of a modern pickup.
| | | |
| --- | --- | --- |
| | 2024 Toyota Tundra | Ford F-150 |
| Dimensions | 233.6 in x 81.6 in x 78.0 in | 231.7 in x 79.9 in x 77.2 in |
| Engine | 3.4L twin-turbo V6 | 3.5L twin-turbo V6 |
| Horsepower | 389 hp | 430 hp |
| Torque | 479 lb-ft | 570 lb-ft |
| 0-60 MPH | 6.1 sec | 5.4 sec |
| 0-100 MPH | 15.9 sec | 13.7 sec |
| Top-Speed | 108 mph | 107 mph |
Specs
Toyota Tundra
Engine & Performance
Delving into the 2024 Tundra, encounter three power levels, all stemming from a robust turbocharged 3.4-liter V-6. The SR base model delivers 348 horsepower and 405 pound-feet of torque. While an alternative boasts a muscular 389 horse and 479 pound-feet. A seamless 10-speed automatic transmission manages these power options. Like the Ram 1500, the Tundra adopts a coil-spring rear suspension for a smoother day-to-day ride. Notably, the TRD Off-Road variant amplifies the experience, showcasing all-terrain tires on distinctive 18-inch black wheels. A lifted suspension with Bilstein dampers, a rear locker, skid plates, mudguards, aluminum pedals, a leather-wrapped shift knob, and an intriguing addition—an electrically heated leather steering wheel.
Price & Mileage
Dive into the entry-level 2024 SR Tundra, flaunting a robust 348-hp twin-turbo V-6, available in both extended and crew cab options. Yet, simplicity reigns with manually adjusted seats, steel wheels, and a basic trailer class IV hitch. Which, mind you, comes with an extra charge. Advanced driver aids are a premium feature, limited to the standard Toyota Safety Sense 2.5 driver-assist system. This Tundra kickstarts at $41,815. Opt for the non-hybrid, two-wheel-drive variant, and enjoy an EPA-rated efficiency of up to 20 mpg city and 24 mpg highway. Should you crave the off-road thrill of four-wheel drive. Be ready for a slight dip, with each figure dropping by 1 mpg. Transitioning smoothly between features and prices, the 2024 Tundra promises a tailored experience from power to efficiency.
Acceleration & Features
Sporting the robust 389-horsepower twin-turbo V6, the Limited test truck aced the zero-to-60-mph sprint in just 6.1 seconds. The SR and SR5 Tundras showcase an 8.0-inch infotainment touchscreen, while the SR offers an even more expansive 14-inch screen, a default on the entire lineup. This sizable display, centrally positioned with crystal-clear graphics, takes command of the dashboard. Despite its practical volume knob, a tuning knob is conspicuously absent. Steering wheel controls, while present, offer limited functionality. Audio setups range from a basic six- or nine-speaker configuration to the upscale 12-speaker JBL Premium Audio system, a standard feature on the Limited and above trims. Notably, wireless charging comes standard on the Platinum and superior trims.
Ford F-150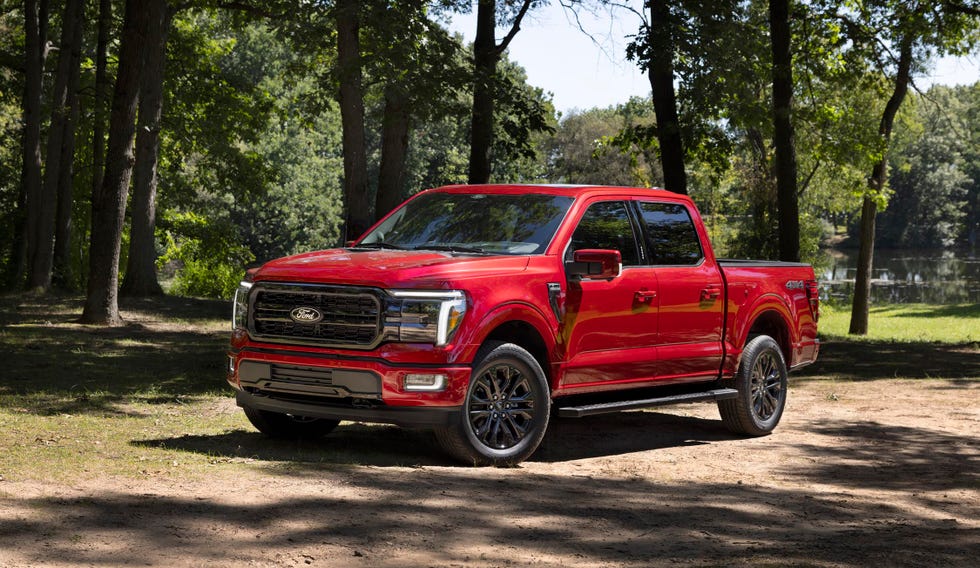 Engine & Performance
The F-150 presents a variety of engine choices, starting from a robust 325-hp twin-turbocharged 2.7-liter V-6 and progressing to higher tiers such as a 400-hp 5.0-liter V-8, a 400-hp twin-turbo 3.5-liter V-6, and an innovative 400-hp hybrid powertrain featuring a twin-turbo 3.5-liter V-6 and an electric motor. Irrespective of your engine preference, the F-150 seamlessly integrates with a 10-speed automatic transmission. The hybrid variant, boasting a potential 700-mile driving range per tank, goes beyond conventional expectations. It doubles as a mobile power hub, capable of sustaining electricity on job sites or during power outages. This broad engine spectrum ensures you find the perfect fit for your needs, enhancing the F-150's versatility and making it an ideal choice for diverse driving requirements.
Price & Mileage
Diverse body styles and bed lengths make the F-150 a versatile choice. Transitioning from the fundamental XL work truck, the XLT offers a step up, while the Lariat, with added luxuries, stands out as our preference. Despite its higher price point, the Lariat strikes the optimal balance between features and affordability. Starting at $37,000, the F-150 presents economical options. According to EPA estimates, the turbocharged 2.7-liter V-6 achieves up to 20 mpg city and 26 highway, while the twin-turbo 3.5-liter V-6 attains up to 18 mpg city and 24 highway. For eco-conscious drivers, the hybrid version boasts impressive estimates of 25 mpg city and 26 highway, enhancing the F-150's appeal across various preferences and budgets.
Acceleration & Features
On a test track, a zippy four-wheel-drive Lariat, equipped with a hybrid powertrain, hit 60 mph in just 5.4 seconds. Meanwhile, the Tremor swiftly accelerated to 60 mph in a mere 5.3 seconds, lagging behind the more potent Raptor by only 0.1 seconds. Ford includes a 12.0-inch infotainment display as a standard feature, running an upgraded version of the Sync 4 software. This aligns with the Ram 1500's optional 12.0-inch vertical display, although both the Chevy Silverado and GMC Sierra offer a larger 13.4-inch screen. Standard features comprise Apple CarPlay, Android Auto, and a Wi-Fi hotspot, with optional add-ons such as navigation, SiriusXM radio, and a premium Bang & Olufsen sound system.