2024 Volkswagen Golf GTI vs Toyota GR Corolla: Which is Better?
The Volkswagen Golf GTI has continuously produced for over four decades while retaining its original purpose, making it a rare vehicle. In its 2022 eighth-generation redesign, it maintains its signature "box with an edge" appearance while incorporating modern styling. The GTI packs a punch with a 241-hp turbocharged 2.0-liter four-cylinder engine, offering a choice of a six-speed manual or seven-speed automatic transmission, and exclusively using front-wheel drive. Don't be misled by the ordinary Corolla name; the Toyota GR Corolla is an entirely different animal. While it shares only its fundamental structure and some interior components with the standard Corolla, the GR Corolla boasts a robust 300-hp turbocharged three-cylinder engine, a multi-mode all-wheel-drive system, and a sport-tuned suspension.
| | | |
| --- | --- | --- |
| | Volkswagen Golf GTI | Toyota GR Corolla |
| Dimensions | 168.8 in x 70.4 in x 58.2 in | 210.3 in x 78.7 in x 72.2 in |
| Engine | 2.0L turbocharged inline-4 | 1.6L turbocharged inline-3 |
| Horsepower | 241 hp | 300 hp |
| Torque | 273 lb-ft | 273 lb-ft |
| 0-60 MPH | 5.1 sec | 4.9 sec |
| 0-100 MPH | 12.2 sec | 12.1 sec |
| Top-Speed | 155 mph | 143 mph |
Specs
Volkswagen Golf GTI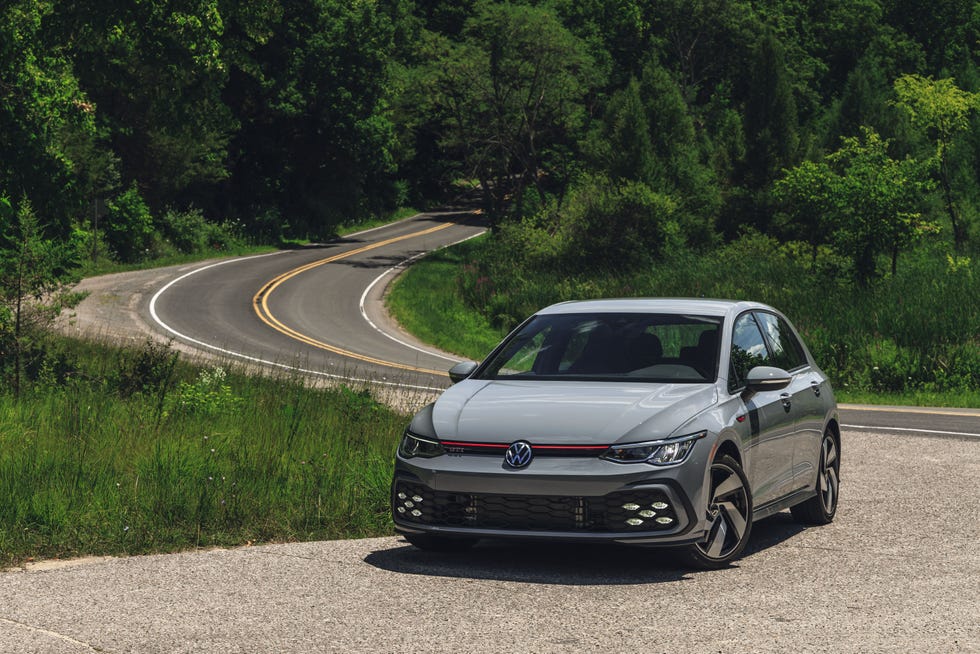 Engine & Performance
In the world of Golf GTI, power reigns supreme, boasting a robust turbocharged 2.0-liter four-cylinder engine that cranks out an impressive 241 horsepower and 273 pound-feet of torque. This represents a notable bump of 13 horses and 15 pound-feet compared to its predecessor. Whether you're a fan of the classic feel or modern convenience, you can choose between a standard six-speed manual transmission or the slick seven-speed dual-clutch automatic. But it's not just about raw power. This GTI takes things up a notch with its refined suspension, electronically controlled limited-slip differential, and brake-based torque vectoring. These enhancements not only boost straight-line performance but also provide sharper reflexes and elevate the overall dynamic performance to a whole new level.
Price & Mileage
While the "base" GTI S does offer features like a limited-slip differential, a leather-wrapped steering wheel, 18-inch wheels, and a 10.3-inch digital instrument panel. Transitioning to the SE trim proves to be a valuable upgrade. With the SE, you gain a 10-inch infotainment touchscreen, a powerful 480-watt Karman/Hardon audio system, a stylish illuminated grille, convenient keyless entry, pushbutton start, and a sunroof. Starting at $33,000, the GTI offers a range of options. Opting for the automatic transmission results in the most fuel-efficient Golf GTI. Boasting an EPA rating of 25 mpg city and 34 mpg highway. Meanwhile, the manual transmission, though slightly less efficient, still delivers impressive performance, only sacrificing 1 mpg in each metric.
Acceleration & Features
During a recent test, the current GTI, equipped with a dual-clutch automatic transmission, accelerated to 60 mph in just 5.1 seconds. This impressive performance is 0.7 seconds quicker than the last-generation Rabbit GTI with an automatic transmission. When it comes to the GTI's infotainment system, it's worth noting that it operates through an 8-inch screen on the S trim. While the SE and higher trims feature a larger 10-inch screen. Although the bigger screen offers improved visibility and more features. It's essential to mention that its touch-capacitive "slider" controls for audio functions can be quite cumbersome during real-life use. On the other hand, the S trim comes with a less elaborate 8-inch screen but retains convenient volume and tuning knobs, making it a bit of a toss-up.
Toyota GR Corolla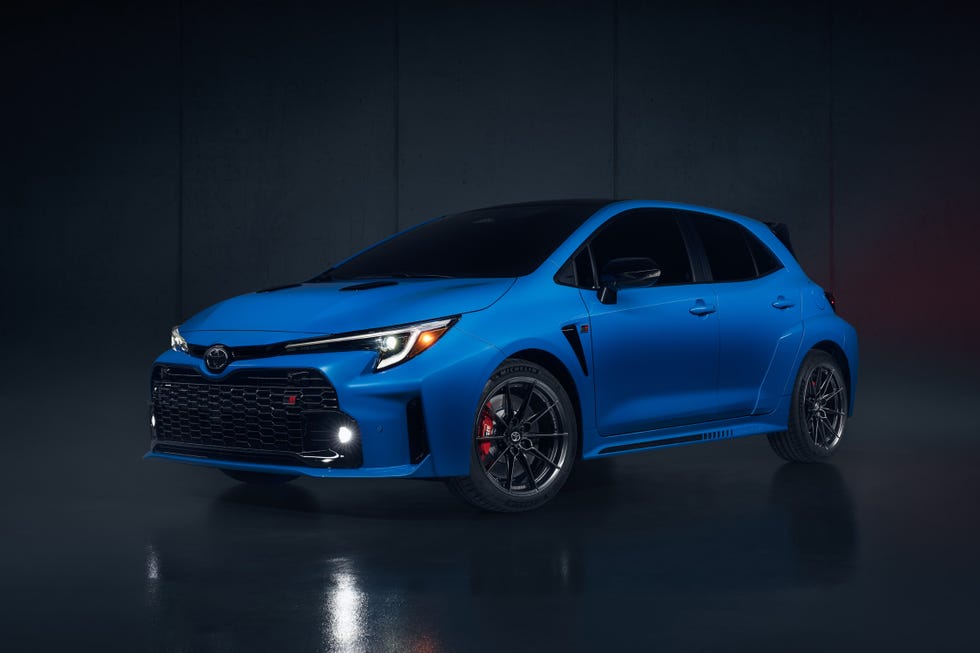 Engine & Performance
Beneath the hood of the GR Corolla lies a turbocharged three-cylinder engine. Borrowed from the GR Yaris, a hatchback that Toyota markets globally, excluding the United States. What's truly striking is that the GR Corolla has been finely tuned to generate a whopping 300 horsepower. An astonishing 185.4 horsepower per liter, which is a substantial 43 horsepower more than its GR Yaris counterpart. When it comes to transmissions, you're limited to a six-speed manual, providing an engaging driving experience. Furthermore, every GR Corolla comes equipped with Toyota's GR-Four all-wheel-drive system. This versatile system empowers drivers with the ability to select from various power distribution modes. Ranging from a balanced 60/40 front-to-rear split for everyday driving to an exhilarating 30/70 distribution. Ideal for those who crave some drifting excitement.
Price & Mileage
In terms of our preferred choice, we would opt for the Core trim and then indulge in the Performance package. Which introduces front and rear limited-slip differentials. When considering the starting price of the GR Corolla, it begins at $37,000. It's important to note that, while the current Corolla is known for its fuel efficiency and tends to have a rather sedate driving demeanor. The high-performance GR variant is unapologetically oriented toward maximizing performance. Despite its smaller 1.6-liter three-cylinder engine, it manages to maintain a respectable level of fuel efficiency. However, it's worth mentioning that its EPA estimates. Standing at 21 mpg city and 28 mpg highway, do fall noticeably short of those of the regular Corolla hatchback.
Acceleration & Features
The GR Corolla Circuit Edition tested exhibited impressive acceleration, hitting 60 mph in just 4.9 seconds and reaching 100 mph in a mere 11.4 seconds. This limited-edition Morizo model is laser-focused on-track performance. Boasting lighter forged wheels, a re-engineered engine churning out 295 pound-feet of torque. A suspension specially calibrated for precision and ultra-grippy Michelin Pilot Sport Cup 2 tires. In terms of technology, it comes equipped with an 8.0-inch infotainment display featuring Apple CarPlay, Android Auto, Amazon Alexa integration, and an onboard Wi-Fi hotspot as standard. For those looking to up the ante, the Technology package available for Core models includes an eight-speaker JBL stereo system. A convenient wireless smartphone charging pad, and in-dash navigation.