2024 Zenvo Aurora vs Bugatti Chiron Super Sport: What To Choose?
Since 2009, Danish company Zenvo has been producing exclusive mid-engined supercars with powerful V-8 engines. The TSR-S model features an innovative adjustable rear wing. Recently unveiled at Monterey Car Week, the 2024 Zenvo Aurora is a V-12 hybrid hypercar named after the aurora borealis. Renowned as Zenvo's lightest and most potent road vehicle. The Aurora boasts a carbon fiber monocoque chassis, weighing under 3197 pounds. This launch marks a pivotal moment in Zenvo's automotive journey. On another note, the Chiron Super Sport not only represents Bugatti's pinnacle but also stands as the ultimate car globally, priced at $3 million. Its 16-cylinder engine, equipped with four turbochargers, generates over 1500 horsepower, enabling speeds exceeding 200 mph. While luxurious in design and materials, the Chiron prioritizes performance over modern amenities or driver-assistance features.
| | | |
| --- | --- | --- |
| | Zenvo Aurora | Koenigsegg Gemera |
| Dimensions | 190.39 in x 79.53 in x 43.19 in | 186.3 in x 80.2 in x 47.7 in |
| Engine | 6.6-litre V12 + e-motor | 8.0L quad-turbocharged W16 |
| Horsepower | 1,450 bhp | 1578 hp |
| Torque | 1032 lb-ft | 1180 lb-ft |
| 0-60 MPH | 2.3 sec | 2.2 sec |
| 0-100 MPH | 4.1 sec | 4.1 sec |
| Top-Speed | 227 mph | 273 mph |
Specs
Zenvo Aurora
Engine & Performance
Situated in the rear compartment, a 6.6-liter V-12 equipped with four turbochargers produces an impressive 1250 horsepower at an exceptional 9800 rpm. Mahle Powertrain has engineered this V-12 with a "hot-V" arrangement, strategically placing the turbochargers amidst the cylinder banks. The Agil variant opts for a rear-wheel-drive setup and incorporates a single 200-hp electric motor. Augmenting the total power to 1450 hp. Conversely, the Tur model embraces all-wheel drive, with two additional 200-hp electric motors positioned at each front wheel. This robust 1850-hp system is also accessible for the Agil version. Resulting in a combined torque of 1254 pound-feet, in contrast to the 1033 pound-feet of the rear-wheel-drive configuration.
Price & Mileage
Zenvo intends to begin production of each Aurora variant in 2025, limiting them to just 50 units. Initial deliveries are set for 2026. Although the exact pricing is yet to be revealed, given the substantial $1.6 million price tag of the 2019 TSR-S. The Aurora will not be inexpensive. Unfortunately, there are currently no available details regarding Aurora's mileage.
Acceleration & Features
Transitioning power via a seven-speed gearbox, controlled by paddle shifters positioned behind the steering wheel. Both models are propelled by a rear-mounted electric motor. Zenvo's assertions stand as a testament to their prowess. The Agil, tipping the scales at 2866 pounds, can surge to 62 mph in roughly 2.5 seconds and achieve 186 mph in a mere 10 seconds. Ultimately capping at 227 mph. In contrast, the Tur, boasting a sleeker profile, shaves off a second, reaching 186 mph in 2.3 seconds and setting its sights on an astonishing top speed of 280 mph. A pioneering introduction arrives in the form of the ZM1 modular system. Seamlessly fusing the central monocoque and both front and rear subframes into a singular composite unit. This innovation enhances torsional rigidity to an impressive 63,000Nm/deg while maintaining a weight under 265 lb.
Bugatti Chiron Super Sport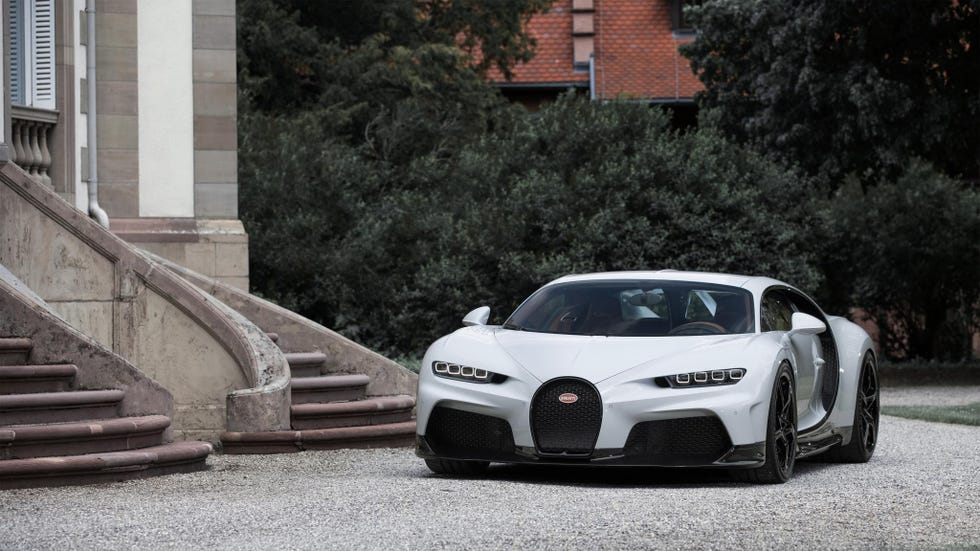 Engine & Performance
Propelled by an impressive 8.0-liter 16-cylinder engine, all Chiron models harness substantial power. This formidable powerhouse utilizes four turbochargers, yielding a commanding output of 1500 horsepower and 1180 pound-feet of torque. For those craving even more speed, there's the Chiron Super Sport, which features a slightly enhanced iteration of the base powerplant, delivering a remarkable 1578 horsepower.
Price & Features
Enthusiasts opting for vehicles like the Chiron do so driven by the desire to make an unforgettable impact on the street, valet zone, or even in front of iconic spots like the Monte Carlo Casino. Boasting captivating curves and a widely renowned premium cost, the standard Chiron undoubtedly fulfills this aspiration. Taking it a step further, the Super Sport variant starts its pricing journey at a staggering $3.9 Million. Unsurprisingly, given its 1500-hp engine, the Chiron doesn't prioritize environmental friendliness. According to EPA assessments, the Chiron achieves a mileage of up to 9 mpg in urban areas and 14 mpg on highways, while the Pur Sport and Super Sport models are rated for 8 mpg in cities and 11 mpg on highways.
Acceleration & Features
According to Bugatti, the Chiron achieves 0 to 60 mph in a mere 2.3 seconds, boasting a top speed of 261 mph. However, during a track test, the Super Sport reached 60 mph in just 2.2 seconds and remarkably hit 200 mph in under 15 seconds. Prioritizing performance, Chiron's focus comes with trade-offs in the infotainment realm. It operates akin to a race car, reflecting its stripped-down tech features. The infotainment screen absence, along with the absence of Apple CarPlay and Android Auto capabilities, are notable. Infotainment offerings are essentially confined to a sound system and a trip computer.