2025 Mercedes-AMG GLC-Class vs Porsche Macan GTS: Which is Better?
Mercedes-AMG is embracing electrification with models like the GLC43 and GLC63 S E Performance. Part of the EQE and EQS sedan lineup. The GLC43 boasts 416 horsepower from its turbo-four and 48-volt hybrid system. At the same time, the plug-in GLC63 S E Performance kicks it up to 671 horses with an added electric motor. Both showcase aggressive styling and a sportier interior compared to the standard GLC300. Enhanced suspension and performance gear position them against rivals like the Alfa Romeo Stelvio Quadrifoglio, BMW X3 M, and Porsche Macan GTS. Meanwhile, Porsche's evolution from a sports car maker to a performance SUV pioneer is evident in the Macan GTS. With a 434-horsepower twin-turbo V-6, all-wheel drive, and a 3.5-second 0-60 mph time, it marries speed with SUV practicality. The Macan GTS excels in driving satisfaction.
| | | |
| --- | --- | --- |
| | Mercedes-AMG GLC-Class | Porsche Macan GTS |
| Dimensions | 187.0 in x 75.6 in x 64.4 in | 186.1 in x 75.9 in x 62.8 in |
| Engine | 2.0L turbocharged inline-4 + AC motor | 2.9L twin-turbo V6 |
| Horsepower | 671 hp | 434 hp |
| Torque | 638 lb-ft | 405 lb-ft |
| 0-60 MPH | 3.1 sec | 3.5 sec |
| 0-100 MPH | 6.9 sec | 9.4 sec |
| Top-Speed | 171 mph | 169 mph |
Specs
Mercedes-AMG GLC-Class
Engine & Performance
Rev up your driving experience with the GLC43, boasting a robust 416 horsepower from its turbocharged 2.0-liter four-cylinder. Quite the leap from the GLC300's modest 255 ponies. Powering this beast is a 48-volt hybrid system, seamlessly integrated with all-wheel drive and a nine-speed automatic transmission for an exhilarating ride. Stepping into the electrified realm, the top-tier GLC63 S E Performance cranks the intensity. Mercedes-AMG injects extra power, reaching a staggering 671 horsepower and 752 lb-ft of torque, thanks to an added electric motor. Like its counterpart, the 63 model delivers power to all wheels through a nine-speed automatic, ensuring a dynamic and electrifying drive. Upgrade your journey with the GLC43 or go all-in with the electrified prowess of the GLC63 S E Performance. Both promise an exhilarating and seamless driving experience.
Price & Mileage
Although we're yet to experience the thrill firsthand, our bet leans heavily towards the GLC63 S E Performance model as the top choice. Its substantial power advantage over the GLC43 promises an impressive performance on the drag strip. Notably, it is the sole option offering an all-electric driving range. Anticipated to kick off at an estimated $70,000, the GLC-Class holds intrigue. While the EPA hasn't disclosed the AMG GLC's fuel efficiency, we predict it might slightly dip below the GLC300's figures, resting at 23 mpg city and 31 mpg highway. With its potent features, the GLC63 S E Performance appears poised to redefine expectations in the luxury SUV realm.
Acceleration & Features
Zooming from 0 to 60 mph in a mere 5.6 seconds during testing, the GLC300 promises an even snappier performance with an extra 162 horsepower. The GLC63 takes it up a notch, boasting a jaw-dropping 3.4-second sprint to 60 mph. Every model flaunts a 12.3-inch digital gauge display alongside an expansive 11.9-inch infotainment touchscreen. This tech marvel responds to voice commands and supports standard wireless Apple CarPlay and Android Auto. Optional delights encompass a head-up display and a top-tier Burmester stereo system. Notably absent are physical HVAC buttons and an audio volume knob, as the control shifts to the touch screen—an adjustment that, in our perspective, leans away from the user-friendly design.
Porsche Macan GTS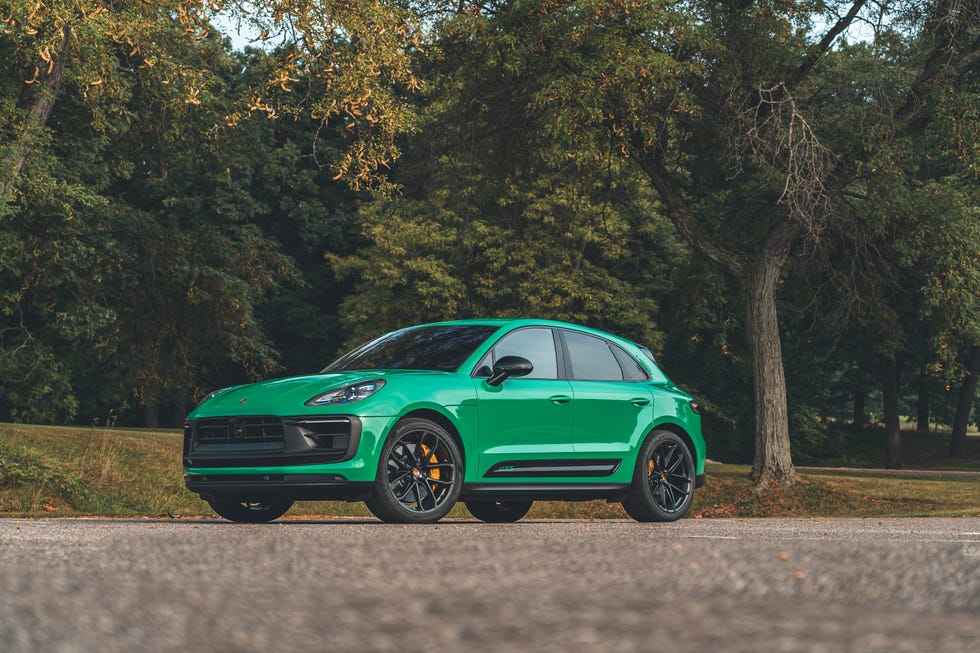 Engine & Performance
Opting for the performance-focused GTS version of the Macan over the base model reveals a substantial power upgrade—a robust twin-turbo V-6 generating 434 horsepower. While the base Macan offers a turbocharged four-cylinder, the GTS stands out for its enhanced performance. Despite a power differential, the Macan GTS excels in overall performance, boasting sharper handling and a more responsive steering feel. The upgraded engine contributes to a heightened driving experience.
Price & Mileage
Loaded with performance features from the start, the Macan GTS doesn't quite match up in the luxury department. Priced at $88,450, this Porsche boasts EPA fuel-economy estimates of 17 mpg city and 22 mpg highway. Despite its impressive performance offerings, some might find the SUV's luxury aspect a tad wanting. Yet, it's essential to note that the Macan GTS remains a competitive choice for those prioritizing power and efficiency.
Acceleration & Features
The Macan GTS impressively achieves a 3.5-second 60-mph time on the test track, thanks to its powerful V6 engine. Porsche's advanced infotainment system comes loaded with high-tech features, including standard Apple CarPlay and a convenient wireless charging pad. However, it's worth noting that many top-notch features on the Macan require additional expenses. For instance, upgrading to the 12-speaker Bose audio system comes at an extra cost of $990, and opting for the more potent 16-speaker Burmester stereo requires a substantial investment of $5700. The cabin is well-equipped with USB ports and 12-volt outlets, ensuring both drivers and passengers can easily keep their devices fully charged during the journey.