2025 Toyota Crown Signia vs Ford Edge: What To Choose?
Toyota is introducing the 2025 Toyota Crown Signia, a new SUV that replaces the Venza as Toyota's mid-size, two-row offering. Exclusively equipped with a hybrid powertrain delivering 243 horsepower and standard all-wheel drive, it boasts a more luxurious interior, upscale design, and increased space and capability, including towing. Despite a higher expected cost, premium features are available as options. In contrast, the Ford Edge, classified as a mid-size SUV, prioritizes comfort and spaciousness in its two-row layout, foregoing the third row found in the larger Explorer. Featuring a simple, well-appointed cabin, ample trunk space, and a standard four-cylinder engine, the Edge delivers solid performance and a stylish exterior.
| | | |
| --- | --- | --- |
| | 2025 Toyota Crown Signia | Ford Edge |
| Dimensions | NA | 188.8 in x 75.9 in x 68.3 in |
| Engine | 2.5L inline-4 | 2.0L turbocharged inline-4 |
| Horsepower | 243 hp | 250 hp |
| Torque | NA | 280 lb-ft |
| 0-60 MPH | NA | 6.8 sec |
| 0-100 MPH | NA | 20.0 sec |
| Top-Speed | NA | 130 mph |
Specs
Toyota Crown Signia
Engine & Performance
The Crown Signia is equipped with an AWD hybrid powertrain. Combining a 2.5L naturally aspirated four-cylinder gasoline engine with three electric motors. This setup delivers a total of 243 hp, and it comes with a standard continuously variable automatic transmission.
Price & Mileage
The Crown Signia will be available in XLE and Limited trims, and we're estimating a starting price of $45,000 for the SUV version. Assuming it will be pricier than the Crown sedan. While neither Toyota nor the EPA has provided fuel-economy estimates yet. We anticipate it to approach around 40 mpg in combined driving. Regardless of the final figures, it's expected to outshine nonhybrid options in the mid-size SUV segment in terms of fuel efficiency.
Acceleration & Features
As of now, there hasn't been an opportunity to drive or test the Crown Signia. So its acceleration performance remains uncertain. However, we anticipate it will perform similarly to the Crown sedan's base 236-hp AWD hybrid setup. Which achieved a 0-60 mph time of 7.2 seconds in testing. On the tech front, a 12.3-inch touchscreen and a 12.3-inch digital gauge cluster are standard across all trims. The central touchscreen features wireless Apple CarPlay and Android Auto. Along with various connectivity features such as Wi-Fi, over-the-air updates, and a voice assistant.
Ford Edge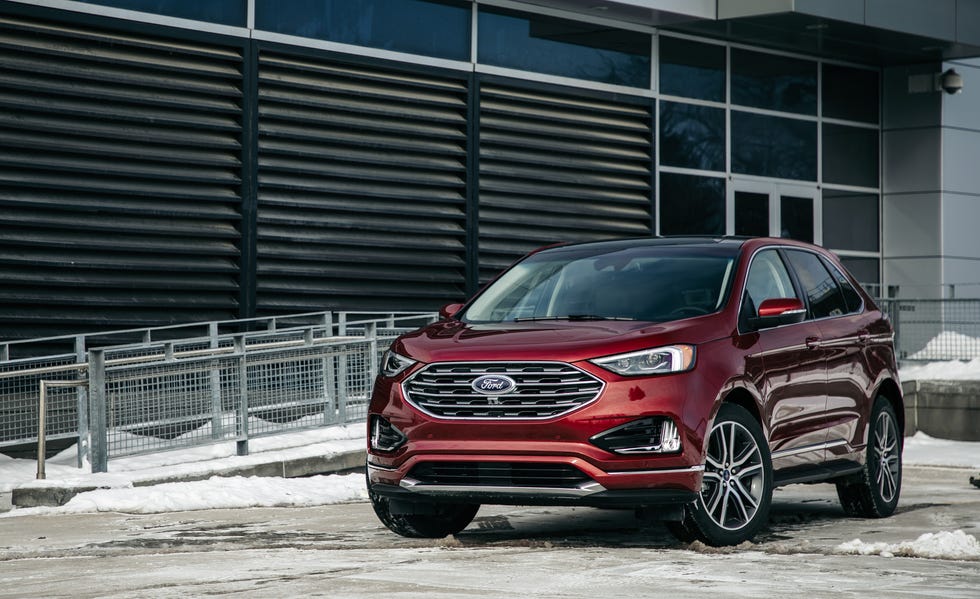 Engine & Performance
The entry-level turbocharged four-cylinder packs a punch with 250 horsepower, offering sufficient power for most customers, despite its leisurely acceleration. If you desire an SUV with the ability to match the speed of a Volkswagen Golf GTI from zero to 60 mph, and even compete with a variety of other spirited cars, the Edge ST is the one to go for. It boasts a robust 335-hp twin-turbo 2.7-liter V6 engine and comes with 21-inch wheels fitted with summer tires.
Price & Mileage
While the ST model's enhanced V-6 power is tempting, its price is on the steeper side. The Ford Edge has a starting price of $39,860, reaching up to $48,700. In terms of fuel efficiency, the four-cylinder models receive an EPA rating of up to 21 mpg in the city and 28 mpg on the highway, while the sportier ST model is rated at 19 mpg city and 25 mpg highway.
Acceleration & Features
The Edge ST offers a reasonably enjoyable driving experience, delivering stable performance in corners, which sets it apart from the non-ST models. The steering is well-weighted, although not exceptionally communicative, and the ride remains comfortable even over uneven road surfaces. All Edge models feature Ford's latest Sync 4A software interface, showcasing a sizable 12.0-inch touchscreen display. Standard amenities include Apple CarPlay and Android Auto, both of which can operate wirelessly. Additionally, Ford provides a Wi-Fi hotspot across all Edge models, although in-dash navigation remains an optional feature.