2025 Volkswagen ID.Buzz VS 2024 Kia Carnival: Choose Your Family Friend?
The 2025 Volkswagen ID.Buzz and the Toyota Sienna provide different options for families in search of spacious electric vehicles. The ID.Buzz draws inspiration from Volkswagen's iconic Type 2 Microbus and targets an untapped market with its retro design and roomy cabin, featuring flexible seating and three rows. It offers rear- and all-wheel-drive options and an all-electric powertrain, providing an estimated range of around 260 miles. On the other hand, the Kia Carnival offers practicality, comfort, and value, with a stylish SUV-inspired appearance that appeals to drivers who typically avoid minivans. Its square and upright design resembles Kia's highly sought-after Telluride SUV, but the Carnival's interior has even more to offer. With the optional second-row VIP seats, the Carnival transforms into a luxurious mode of transportation, complete with reclining seats designed to make road trips with difficult children much easier.
Volkswagen ID.Buzz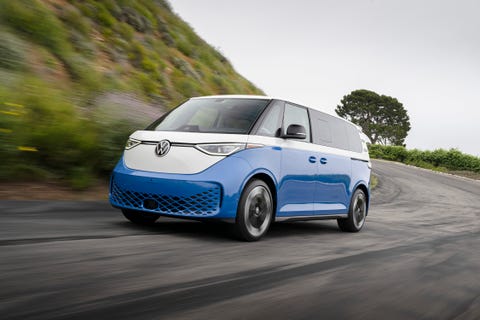 Battery & Charging Options
The ID.Buzz presents an enticing option with its inclusion of an 86.0-kWh battery pack as the standard offering. While the exact driving range remains undisclosed by Volkswagen, it is highly anticipated that the ID.Buzz will deliver a commendable minimum range of 260 miles per charge. Volkswagen proudly claims that the ID.Buzz will support rapid charging capabilities, allowing users to conveniently recharge their vehicles. By plugging into a DC fast-charger, drivers can expect to charge from 10 to 80 percent in an impressively short time span of just 30 minutes. This efficient charging solution ensures that ID.Buzz owners can quickly replenish their battery levels during breaks, granting them enhanced peace of mind and reducing potential range anxiety. With such promising features, the ID.Buzz exemplifies Volkswagen's commitment to providing an electrifying driving experience that combines convenience, sustainability, and performance.
Price & Mileage
Volkswagen has not yet provided specific information regarding the cost and available trim levels for the ID.Buzz. However, considering the prevailing market pricing for electric vehicles, it is reasonable to expect that the starting price of the ID.Buzz will hover around $40,000. It's worth noting that this estimate is subject to change and may vary based on additional features and customization options. As for the fuel economy estimates, the Environmental Protection Agency (EPA) has not yet released official figures for the ID.Buzz. While it is difficult to speculate on the exact efficiency ratings without this data, Volkswagen has been actively developing the ID.Buzz as an environmentally friendly electric vehicle, aiming to provide a balance between performance and energy efficiency.
Acceleration & Features
Volkswagen's ID.Buzz utilizes the reliable Modular Electric Drive (MEB) platform, which is already in use for successful vehicles like the Audi Q4 e-tron crossover and VW ID.4 crossover. While Europe will enjoy the availability of both a commercial and passenger variant of the ID.Buzz, the American market will exclusively receive the long-wheelbase passenger model. The base model impresses with a single electric motor located in the rear, boasting 282 horsepower. For those seeking more power and control, an enticing option is the dual-motor, all-wheel-drive configuration that offers around 330 horsepower.
Kia Carnival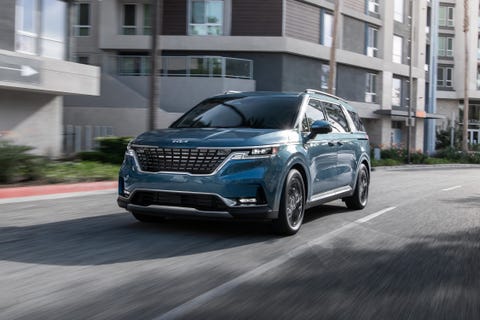 Engine & Performance
The Carnival boasts an impressive 3.5-liter V-6 engine that delivers a robust 290 horsepower, providing a thrilling driving experience. Its standard eight-speed automatic transmission ensures smooth gear shifts for optimal performance. Although all-wheel drive is not available, the Carnival shines as a front-wheel-drive model. While the Pacifica offers an optional plug-in-hybrid powertrain and the Toyota Sienna comes as a default hybrid, the Carnival focuses on delivering exceptional power without a hybrid setup. This allows drivers to fully embrace the Carnival's pure and exhilarating performance, making every journey an exciting adventure.
Price & Mileage
The Kia Carnival offers a range of choices to suit different preferences, with four trim levels available. Among them, the EX trim strikes a perfect balance between features and price, providing exceptional value. Upgrading to the EX trim brings along various convenient features that make the investment worthwhile. These include a power-operated rear liftgate, an in-cabin intercom, and a voice-control system that enables rear-seat passengers to effortlessly interact with the Carnival's infotainment system. The Kia Carnival's pricing starts at an affordable $34,565 for the LX trim and reaches up to $44,675 for the luxurious SX Prestige trim. When it comes to fuel efficiency, the Carnival boasts impressive ratings from the EPA, achieving 19 mpg in the city, 26 mpg on the highway, and a combined 22 mpg.
Difference Between 2025 Volkswagen ID.Buzz VS 2024 Kia Carnival
| | | |
| --- | --- | --- |
| | Volkswagen ID.Buzz | Kia Carnival |
| Dimensions | 192.4 in x 77.9 in x 74.6 in | 203.0 in x 78.5 in x 68.5 in |
| Engine | synchronous motor AC | V6 |
| Horsepower | 330 hp | 290 hp |
| Torque | NA | 262 lb-ft |
| 0-60 MPH | NA | 7.0 sec |
| 0-100 MPH | NA | 17.8 sec |
| Top-Speed | 99 mph | 118 mph |
| Airbags | 7 Airbags | 6 Airbags |
Specs