Cadillac Escalade IQ vs GMC Hummer EV SUV: What To Choose?
The iconic Cadillac Escalade is gearing up for a major all-electric upgrade with the 750-hp Escalade IQ, set to debut in the summer of 2024. This shift towards sustainability follows GM's introduction of luxury EVs like the Lyriq crossover and the upcoming Celestiq sedan. Unlike its gas-guzzling predecessor, the Escalade IQ aims to achieve a 450-mile range and stands as an eco-friendly alternative to the gas-only Escalade V. On the other hand, the GMC Hummer EV SUV, now under the GMC umbrella, retains its iconic design and off-road capabilities in its electric form. Boasting four-wheel steering and the innovative crab mode, it derives power from Ultium battery technology, ensuring quick charging and an estimated range of over 300 miles. The interior closely resembles the pickup version, blending advanced features with removable roof panels for an open-air driving experience.
| | | |
| --- | --- | --- |
| | Cadillac Escalade IQ | GMC Hummer EV SUV |
| Dimensions | 224.3 in x 85.3 in x 76.1 in | 206.7 in x 86.5 in x 77.8 in |
| Motor | permanent-magnet synchronous AC | permanent-magnet synchronous AC |
| Horsepower | 750 hp | 830 hp |
| Torque | 785 lb-ft | 1200 lb-ft |
| 0-60 MPH | < 5.0 sec | 3.4 sec |
| 0-100 MPH | NA | 8.8 sec |
| Top-Speed | 140 mph | 112 mph |
Specs
Cadillac Escalade IQ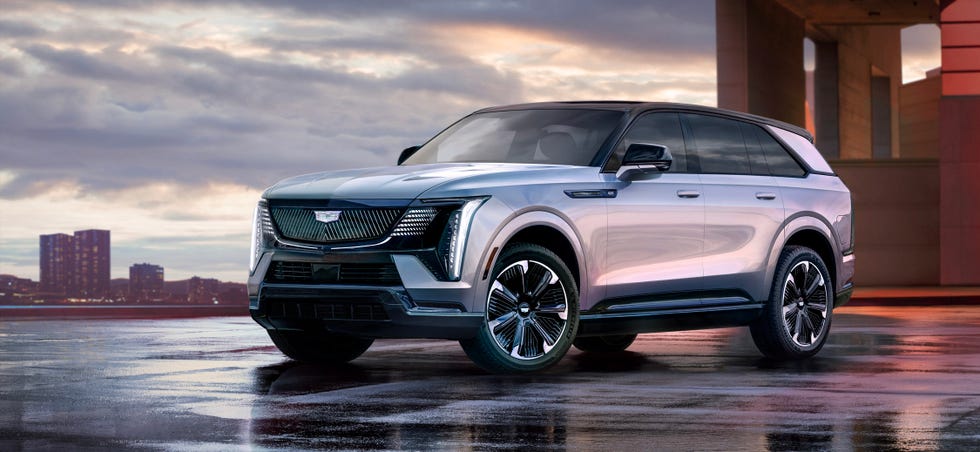 Motor & Performance
The Escalade IQ boasts all-wheel drive and a remarkable power output of up to 750 horsepower and 785 pound-feet of torque. This commanding performance is available in the Velocity Max drive mode. Where peak power is sustained, setting it apart from the brief boost modes seen in other electric vehicles. While Cadillac hasn't unveiled specific details, they affirm that under typical driving conditions. The Escalade IQ is expected to exceed 650 horsepower. While the EPA is yet to certify the driving range for the Cadillac Escalade IQ. GM aims for an impressive 450-mile travel distance on a single charge.
Price & MIleage
While the pricing details are still under wraps, drawing inspiration from the current gas-powered Escalade's starting point of about $83,000. It's reasonable to anticipate that the adoption of advanced electric technology might lead to an Escalade adorned with an array of standard features that nudge its initial cost toward the triple-digit range. Anticipate generous wheel proportions, abundant storage capacity, and a wealth of leather appointments. The IQ model initiates at $99,000. Although the EPA has yet to officially disclose the Escalade IQ's equivalent miles per gallon for gasoline. A rough estimate of 59 MPGe on highways can be inferred from the IQ's substantial 200 kWh usable battery capacity and its maximum projected driving range.
Acceleration & Features
Boasting a rapid 0-60 mph acceleration in less than five seconds, the all-electric Escalade IQ faces off against its rival. The gas-powered 682-hp Escalade V accomplishes this feat in 4.3 seconds. The Escalade IQ's dashboard boasts an expansive 66-inch digital interface, running on a Google-backed operating system. Though it notably excludes Apple CarPlay. This omission is deliberate, aligning with GM's 2023 decision to remove Apple CarPlay from its EV lineup to enhance seamless integration.
GMC Hummer EV SUV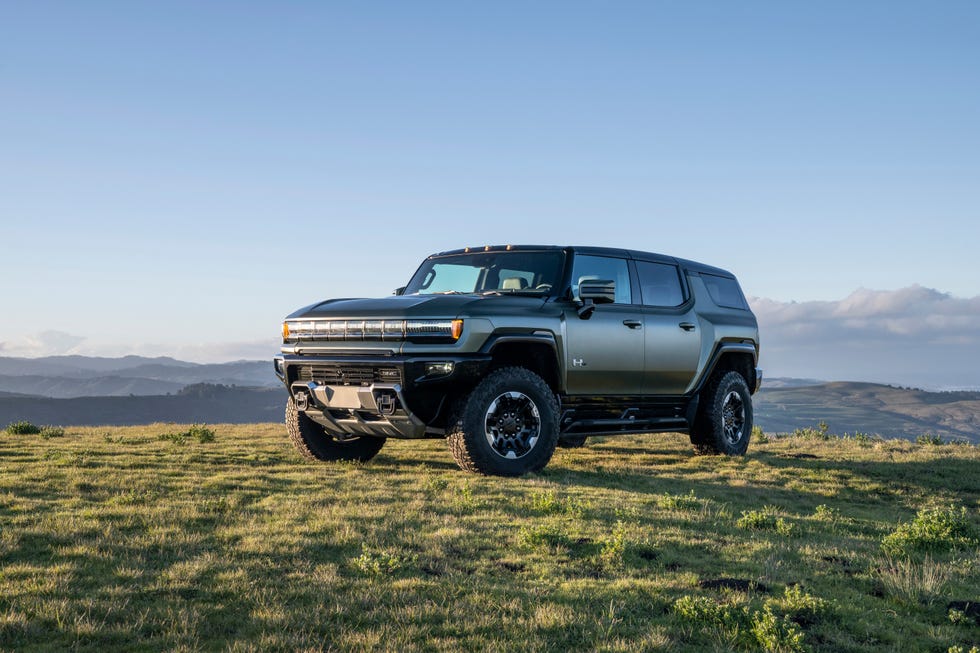 Motor & Performance
Both the EV2 and EV2X models adopt a dual-motor setup. Which generates an estimated 625 horsepower and an asserted 7400 pound-feet of torque, according to GM's claims. In contrast, the EV3X and Edition 1 versions feature a trio of motors. Boasting a powerful 830 horsepower and an impressive 11,500 pound-feet of torque. Every Hummer model benefits from GM's cutting-edge Ultium battery technology. While the base EV2 model sports a standard 400-volt electrical system. It also offers the option to equip the 800-volt system, found as standard in all other trims. The Hummer EV SUV boasts a substantial 170.0-kWh battery pack, enabling it to cover 250 miles of highway driving during testing. Effectively showcasing its remarkable range of capabilities.
Price & Mileage
After a prolonged wait, customers who had previously made orders can now rejoice as the production of the Hummer EV SUV has officially commenced. For those who are newly considering placing an order, we recommend looking into the EV2X variant. Which introduces appealing enhancements compared to the standard model. The starting price for the Hummer EV SUV is $79,995. While the EPA has not yet released fuel economy estimates for the Hummer EV SUV, we anticipate them to align closely with the figures of the Hummer EV SUT pickup truck. 51 MPGe in the city, 43 MPGe on the highway, and a combined 47 MPGe.
Acceleration & Features
During testing, the remarkably robust Hummer EV SUV achieved a rapid 0-60 mph in just 3.4 seconds. A remarkable feat given its substantial size and weight. This impressive acceleration pairs harmoniously with the Hummer's state-of-the-art electric advancements. Which will be accompanied by a generously sized 13.4-inch touchscreen infotainment system and a plethora of connectivity choices. Consistent with GMC's typical offerings, sought-after features like Apple CarPlay, Android Auto, and a subscription-based Wi-Fi hotspot are anticipated as standard inclusions. Additionally, we can foresee available upgrades encompassing a potent Bose sound system, integrated navigation, a rear-seat infotainment setup, and convenient wireless charging.