Ford Mustang GTD vs Lamborghini Huracan: Which is Better?
In 2023, Ford introduced the latest Mustang generation with a strong racing vibe, including the Mustang GT4 and GT3 models designed for Le Mans. Now, a road-ready Mustang GTD has captured our attention, shedding racing restrictions and emerging as a high-priced ($300,000) rarity reminiscent of the Ford GT. Unfortunately, its roaring supercharged V-8 won't be available until late 2024 or early 2025. In its tenth year, the Lamborghini Huracán remains a wild contender with its captivating V-10 engine, razor-sharp handling, and unmatched visual presence. While facing fierce competition, including the Ferrari F8 Tributo, McLaren 765LT, and Aston Martin DBS, the Huracán stands out as the sole naturally aspirated V-10. Its timeless appeal is bolstered by incremental refinements, like the 2023 Tecnica model.
| | | |
| --- | --- | --- |
| | Ford Mustang GTD | Lamborghini Huracan |
| Dimensions | NA | 179.0 in x 76.6 in x 48.0 in |
| Engine | 5.2L supercharged V8 | 5.2L NA V10 |
| Horsepower | 800 hp (est) | 631 hp |
| Torque | NA | 417 lb-ft |
| 0-60 MPH | NA | 2.6 sec |
| 0-100 MPH | NA | 5.6 sec |
| Top-Speed | NA | 193 mph |
Specs
Ford Mustang GTD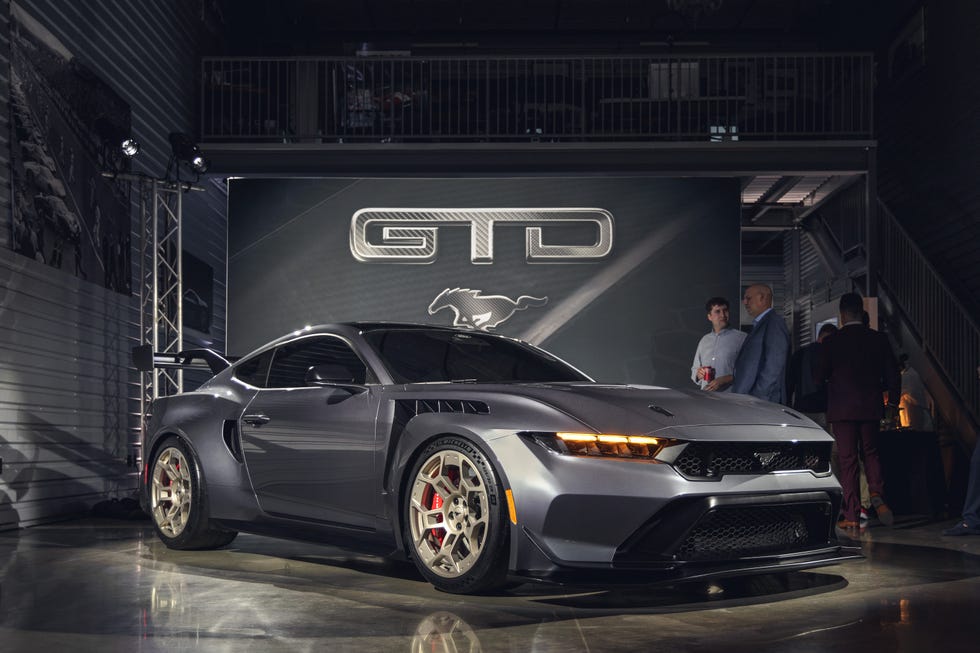 Engine & Performance
The origin of the name "Mustang GTD" stems from its affiliation with IMSA's GTD racing class. A category where full-fledged GT3 race cars engage in competition. Anticipated to wield a supercharged 5.2-liter V-8 engine, the GTD is projected to exceed 800 horsepower. Ford has stated that the GTD's redline will surpass 7500 rpm. While the resonating symphony of combustion is channeled through titanium pipes equipped with an active valve. Managing gear shifts is the responsibility of a rear-mounted eight-speed dual-clutch transaxle, which draws power via a carbon fiber driveshaft. An optional aerodynamic equipment package is on offer. Introducing elements like a carbon fiber underbody tray and hydraulically operated front flaps, meticulously enhancing airflow equilibrium and front-to-rear downforce.
Price & Mileage
Expected to make its debut between late 2024 and early 2025. Ford is gearing up to craft an exclusive series comprising roughly 1000 units of the Ford Mustang GTD. Drawing a parallel to the acclaimed GT hypercar program, which demonstrated dominance at Le Mans. Acquiring one of these coveted machines will demand more than just financial means, as the price tag settles at $300,000. The Ford Mustang GTD places a premium on lap times. Its robust supercharged V-8 makes its presence known with an unmistakable roar. While the EPA is yet to release its estimates for this limited-production road-legal race car. We anticipate them to align with, if not surpass, those of the previously offered 760-hp Shelby GT500. Which utilized a similar yet slightly less powerful powertrain.
Acceleration & Features
Embarking on the trunk, you'll uncover a trove of precision-engineered suspension and cooling elements. Luggage takes a backseat at track-day events, as this space now prioritizes performance. Multimatic's cutting-edge active suspension takes center stage atop the transaxle. It boasts a race-inspired pushrod setup and the latest adaptive spool valve shocks. These advancements empower drivers with heightened control. Activating Track Mode triggers the hydraulically actuated springs, causing the ride height to dip approximately 1.5 inches, enhancing stability. At the corners, the Mustang GTD embraces 325mm wide tires upfront and substantial 345mm rubbers at the rear. While 20-inch forged aluminum wheels are standard, opting for magnesium variants cuts weight. While mirroring the distinctive aesthetic of the GT3 race car.
Lamborghini Huracan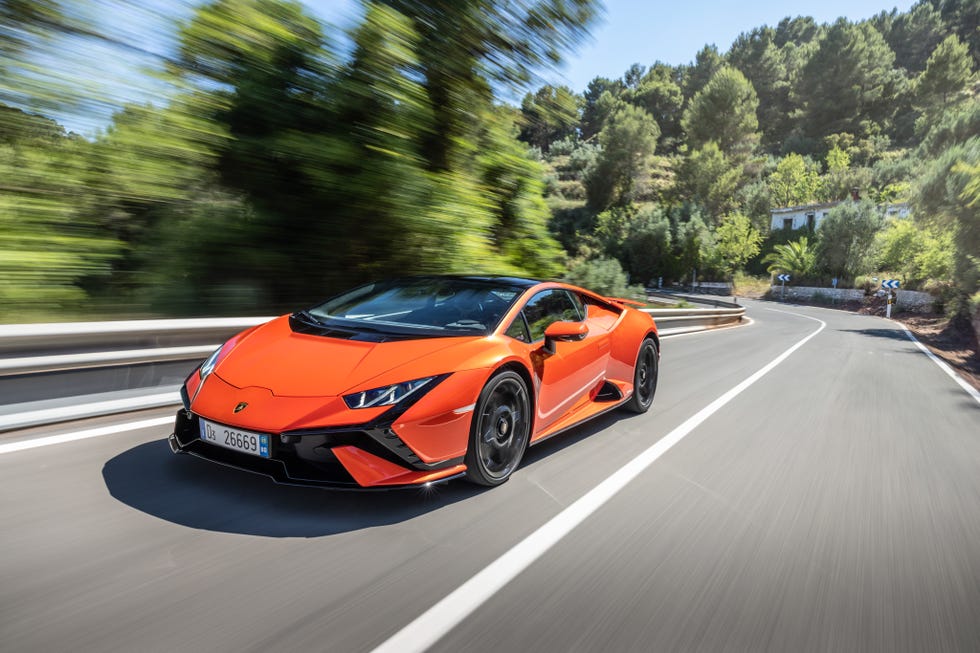 Engine & Performance
The Huracán houses a dry-sumped 5.2-liter V-10 engine behind its cabin, producing a devilish sound as it revs up to 8500 rpm. Except for the Sterrato model, which has a 601-hp variant, all other Huracán V-10s generate 631 horsepower. Power is transmitted through a seven-speed dual-clutch automatic transmission, capable of executing rapid shifts either automatically or at the driver's command using paddle shifters. Rear-wheel steering now comes standard across all Huracán models, enhancing agility, while the adaptive LDVI system adjusts dynamically to driver inputs. Although the Tecnica model impressed me with its responsive chassis and comfortable ride, its steering feedback at normal road speeds lacked vividness.
Pricing & Mileage
Based on our firsthand experience with the Italian supercar, we would highly recommend opting for the rear-wheel drive Huracán Tecnica. It could be considered a slightly toned-down version of the STO, prioritizing a more comfortable and road-friendly demeanor while remaining more affordable. Notably, the Tecnica, alongside the STO, is one of the few Huracán models available in rear-wheel drive, as the Evo and Evo Spyder are now exclusively all-wheel drive for the 2023 model year. The price range for the base EVO starts at $212,090 and goes up to $338,690 for the STO. While the EPA has not released fuel economy ratings for the 2023 Tecnica and STO yet, the EVO models maintain the same 15 mpg combined rating as last year's cars, suggesting that the Tecnica and STO will likely have similar fuel efficiency estimates.
Acceleration & Features
The Evo coupe, equipped with all-wheel drive, accelerates from 0 to 60 mph in just 2.5 seconds. And completes the quarter-mile in 10.4 seconds at a speed of 135 mph. While infotainment features may not be the most captivating aspect of a high-end supercar. Lamborghini still includes an 8.4-inch touchscreen in the Huracán. This interface allows control over functions like the audio system, climate settings, and various media content. Additionally, the Huracán offers Apple CarPlay compatibility and integrates Amazon Alexa. Providing voice-controlled technology that aims to reduce distractions while driving.