SAIC Maxus MIFA 9 vs Volkswagen ID. Buzz: Which is Better?
In the 1980s, the minivan emerged as a practical solution for growing American families and their extended trips, supplanting the station wagon. Similarly, China now follows suit with the SAIC Maxus MIFA 9, an electric three-row minivan that combines ample interior space, impressive features, and a front-end reminiscent of Star Wars' Boba Fett. In the realm of EVs, the Volkswagen ID.Buzz and Toyota Sienna cater to family needs. The ID.Buzz revives Volkswagen's iconic Microbus, offering retro style, versatile seating, and an electric powertrain with up to 260 miles of range.
| | | |
| --- | --- | --- |
| | SAIC Maxus MIFA 9 | Volkswagen ID.Buzz |
| Dimensions | 207.48 in x 78.74 in x 72.44 in | 192.4 in x 77.9 in x 74.6 in |
| Motor | permanent magnet synchronous AC | permanent magnet synchronous AC |
| Horsepower | 241 hp | 330 hp |
| Torque | 258 lb-ft | NA |
| 0-60 MPH | 9.2 sec | NA |
| 0-100 MPH | NA | NA |
| Top-Speed | NA | 99 mph |
Specs
SAIC Maxus MIFA 9
Motor & Performance
The MIFA concept car debuted at the 2021 Shanghai auto show, and now, the production model boasts a sole 241-horsepower motor propelling the front wheels. This power stems from a battery pack, touting a substantial 90-kWh capacity. Impressively, it's projected to cover approximately 275 miles according to Europe's favorably rated WLTP test cycle. Engaging the accelerator with a gentle touch initiates nearly seamless acceleration. While a firmer press may trigger slight wheelspin on the front tires. Halting the Maxus is equally inconspicuous, with its seamless integration of regenerative and friction braking mechanisms.
Price & Mileage
The MIFA 9 stands as a testament to its substantial and high-quality construction, a fact underscored by its corresponding price. In the German market, the base model commences at 57,974 euros prior to taxes, which translates to around $63,400 at current exchange rates. Opting for the Luxury variant introduces power-adjustable rear seats at a price of $69,800, while the top-tier Premium edition, priced at $74,100, not only offers motorized leg rests but also incorporates various other specification enhancements. This pricing places the MIFA 9 in close competition with the more lavish iterations of the electric long-wheelbase Mercedes-Benz EQV, which stands as a prominent alternative within this market segment. The mileage hasn't been released yet.
Acceleration & Features
Although the Maxus doesn't boast the swift acceleration typical of electric vehicles—with an official 0-62 mph time of 9.2 seconds. It excels in providing a serene and comfortable cruising experience at an indicated 80 mph. Of course, this assumes the driver has taken the necessary step of deactivating the overly sensitive lane-keeping assistant along with its rather loud warning chimes. While the top speed is electronically capped at 112 mph, aiming for that would likely sacrifice the impressive cruising range. Interestingly, there are separate and switchable Sports modes designed for both the accelerator and steering maps.  Furthermore, the third-row seats can't be folded down completely to expand the cargo room.
Volkswagen ID.Buzz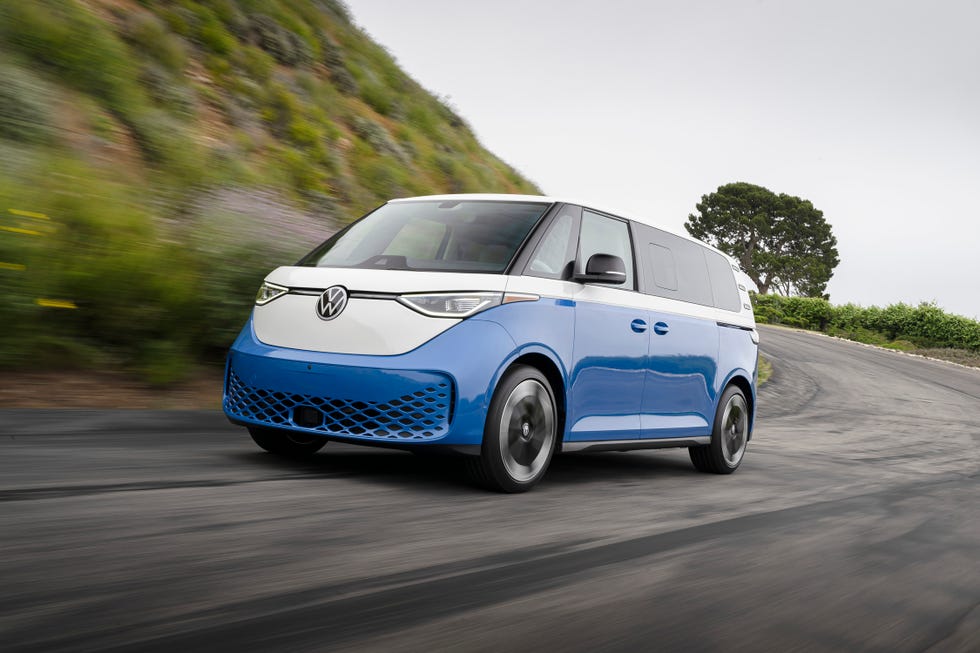 Motor & Performance
The ID.Buzz presents an enticing option with its inclusion of an 86.0-kWh battery pack as the standard offering. While the exact driving range remains undisclosed by Volkswagen, it is highly anticipated that the ID.Buzz will deliver a commendable minimum range of 260 miles per charge. Volkswagen proudly claims that the ID.Buzz will support rapid charging capabilities, allowing users to conveniently recharge their vehicles. By plugging into a DC fast-charger, drivers can expect to charge from 10 to 80 percent in an impressively short time span of just 30 minutes. This efficient charging solution ensures that ID.Buzz owners can quickly replenish their battery levels during breaks, granting them enhanced peace of mind and reducing potential range anxiety. With such promising features, the ID.Buzz exemplifies Volkswagen's commitment to providing an electrifying driving experience that combines convenience, sustainability, and performance.
Price & Mileage
Volkswagen has not yet provided specific information regarding the cost and available trim levels for the ID.Buzz. However, considering the prevailing market pricing for electric vehicles, it is reasonable to expect that the starting price of the ID.Buzz will hover around $40,000. It's worth noting that this estimate is subject to change and may vary based on additional features and customization options. As for the fuel economy estimates, the Environmental Protection Agency (EPA) has not yet released official figures for the ID.Buzz. While it is difficult to speculate on the exact efficiency ratings without this data, Volkswagen has been actively developing the ID.Buzz as an environmentally friendly electric vehicle, aiming to provide a balance between performance and energy efficiency.
Acceleration & Features
Volkswagen's ID.Buzz utilizes the reliable Modular Electric Drive (MEB) platform, which is already in use for successful vehicles like the Audi Q4 e-tron crossover and VW ID.4 crossover. While Europe will enjoy the availability of both a commercial and passenger variant of the ID.Buzz, the American market will exclusively receive the long-wheelbase passenger model. The base model impresses with a single electric motor located in the rear, boasting 282 horsepower. For those seeking more power and control, an enticing option is the dual-motor, all-wheel-drive configuration that offers around 330 horsepower.