German Footballer Antonio Rüdiger Car Collection
Born on March 3, 1993, Antonio Rüdiger is a German pro footballer. Currently plays in the center-back position for Real Madrid in La Liga and Germany's national team. Known for his aggressive style, solid tackling, and dominance in the air. Rüdiger kicked off his career at VfB Stuttgart, moving up from their reserves in 3. Liga to the Bundesliga first team. After a stint with Roma, initially on loan and then for €9 million, he landed at Chelsea in 2017 for around £27 million. The trophies rolled in, with an FA Cup, UEFA Europa League, and a UEFA Champions League. In 2022, he joined Real Madrid. Antonio's estimated net worth is a cool $25 million. Now, let's take a peek at his impressive car collection.
| | |
| --- | --- |
| Antonio Rüdiger Car Collection | Price (USD) |
| Mansory Rolls-Royce Cullinan | $683,522 |
| Mansory Ferrari 812 Superfast | $679,936 |
| Mansory Lamborghini Urus | $400,000 |
| Mercedes-AMG CLS63 | $106,550 |
| BMW iX | $85,059 |
Mansory Rolls-Royce Cullinan
Meet the Cullinan, an SUV that could claim the title of the world's grandest. Its standard version boasts a 6.7L V12, packing a punch with 563 hp, and an interior that could outshine some five-star hotel rooms. Now, enters Mansory, the masters of excess, who've taken the Cullinan and pushed it further into extravagance. The modder has added flared wheel arches on the sides and a sizable spoiler at the back, making it even more over the top. Not stopping there, Mansory has tweaked the engine, cranking up the power and torque to 602 hp and 701 lb-ft. The result? A beastly Cullinan that dashes to 62 mph in a mere five seconds.
Mansory Ferrari 812 Superfast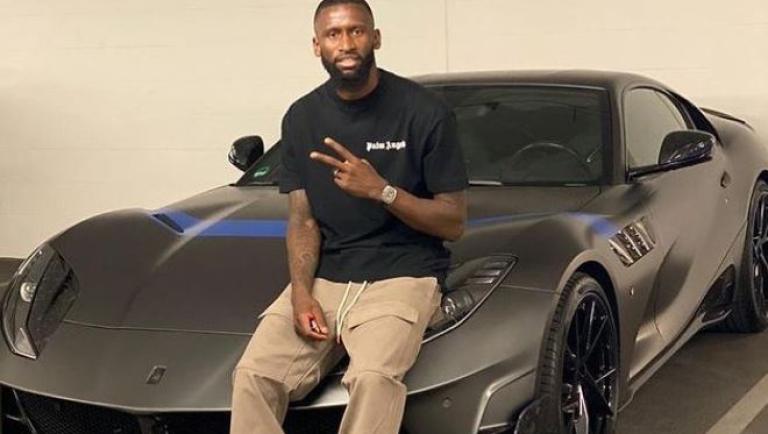 Luxury automotive tuning company Mansory is well-known for its reworked supercars, and its latest offering is once again not a car for those looking to be subtle. Mansory has messed around with quite a lot of parts and starting at the front, we can see that it has a new apron with side canards applied to the tweaked bumper. Without any outside intervention, the naturally aspirated 6.5L V12 in the 812 Superfast develops 789 hp and 530 lb-ft of torque. This enables a 0-62 mph in just 2.9 seconds, and a top speed exceeding 211 mph. Here, Mansory offers it with 818 hp and 546 lb-ft of torque.
Mansory Lamborghini Urus
The Lamborghini Urus stands out as one of the wildest sports crossovers globally, and when Mansory gets its hands on one, things get even crazier. Let's start with the exterior. Mansory, true to its style, goes all out, revamping the Urus with new front and rear fascias, flared wheel arches, unique side skirts, fresh wheels, and an optional rear wing. The heart of the Urus, its 4.0L twin-turbocharged V8 engine, remains untouched. This powerhouse cranks out 641 hp and 627 lb-ft of torque, and thanks to a new exhaust, these numbers might have jumped up a bit. Transitioning from the exterior to under the hood, Mansory keeps the Urus roaring with its distinctive touch.
Mercedes-AMG CLS63
In 2012, Mercedes introduced the second-gen CLS class, claiming to pioneer a new style. Now emulated by BMW, Audi, and others, known as the "four-door coupe." Unlike a two-door, it's a regular sedan with a sporty, stylish edge thanks to a sleek fastback roofline. This design choice trims rear-seat headroom, but that's okay since rear seats are meant for occasional use, catering to kids or adults joining owners for a night out. The high-performance Mercedes-AMG packs a hand-built turbocharged V-8, paired with standard 4Matic AWD to manage its potent power and torque.
BMW iX
Check out BMW's iX SUV for a sneak peek into the brand's electrifying future. It's got the roominess and practicality of the popular X5 but with a modern twist. With two electric motors for AWD and serious power. 516 hp in the xDrive50 and a whopping 610 hp in the M60, it's a powerhouse. The big battery gives you over 300 miles per charge. Inside, enjoy a roomy, high-end space with a sleek, futuristic design. The digital dashboard showcases the future of BMW's iDrive infotainment, all controlled by a cool see-through rotary knob on the center console. This SUV isn't just a ride; it's a glimpse into BMW's bold electric evolution.