2024 Range Rover Sport SV vs Mercedes-AMG GLE: Which one should you buy?
The 2024 Range Rover Sport SV exudes refinement and sophistication, prioritizing improved handling, performance, and advanced technology while adopting a more understated design. It competes head-on with strong rivals like the Lamborghini Urus, Aston Martin DBX, and BMW X5M in terms of speed, with even higher performance options available. Exciting developments may be on the horizon for the SVR, promising continuous evolution for its powerful V8 engine. On the other hand, the 2024 Mercedes-AMG GLE class adds an exhilarating twist to the regular GLE class, delivering up to 603 horsepower. Available in both traditional and coupe-like body styles, the AMG-tuned GLE53 and GLE63 S offer ample power in a luxurious mid-size SUV package. Although the coupe versions sacrifice some cargo space, they don't compromise the GLE's smooth ride and tech-filled cabin.
2024 Range Rover Sport SV
Engine & Performance
When it comes to the powertrain, the Range Rover Sport doesn't compromise. While earlier models featured an upgraded six-cylinder hybrid, the latest version takes things up a notch. Say goodbye to the 5.0-liter supercharged V8 and welcome a brand-new V8 with twin turbochargers, sourced from BMW. This powerful engine is none other than the 4.4-liter powerhouse found in BMW's largest and most impressive M vehicles. In the pursuit of efficiency without sacrificing performance, the P530 variant incorporates BMW's mild-hybrid technology, delivering an impressive 523 horsepower. Not to be outdone, the P510 plug-in hybrid has undergone an exciting makeover and now shines as the P550e. With an upgraded electric motor seamlessly integrated into the automatic gearbox, its power has surged from 503 to an exhilarating 542 horsepower.
Price & Mileage
The 2019 Range Rover Sport sets off in the United Kingdom with a price tag of £83,620, showcasing its premium status. While we don't have the specific pricing details for the United States at the moment, rest assured that we are diligently working to obtain this information. Once we have it, we will promptly update you with the latest pricing details. In terms of EPA ratings, we kindly advise you to stay tuned for updates as the Environmental Protection Agency has not released any official figures yet.
Acceleration & Features
Experience the exhilarating power of the SV, boasting an impressive 626 horsepower and 590 lb-ft of torque that propels it to a peak speed of 180 mph. Its advanced hydraulics outperform conventional anti-roll bars, providing an astonishing 2,300Nm in corners and 4,000Nm under pitch. With all-season tires, it achieves an impressive lateral acceleration of 1.1g. The SV also offers user-friendly controls, cutting-edge speech recognition software, and a spacious 13.1-inch Pivi Pro infotainment touchscreen. Embracing innovation, the Country Road Assist feature intelligently adjusts speed based on real-time navigation data. Range Rover blends power, technology, and performance seamlessly to deliver an unparalleled driving experience.
Mercedes-AMG GLE-Class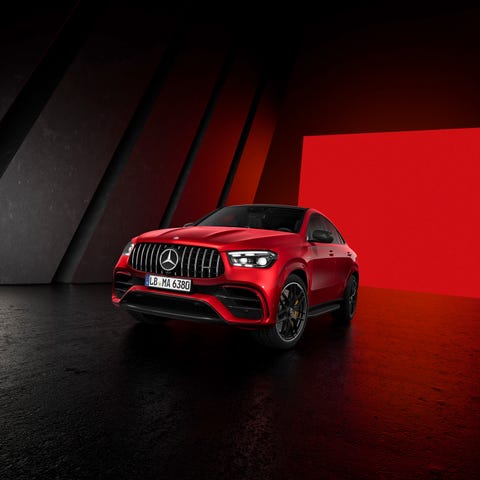 Engine & Performance
The GLE53 showcases a sophisticated nine-speed automatic transmission and comes equipped with standard all-wheel drive for optimal performance. Adding to its power is an electric supercharger that operates on a 48-volt electrical system. The combination of the GLE53's turbocharged 3.0-liter inline-six-cylinder engine results in an impressive output of 429 horsepower and 413 pound-feet of torque. On the other hand, the GLE63 S takes things up a notch with its twin-turbo V-8, generating a formidable 603 horsepower. Enhancing the driving experience, the GLE53 features an innovative suspension system consisting of airbags and active anti-roll bars. Enabling agile maneuvering while maintaining a comfortable ride.
Price & Mileage
We would opt for the more traditional and robust GLE-class SUV, which offers a better value proposition. While the color choices are limited to Black and Polar White at no additional cost. We would choose the AMG Night package for a sleek and stylish appearance with its blacked-out exterior trim. The illuminated three-pointed star emblem adds a nice touch of sophistication. The GLE lineup starts at an affordable $80,000 for the GLE53 and goes up to $124,000 for the GLE63 S. Providing options to suit different budgets. In terms of fuel efficiency, the GLE53 achieves respectable ratings of up to 18 mpg in the city and 22 mpg on the highway. With a slight decrease for the coupe version. As expected, the GLE63 S consumes more fuel. Offering a city rating of 15 mpg and a highway rating of up to 20 mpg.
Acceleration & Features
The GLE53 Coupe showcases its impressive performance with swift acceleration. Reaching 60 mph in just 4.7 seconds and completing the quarter-mile in 13.4 seconds at 103 mph. In comparison, the GLE450 with its 362-hp engine takes slightly longer. Achieving these feats in 5.3 seconds and 13.9 seconds at 100 mph. Inside the GLE, you'll find a pair of expansive 12.3-inch infotainment displays that dominate the dashboard. As seen in other Mercedes-Benz GLE models, the AMG variants are equipped with the latest MBUX software interface. Interacting with the system is a breeze, as the driver and front-seat passenger can use the touchscreen, the center-console controller, or simply initiate voice commands by saying "Hey Mercedes."
Difference between 2024 range rover sport sV vS Mercedes-AMG GLE
| | | |
| --- | --- | --- |
| | Range Rover Sport SV | Mercedes AMG GLE |
| Dimensions | NA | 194.4–195.3 in x 79.3–79.4 in x 67.7–70.2 in |
| Engine | turbocharged V8 | twin-turbocharged V8 |
| Power Figures | 626 hp & 590 lb-ft | 603 hp & 627 lb-ft |
| 0-60 MPH | 3.6 sec | 3.4–4.5 sec |
| 0-100 MPH | NA | NA |
| Top-Speed | 180 mph | 155–174 mph |
| Airbags | 6 Airbags | 9 Airbags |
Specs